EUGENE STUDIO After the rainbow (2021. Sep–2022. Feb)
at Museum of Contemporary Art Tokyo
An installation of an endless repetition of the horizon line of the pristine ocean/stratum. The entire process was done by hand in complete darkness, a work of a human statue that will never be seen for eternity. (Visitors could also touch this sculpture one at a time in a room of complete darkness.) A ray of golden rain. An 8-meter oil painting by brush, in which small "groups of figures" form a pale rainbow gradation.
Eugene Kangawa's EUGENE STUDIO After the rainbow made him the youngest artist ever to have a solo exhibition at the Museum of Contemporary Art Tokyo, where only a few Japanese contemporary artists, including Yayoi Kusama and Yoko Ono, have had solo exhibitions. This epoch-making exhibition, with "the power of imagination" at its core, attracted great attention. By the end of the exhibition, visitors had to wait for two to three hours a day to see the works.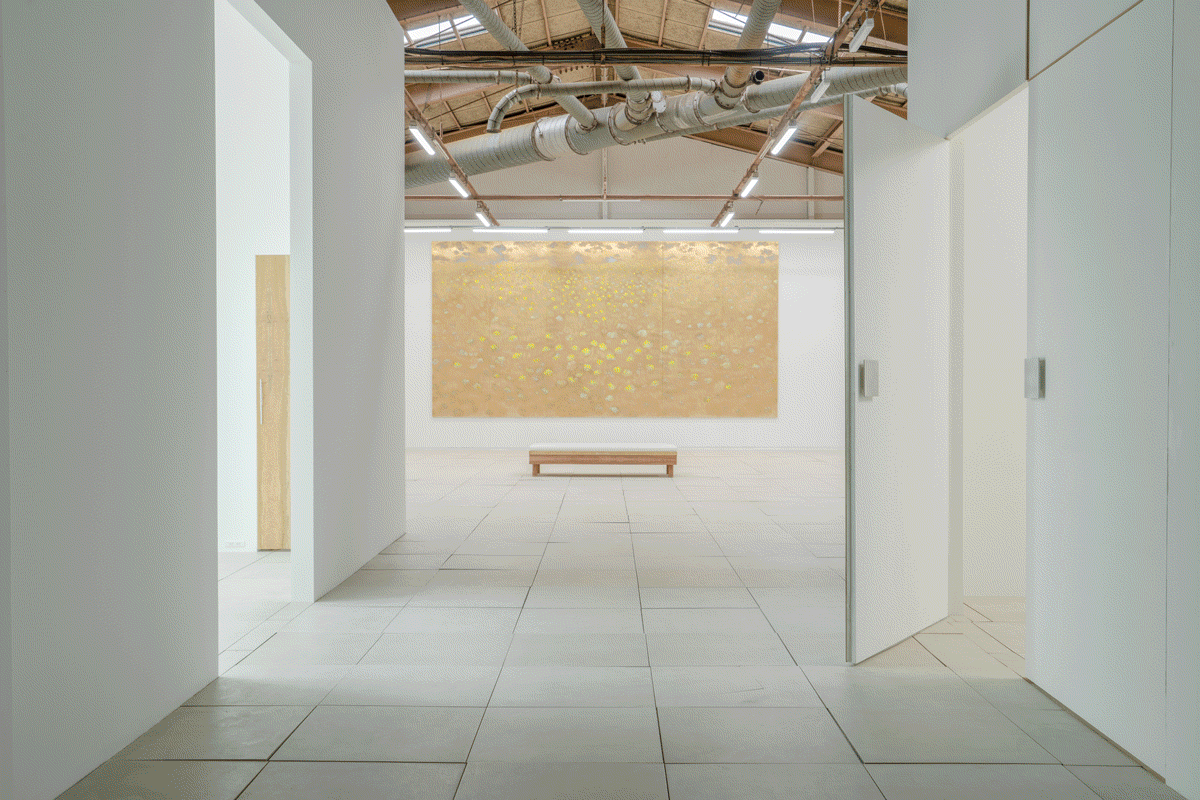 Collection exhibition centered on Eugene Studio
"Presence" & "Eugene Room"
at Maki Collection / Maki Gallery (Tokyo)
"Presence," a large collection exhibition featuring works from the new collection of EUGENE STUDIO/Eugene Kangawa, is being held at Maki Gallery / Maki Collection in Tennozu, Tokyo. Also on view is the "Eugene Room," open by appointment only, until the end of 2022.
Lee Kit, EUGENE STUDIO/Eugene Kangawa, Augusta Wood, Lawrence Carroll, Matti Brown, Luigi Ghirri, and others.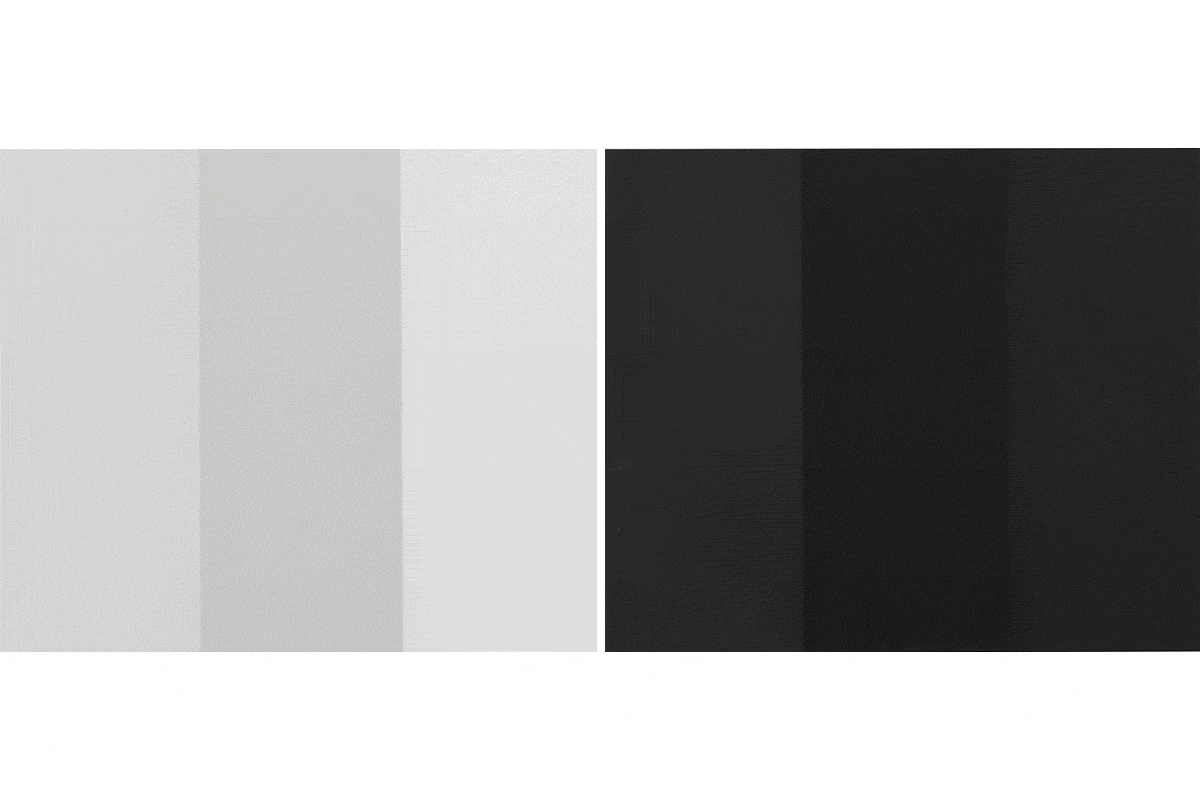 EUGENE KANGAWA / EUGENE STUDIO
Eugene Kangawa (寒川裕人) was born in the United States in 1989 and is currently based in Japan. Known for his conceptual and self-reductive paintings and installations, his past exhibitions include EUGENE STUDIO After the Rainbow (2021-22) at the Museum of Contemporary Art Tokyo, de-sport: (2020) at the 21st Century Museum of Contemporary Art, Kanazawa, Shikkoku-Noh (2019) at the National Art Center, Tokyo, 89+ (2014) at the Serpentine Gallery, London etc.

He is the youngest artist ever to have a solo exhibition at the Museum of Contemporary Art Tokyo, which has hosted solo exhibitions by some of the greatest Japanese contemporary artists in the past, including Yayoi Kusama and Yoko Ono. By the end of the exhibition period, even under the situation with the COVID regulations, exhibition have had waiting lines of up to 4,000 people per day with wait times of 2 to 3 hours to see the exhibition, which had "The Power of Imagination" at its core.

In addition, in the past, he has participated in or was invited to participate in various research and development projects in the fields of artificial intelligence, mobility, agriculture, and biotechnology. These early activities were summarized in 2017 in the book The Age of Art x Technology (written by Daisuke Miyatsu, Kobunsha Shinsho) as one of the four leading Japanese artists along with Team Lab and others. In addition, two short films released in the United States in 2021 have been selected as official selections and won awards at more than 10 international film festivals, including the Brooklyn International Film Festival, the Houston International Film Festival, and other Academy Award® accredited festivals.
Thesis "Passion in Monochrome" by David Geers (Art critic)
Catalog: EUGENE STUDIO After the rainbow
Museum of Contemporary Art Tokyo, 2021
Official catalog for the EUGENE STUDIO After the rainbow, a solo exhibition at the Museum of Contemporary Art Tokyo. The EUGENE STUDIO by acclaimed contemporary artist Eugene Kangawa is the first Heisei-born artist to have a solo exhibition at the Museum of Contemporary Art Tokyo. The substantial artist book further explores the depths of the multifaceted world of his genre-defying works through a conversation with biologist Shinichi Fukuoka and an essay by American art critic David Geers, who has contributed to October (journal) and Frieze (magazine).
Publisher: torch press, Hardcover book binding, 220 pages, B5 Modified / Price: $33.44 (+tax) (Sold out)
Catalog: special edition "1/2 Century later." Shiseido Gallery, 2017
In this book, THE EUGENE Studio 1/2 Century later., includes several contents as below; descriptions of White Painting Series(2017-), Beyond good and evil, make way toward the wasteland. (2017) ,6 discussions/essays about this exhibition and the artist, and photography of the artworks. The pages are detachable so that to display each page.
3 parts Boxed in, 234 pages, 455×305 mm (Sold out)
Official booklet | by Bijutsu Techo and Museum of Contemporary Art Tokyo
The EUGENE STUDIO After the rainbow guidebook is now available to amplify our understanding of this exhibition and the EUGENE STUDIO. In addition to scenes from the production site and a long interview with Eugene Kangawa, the guidebook also includes a conversation with Dai Tamesue, who discusses the similarities between art and sports from the perspective of an athlete and an artist, and a conversation with architect Tsuyoshi Tane, which was held when he presented Shikkoku-Noh (The National Art Center, Tokyo) in 2019.
Available at the museum store in the museum.
Museum of Contemporary Art Tokyo (supervisor), "Bijutsu Techo" editorial department (editor), sold out.
White Painting series, 2017
Canvas

White Painting is only the collective name for the series, as each piece is titled with the names of the people who kissed the canvases - for instance, the names of about a hundred people.
There are 2 series of this work; one was done by calling out to people on the street in cities around the world (USA, Mexico, Italy, Taiwan...) and the other within a specific community unit such as "a certain family".

for a certain family series (2018–)
The small for a certain family series(33.3×33.3cm), works done within the community unit of a specific family, began with the creation of a piece for the family of a friend of his.
Portraits on consciousness, timeless portrait-like works are now in possession of more than one family.

The title of the work will officially be "a series of names of all the family members". For example, "Anna, Ryo, Erika".
And if there are more family members - for example, they have children - the title of the work would also change. There is flexibility in the concept of family.
This is the smallest form of commission work, but it is also a commission work that lasts forever.

"— THE EUGENE Studio's White Painting series (…) transforming the canvases into nomadic shrines to love and memory… White Painting series returns the monochrome to its iconic if uncertain place between a portal and a thing."


From "Passion in Monochrome" (2018)
by David Gears, an art critic who contributes his writing to October magazine and other publications.
Read full story >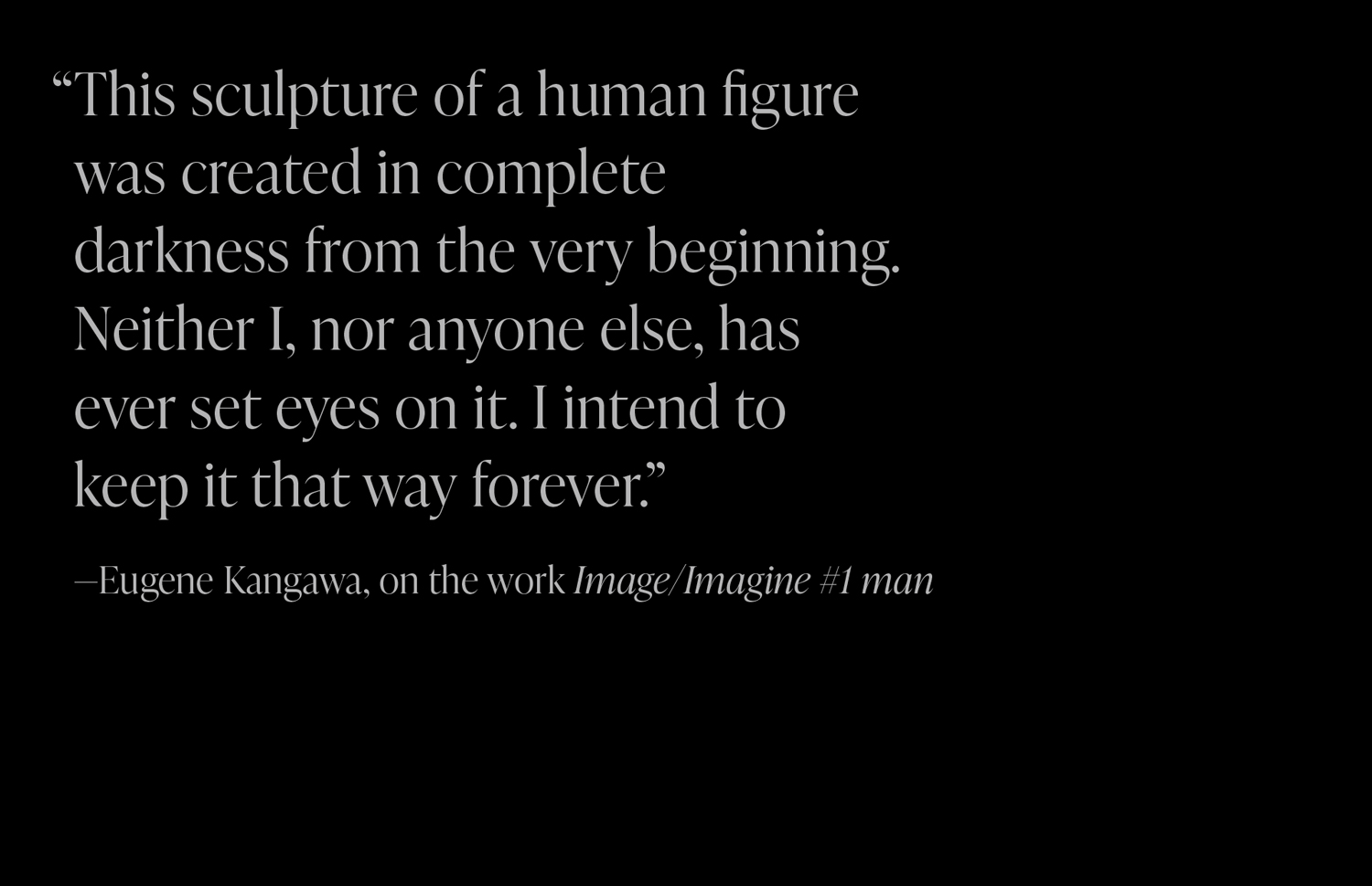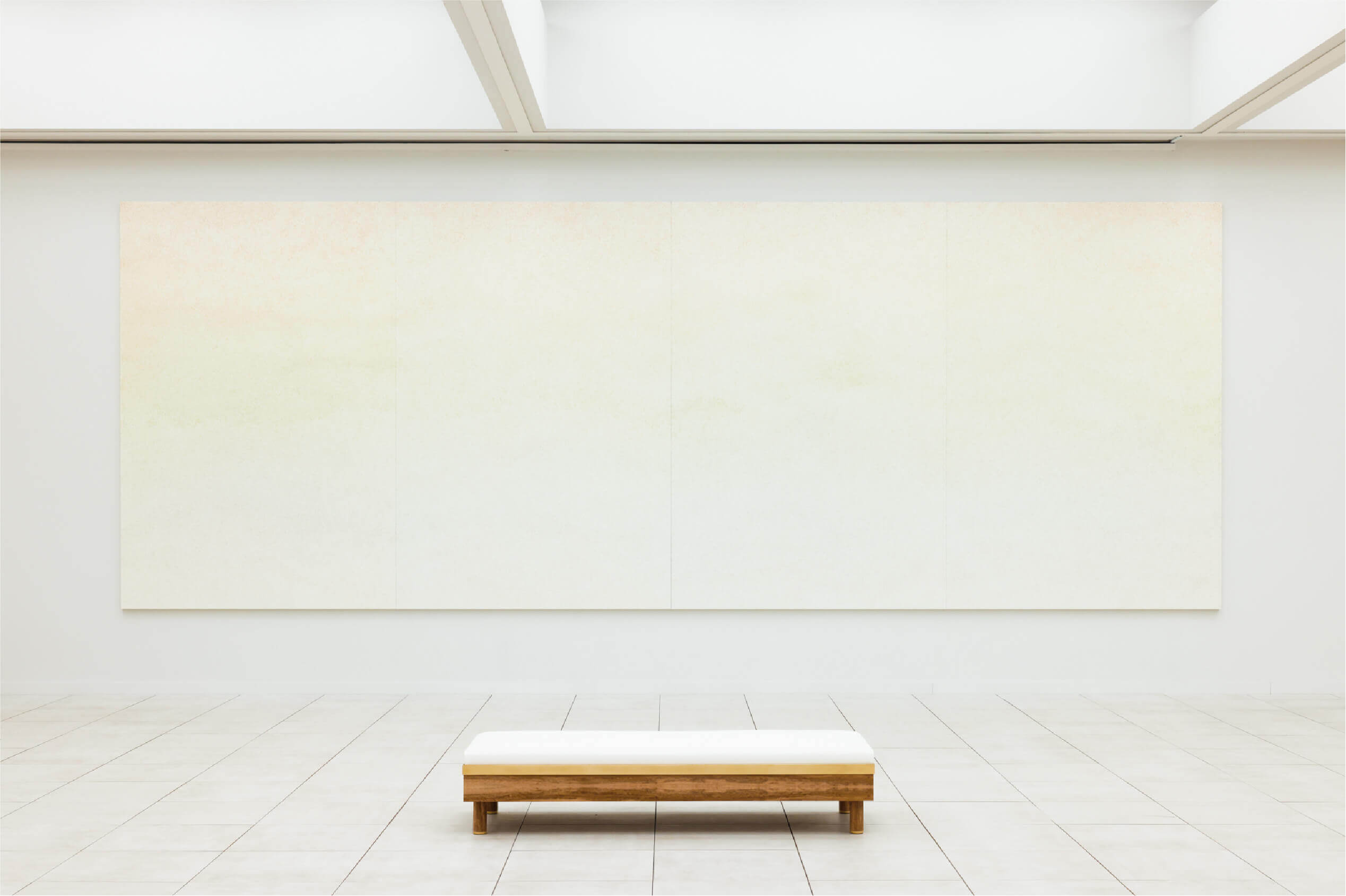 Rainbow Painting series, 2021
Oil on canvas
In the oil painting, with its gradation of pale rainbow colors, upon closer inspection, one can see that countless human figures have been painted by brush, with the layers creating a complex gradation.
The shapes and colors are slightly different from one another. This is a "group portrait".
The visitor passes through the sea into a brightly lit room surrounded by several of these paintings, each 3m high and up to 8m wide. All of the rainbow paintings on display will be transported to various locations, and the "group portraits" will continue to live on in yet another place.

"— Group Portraits
I thought to myself, we don't need individual portraits right now, we need portraits of people—groups of people.

If you look closer, the people and the shadows they cast are each slightly different from the next. They appear to be countless groups, jostling and separated yet side by side. This place might be a continent or a country; it might be a virtual network. In any case, it is beautiful."
Eugene KANGAWA
(Interview from EUGENE STUDIO After the rainbow MUSEUM OF CONTEMPORARY ART TOKYO, 2021-22)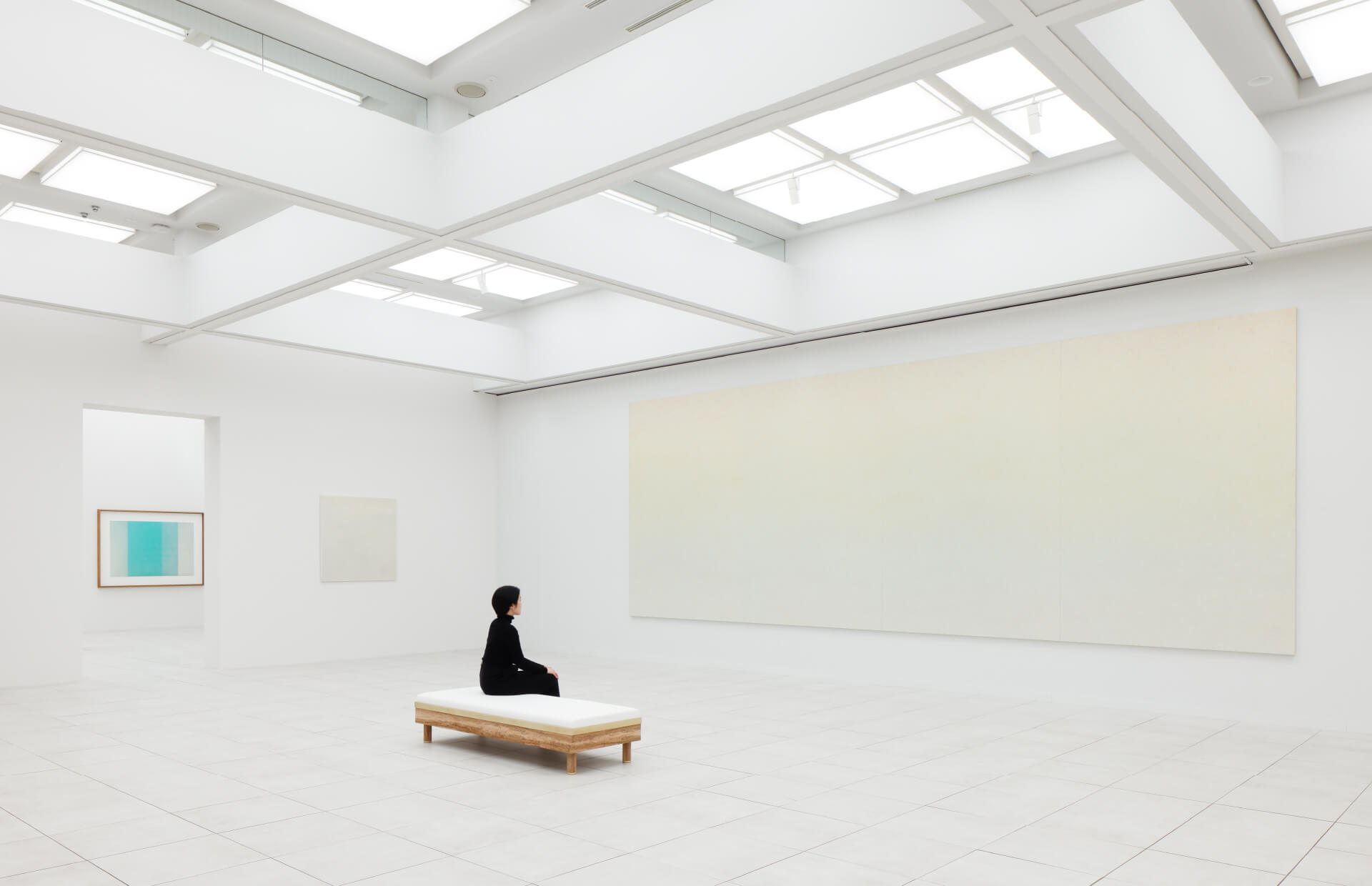 "Painting by fading"
Light and shadow inside me, 2021
Aqueous dye on paper
A sheet of ink-coated paper is folded like origami and exposed to the sun for several weeks. The pattern was solely created 'by the shadow of the picture'. It was created by the 'principle of fading'. This work is both a painting and a photograph in the sense that it is subjected to the sun. It is characterized by the reductive nature of the 'light and shadow of the painting itself'.

"— People and things 'just by existing' have both light and shadow."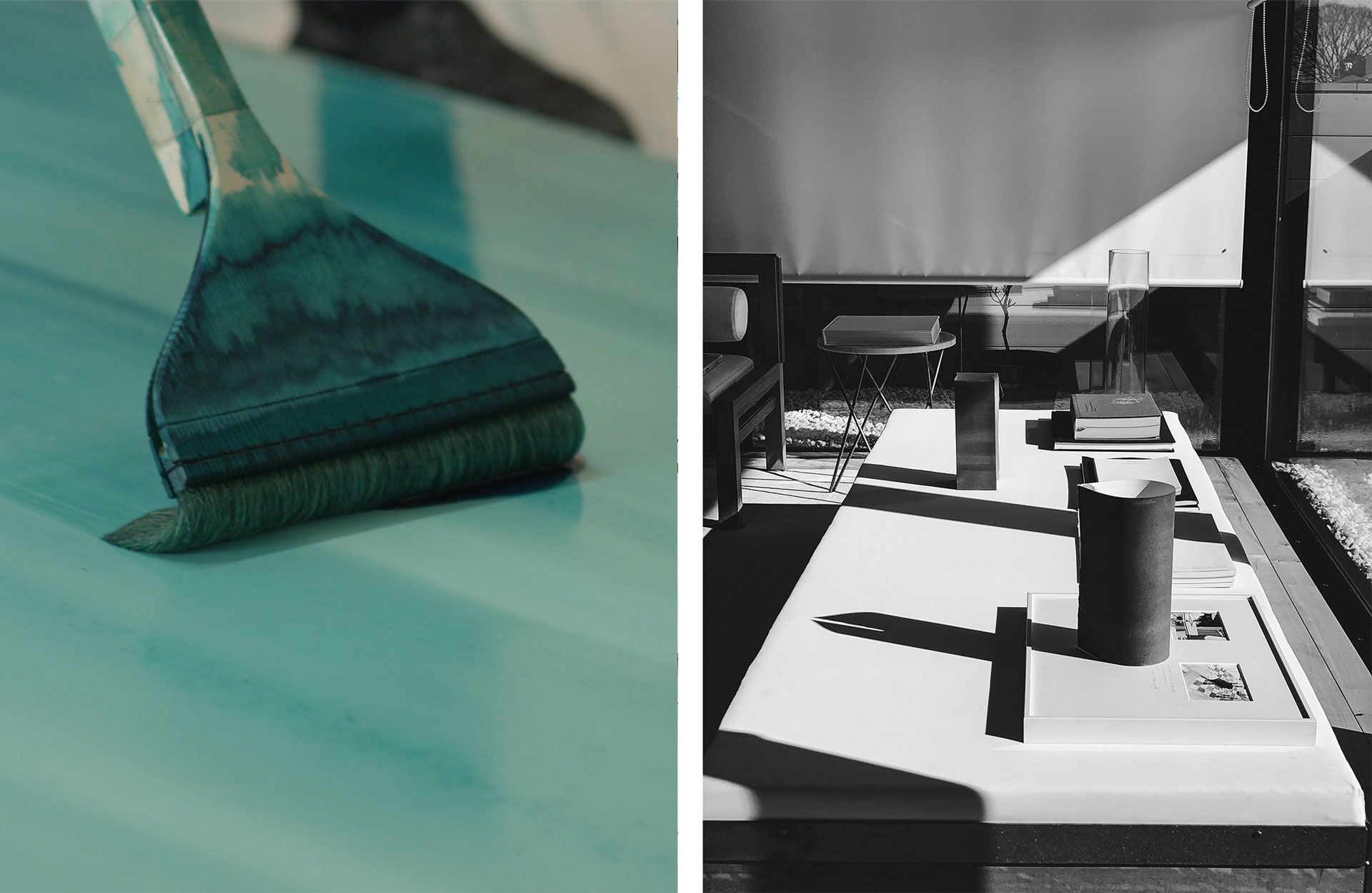 Everything reflects the shining light toward me, 2021
Oil on brass / Oil, wax oil pastel on brass / Oil, gouache, grease pencil on brass / Brass, wood
This series of drawings is a rather special kind of "sketch diary" by Eugene Kangawa. Sometimes he directly sketches "landscapes/objects reflected in mirrors or brass metal," and sometimes he enlarges the sketches and drawings based on them. It begins with the act of drawing what is reflected outside or inside from different angles.

Reflections cause light to appear from behind the paint, the ground and figure are frequently inverted, and the focus is never fixed.
Mr. Tagi's room and dream # four-handed, 2014
Steel, wood, oil / wood, brass, glass, artificial leather, plaster
Twin Drums was one of Eugene Kangawa's graduation projects in 2014, a "Research project into the history of sports by a fictional sports scientist." At the time, the installation consisted of a number of objects, images, and fictional sports workshop devices related to sports, such as chance, probability, the origin of time, domain, dialogue, exchange, and community. This drum set is one of them, recreating the conditions after the workshop was done.
(*The 21st Century Museum of Contemporary Art, Kanazawa hosted an exhibition in 2020 titled Desport, in which the title of the exhibition was Eugene's graduation works (2013–2014). Detail >)
Staff diary via Instagram
Staff diary via Instagram | Artist manager | Working at EUGENE STUDIO
Posting Diary & Information, great life.
Playset & Park
"PLAY EARTH PARK" (2022. Apr-May, Jul-Aug)
EUGENE STUDIO considers "playground equipment" as a type of public sculpture, and designed the overall concept for PLAY EARTH PARK, a park for children who will build the future, in Tokyo and Toyama. New playground equipment that fosters imagination was designed by five architects.