As a related project to "EUGENE STUDIO After the rainbow" at the Museum of Contemporary Art Tokyo, a special program will be held on Jan 10(Mon), 2022 across two venues, the Tokyo Metropolitan Museum of Photography and the Museum of Contemporary Art Tokyo. The two programs can be attended with a single booking. (This program is free of charge).
Click here to book *Seats are now fully booked
https://artsticker.app/share/events/1016
This program will be held at the Tokyo Metropolitan Museum of Photography during the day on January 10 with a special screening of two short films directed by Eugene Kangawa of EUGENE STUDIO which were first released in the United States in 2021. Both films have won awards and been selected as Official Selections at many international film festivals, including the Rhode Island International Film Festival, WorldFest-Houston International Film Festival, Brooklyn International Film Festival, Pan African Film Festival, Amdocs, and other Academy Award® accredited festivals. To commemorate this exhibition we are holding a special one-day screening of the film. It will be followed by a special viewing and gallery talk by the artist himself at the Museum of Contemporary Art Tokyo from 6:00 p.m. on the same day after the museum closes to the general public.
*Please refrain from taking photos on the day of the event.
*Please note that there will be a recording session on the day of the event. Your understanding will be much appreciated.
*Please use your car or public transportation for transportation between the two venues.

---
Screening Details (excerpts from ArtSticker)
SANSUI LLAFRETAW (2021, subtitled, B&W, Japan)
This video footage captures the natural scenery of the mountain paths of a mountain religion in the Tohoku region of Japan. The images are captured in black and white, as a cycle quietly runs through heaven and earth, from the mountains of the moon at night to waterfalls, misty plains, and the mountains of the sun. The film, composed entirely of black and white nature scenes that Eugene Kangawa has been shooting since 2014, has been acclaimed as a documentary film that continues to circulate unattended, even in the midst of the coronavirus crisis, and has won top awards at the Brooklyn International Film Festival, Amdocs and other Academy Award® and BAFTA accredited film festivals, as well as the WorldFest-Houston International Film Festival and other official selections follow. Eugene Kangawa is the director/cinematographer.
comment by the artist
"I felt that my experience at the time of filming, sitting in the dark waiting and waiting for the light, was similar to the current social situation.
It is also a work that I have a lot of feelings about, as it was during the filming that I came up with the prototype for 'Phantosia' and 'Image / Imagine #1 man', which are now on display in a solo exhibition at the Museum of Contemporary Art Tokyo.
The film is composed of a landscape seen from a high altitude, gradually descending, reaching a plain, and finally climbing up to a higher altitude. I edited the footage I had been shooting for several years into a short film."
---
Purple, Green, Blue" (2021, English, USA) *with Japanese subtitles
The film depicts a moment in the lives of two fathers, Gabriel and Tien, and their adopted son's family. The beautiful images of the family of two fathers, one African and the other Asian, and the convoluted editing at the end of the film have led to its continued selection as an Official Selection at several international film festivals, including the Pan African International Film Festival and the WorldFest-Houston International Film Festival. It was filmed in Los Angeles with an American, Chinese, and Japanese producer and his crew.
comment by the artist
"This film was shot in Los Angeles, USA, at the end of 2019, based on some real experiences of my own.
After meeting the actors in auditions, we changed the synopsis and decided on the setting, including the fundamental aspects such as being African and Asian, and gender.
Although the 20-minute video passes in a blink of an eye, I believe it was like a long workshop. This is the first time we have seen two short films together like this.
I hope you enjoy it along with the exhibition."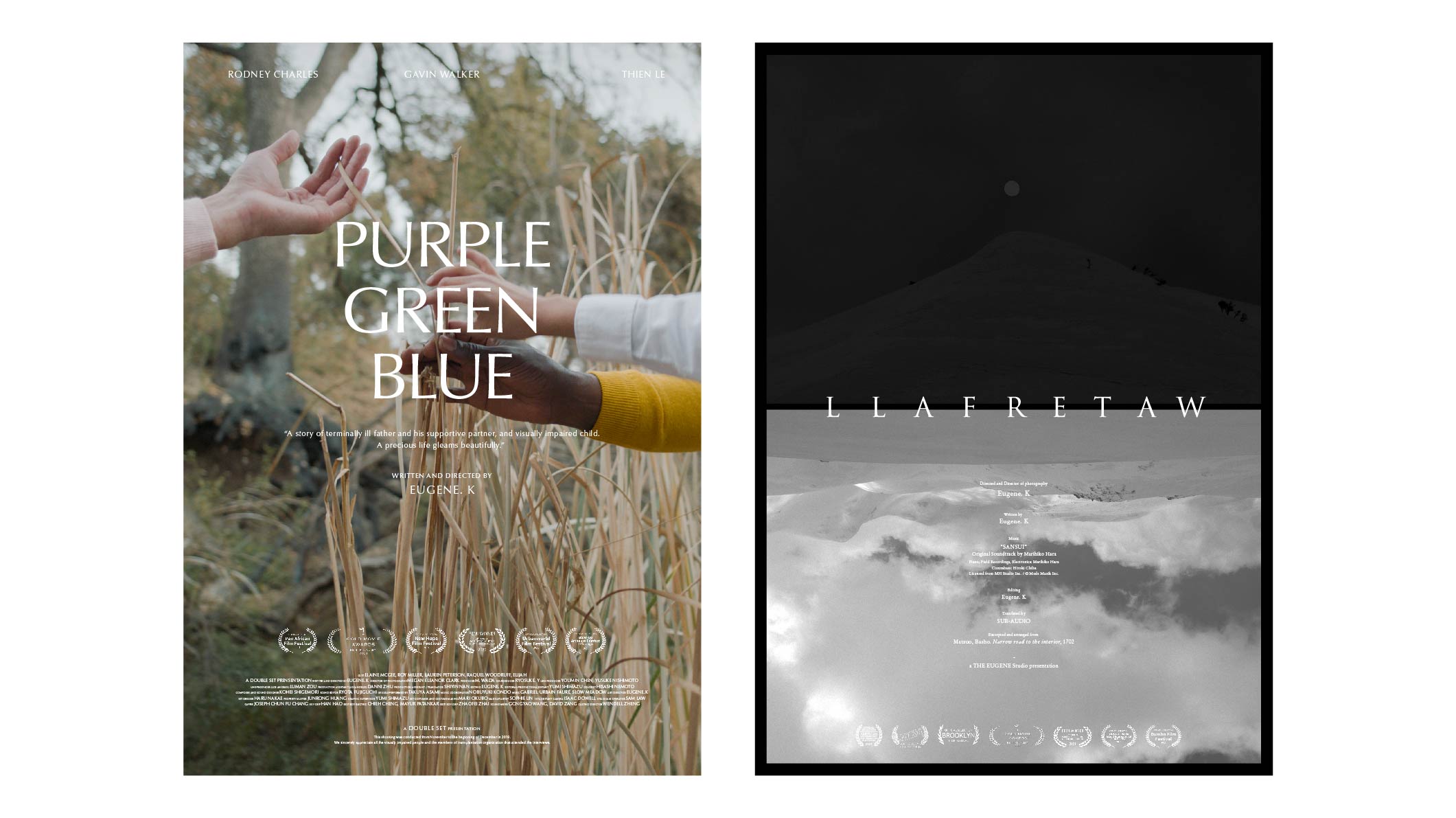 ---
Introduction of selected film festival (Excerpt from each filmfestival's website)
FLICKERS' RHODE ISLAND INTERNATIONAL FILM FESTIVAL
Academi Award® Qualifying
BAFTA Qualifying
Canadian Screen Award Qualifying
Providence,USA
"One of the Best International Film Festivals and top 10 Short Film Festivals in the United States. The RIIFF provides the kind of intimate festival experience that will change your life. Don't miss it. "
-Chris Gore, The Ultimate Film Festival Survival Guide
Now in its 25th year, the FLICKERS' RHODE ISLAND INTERNATIONAL FILM FESTIVAL celebrates the independent spirit in film and has become a haven for independent filmmakers from throughout the world.
In 2002, RIIFF was selected as a qualifying festival for Best Short Subject through the Academy of Motion Picture Arts and Sciences."
WorldFest-Houston International Film Festival
Canadian Screen Award Qualifying


Houston,USA
"You are cordially invited to be part of the upcoming 55th Annual WorldFest-Houston International Film Festival. The oldest Independent Film Festival in the whole wide world. WorldFest gave first awards to giants of the film industry, including Spielberg, Lucas, Ang Lee, the Coen Brothers, Ridley Scott, John Lee Hancock, Brian de Palma, Randal Kleiser, Oliver Stone, David Lynch and literally hundreds more."
"WorldFest was founded over 60 years ago as Cinema Arts, an International Film Society in August 1961. WorldFest became the third competitive international film festival in North America, following San Francisco and New York. WorldFest is the oldest Independent Film & Video Festival in the Whole Wide World. It evolved into a competitive International Film Festival in April 1968."
Urbanfilm festivals
Academi Award® Qualifying


New York,USA
"The Urbanworld Film Festival, founded in 1997 by Stacy Spikes, is the largest internationally competitive festival of its kind, hosted in New York City. The five-day festival includes narrative features, documentaries, short films, web originals, music videos, spotlight screenings and conversations, live staged screenplay readings, Urbanworld Innovation focused on digital and social media, and Urbanworld Music highlighting artists in live performances during the festival. Since its inception, Hollywood studios, indie film distributors, and established and emerging filmmakers have consistently chosen Urbanworld® to premiere box office and award-winning hits. Urbanworld has been supported over the years by Founding Sponsor HBO, as well as other industry and brand partners.
Known as the filmmaker's festival and the people's festival, where it's all about celebrating and supporting amazing independent film, Urbanworld will host its 25th year in Manhattan, which has been a home for the festival, since inception in 1997. Last year, Urbanworld featured filmmakers from around the world screening over 100 projects virtually, with spotlight conversations featuring industry talents including Ava DuVernay, David Oyelowo, Rosario Dawson, Leena Waithe, Kelly Rowland, Teyonah Parris, Kingsley Ben-Adir, Radha Blank, and Robert Townsend. Over its 25 years, Urbanworld has welcomed the likes of Chadwick Boseman, Jennifer Lopez, Halle Berry, Tom Cruise, Jamie Foxx, Jada Pinkett Smith, Samuel L. Jackson, Kerry Washington, Kate Hudson, Viola Davis, and Rosie Perez, among so many more. Queen Latifah, Melvin & Mario Van Peebles, Justin Simien, Gina Prince Bythewood, Larenz Tate, Reginald Hudlin, Kasi Lemmons, and Tyrese Gibson have all served as Festival Ambassadors."
Amdocs
Academi Award® Qualifying


Parm Springs,USA
"The first festival was held in April 2012, with Academy Award-winning director, screenwriter, and producer Oliver Stone being honored on Opening Night with the "Filmmaker Who Makes A Difference" award, and the screening of his provocative documentary "Commandante." In its inaugural year, AmDocs screened 80 international films in a single theatre. Since then, AmDocs has grown exponentially, with annual honorees and guests including 5-time Grammy winner Dionne Warwick, Oscar-nominated director Julie Cohen, actor and humanitarian George Takei, actor Peter Coyote, Oscar-nominated director and Grammy winner Peter Bogdanovich, director Joe Berlinger, actor Pierce Brosnan, Native Rights activist and Oscars legend Sacheen Littlefeather, actor Shia LaBeouf, actor and 7-time Emmy winner Ed Asner, LGBTQ activist Cleve Jones, and actor Jamie Redford, to name just a few. The 2013 Festival was the first to feature animated film entries."
Brooklyn Film Festival
Canadian Screen Award Qualifying


New York,USA
"Although we are a fully inclusive organization and our events are accessible to everyone, discovering and promoting independent filmmakers at their first or second film is at the very center of our year-round efforts.
Many of our award-winning films have been picked up for theatrical releases, nationwide broadcasts on PBS and HBO, and to be nominated and awarded by the British Academy of Film and Television Arts (BAFTA) and the American Academy Awards. BFF is also a proud Canadian Screen Award qualifying festival."
The Pan African Film Festival
Academi Award® Qualifying


Los Angeles,USA
"Did you know each year a transformation happens in Los Angeles, CA? People from around the globe gather to attend the largest and most prestigious Black film festival in the United States. From 100 million dollar blockbuster premieres to newly emerging Hollywood talent, The Pan African Film Festival (PAFF) showcases a broad array of Black creative works from the world over, highlighting those that reinforce positive images and help to destroy negative stereotypes. Nowhere else can audiences find this unique opportunity to come together through film and art to explore new worlds, meet new people and acquire new information and ideas.
PAFF is designated as an official qualifying film festival for narrative live action and animated short films for the Academy of Motion Picture Arts & Sciences."
Carmarthen Bay Film Festival
BAFTA Qualifying


Carmarthen Bay,United Kingdom
"Welcome to Carmarthen Bay Film Festival, the highly successful BAFTA Cymru and now BAFTA British Short Film Competition Qualifying Festival.
We are honored to have been added to the BAFTA British Short Film Competition B list of qualifying festivals and one of only two based here in Wales.
Carmarthen Bay Film Festival has gone from strength to strength over the years. From our first festival in 2012, we have gone from 35 submissions to well over 1000 from 70 plus countries for our 2020 festival. Not only have the submissions increased over the years, but the number of filmmakers and festival patrons attending has as well."
and others.