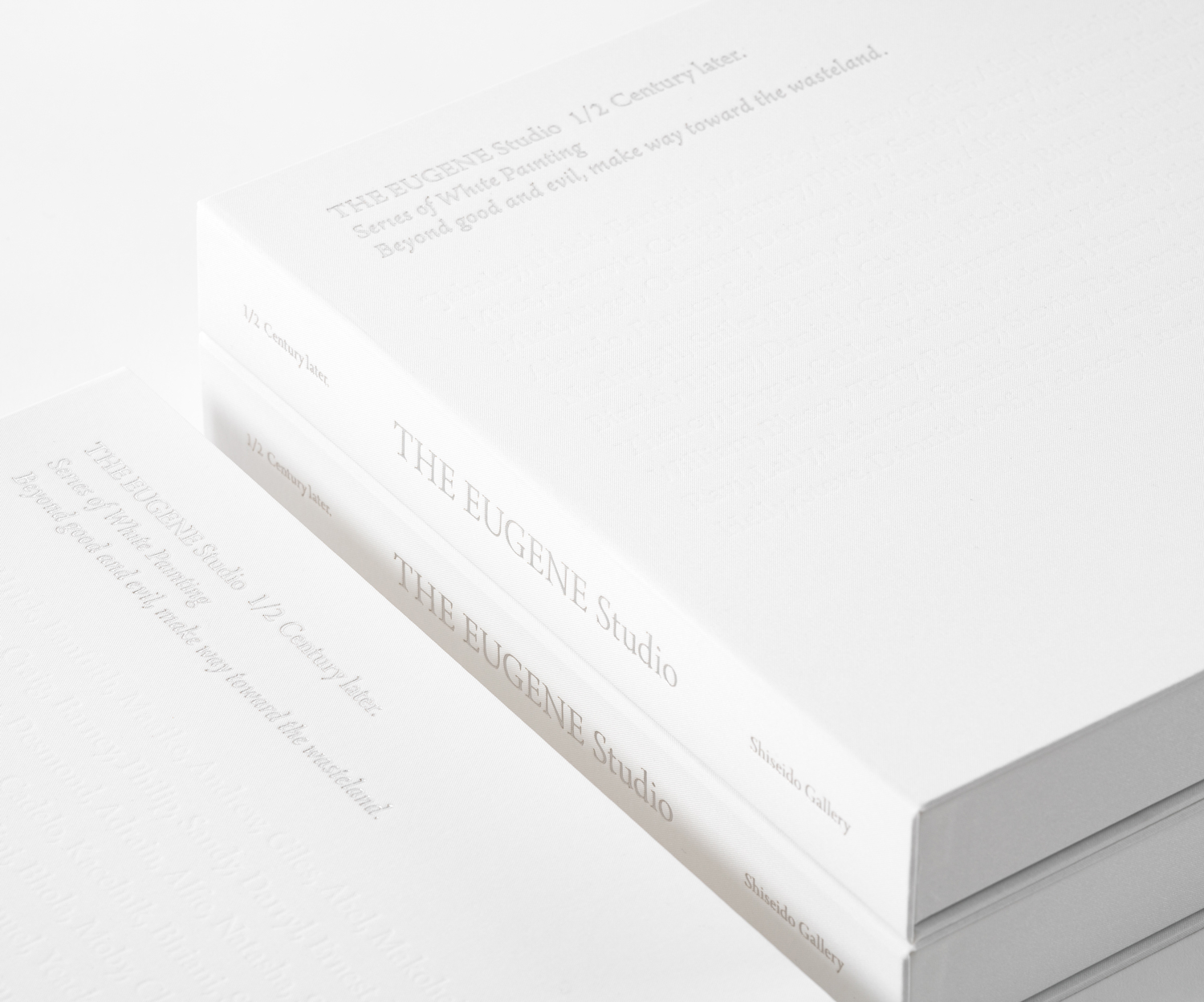 [Overview]
THE EUGENE Studio 1/2 Century later.
"Series of White Painting" 

Price: sold out
Size: Exterior 455mm x 305mm
Configuration: 3 parts [ Catalog / Collection of Theses(Japanese) / Collection of Theses(English) } Page: Catalog 90 pages, Collection of Theses(English) 74 pages, and Collection of Theses(Japanese) 70 pages.
Spec: Boxed in. Pages are removable as a sheet.
Publisher Shiseido Gallery (2019)
From 8/3, sold in book stores.
[About this catalog]
In this book, THE EUGENE Studio 1/2 Century later., includes several contents as below; descriptions of THE EUGENE Studio/Eugene Kangawa's artworks: White Painting(2017-), Beyond good and evil, make way toward the wasteland. (2017) which are showcased in their solo exhibition at Shiseido gallery with the same title as this catalog, 6 discussions/essays about this exhibition and the artist, and photography of the artworks.

Also, the strained and beautiful design with elaborated ingenuity in entire pages were supervised by THE EUGENE Studio.
Also, the pages are detachable so that to display each page.

An art critic David Geers who contributes his writing to October and among other places describes this work as "nomadic shrines to love and memory" and points out its potential to overturn the occidental recognition of monochromes. With the lists of various monochrome paintings precedents, he argues that THE EUGENE Studio's White Painting is different from the ironic strains of conceptual art, devaluations by zombie formalism and more conservative abstraction that seeks a return to modernism's former grandeur. Rather, the author contends that THE EUGENE Studio's White Painting is on the horizon as an "uncertain place between a portal and a thing".
List of theses (Author / Title)
David Geers (Art critic)
Kenichiro Ito (Shiseido Gallery curator)
Toward the Connected "Art" written
Arata Hasegawa (Independent curator)
"1/2 Century Later." – In the case of conceptual art.

Daisuke Miyatsu (Art collector)
On the significance of THE EUGENE Studio toward the after 50 years
Anna Kato
THE EUGENE Studio 1/2 Century later. Skating Across Time
Jean-Gabriel Ganascia (AI researcher at Pierre and Marie Curie University)
A Wind Rose for the Digital Age The Cardinal Directions of Online Life