ACK Curates | Satellite Program "Flowers of Time"
Quoted from ACK website.
The "Flowers of Time" exhibition, a Satellite Program curated by ACK Program Director Yukako Yamashita, will take place at Hongwanji Dendoin. The exhibition explores the concept of "time," which we all have in equal measure, through an eclectic range of works by world-renowned and emerging artists.

The exhibition introduces a wide range of works related to time, starting with works that evoke a universal concept of time, through to works exploring "memory" as something experienced individually, to "history" representing cultural phenomenon, as well as "traces" of time held by objects. By considering time not only in the usual manner as something relative, but also as something infinite that is beyond comprehensive, yet something finite that is within each of us, the exhibition asks how we can respect one another and coexist in the time – limited and impartial – we are living today.

The venue, Hongwanji Dendoin, is an important cultural property built in 1912 to the design of Tokyo Imperial University professor, Chuta Ito. Not normally open to the public, it is a unique building that incorporates various architectural styles, including brick walls based on British architecture and an Islam-inspired dome.
Artists: Felix Gonzalez-Torres, Eugene Studio/ Eugene Kangawa, Shinya Kato, Lee Mingwei, Yukio Nakagawa, Mayuko Ose, Kour Pour, Rui Sasaki, and Elaine Stocki
Dates and Hours: November 10 Thurs.–20 Sun. 10am–5pm *By invitation only: November 17 Thurs.
Venue: Hongwanji DendoinVenue: Hongwanji Dendoin (Google Map)
Admission: ¥1,000
Special Partner: Rakuwakai Healthcare System
Exhibition information
Ticket
About ACK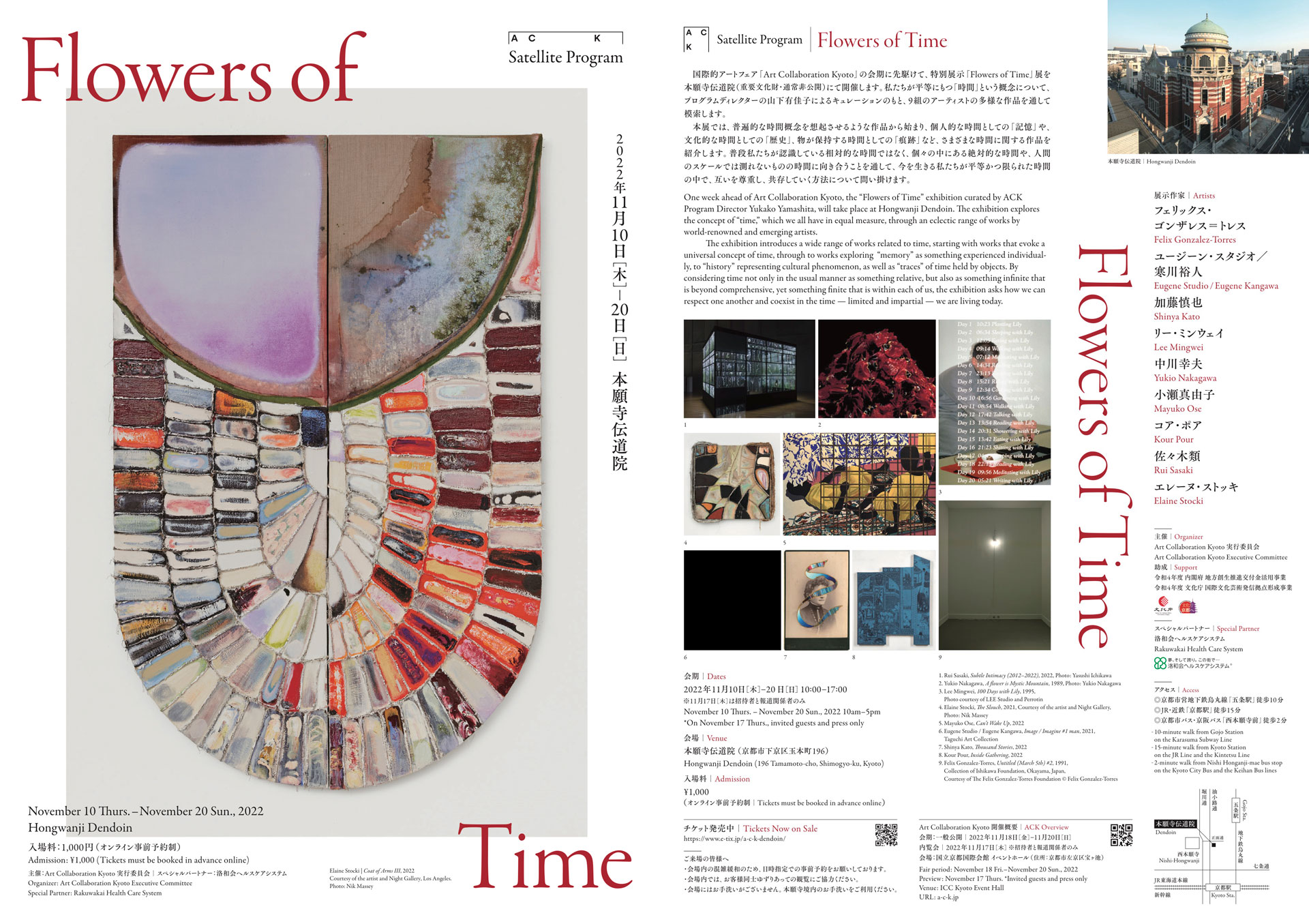 (Quoted from ACK website. Click here for the latest information)
The "Light and shadow inside me" series is created using natural and artificial light.
The green ones are made using the fading effect of paper coated with water-based paint, folded into polygonal columns and exposed to the sun for several weeks. The monochrome ones are made by the simple act of folding silver-halide photographic paper in a darkroom, shaping it into polygonal columns, and exposing it to a brief flash of light. The gradations on the surface show relative and objective facts, like the shape this paper was folded into and the positioning of the sun and light. It reminds us that we are constantly changing in response to external influences.

"Imagination #1 man" is a hand-made figure of a man, the entire process of which takes place in total darkness, and is exhibited in an equally total darkness of a room. Due to this, even the artist, Eugene Kangawa, does not know all the details of the sculpture, and no one has ever seen it before. When entering the dark room, viewers must leave behind things that offer objective information such as watches and mobile phones, and enter alone. Objectivity is eliminated, and in the dark they touch the sculpture, and through imagining the object, have a very individual and relative experience. Through this experience, perhaps we will question the existing senses within ourselves.

*Each person will be admitted to the "Imagination #1 man" room on a timed changeover basis. Those wishing to enter will receive a numbered ticket at the venue on the day, so please ask at the reception. Numbered tickets are available on a first-come, first-served basis and are valid for the day of you received only.
*Please understand and cooperate that the number of people entering the venue is limited due to the time required to view the exhibition.

Eugene Kangawa(b. 1989, US) is a Japanese artist. He is known for many paintings and installation works. Past shows include "EUGENE STUDIO After the rainbow" (2021-22, the Museum of Contemporary Art Tokyo, Tokyo), "de-sport" (2020, the 21st Century Museum of Contemporary Art, Kanazawa), "89+" (2014, the Serpentine Gallery, London ), "Shikkoku-Noh" (pitch darkness-Noh) (2019, the National Art Center, Tokyo).
ー
"Imagination #1 man"
(Quoted from catalog)
No one has ever seen this sculpture—not even me. It has been in pitch darkness since the moment of its creation. I intend to keep it there forever.
-
Each person, it seems, imagines the sculpture differently. Some envision a work like Buddhist carvings, others a form in clay, others a marble statue, cold stone. Some imagine it to be large, and others imagine it to be small. I believe that these differences depend on the life each viewer has led.
-
When I touched the sculpture in the dark, sensations I had experienced at many different ages welled within me at once.
Curiosity. Sensuality. Sublimity. A corpse. Maternal instinct. Affection.
-
These flickered by in moments. It was a sensation I had never experienced before.
However, my strongest memory was the moment of separation.
When I separated from the sculpture to float in space, I understood what religion is, its original form. For just a few minutes, there in the darkness, I was forced to realize that it had been my rock.
-
Image/Imagine is faint, but real.
Why are sculptures necessary? Why did the art of sculpture come to be? I am not a sculptor, but I have, without question, drawn near to the origin here
-
If Image/Imagine spreads even into a mind a century hence, the images could number nigh unto infinity.

-Eugene Kangawa