"Agricultural Revolution 3.0" was featured by WIRED. "3/27 The future of 'Agriculture' and 'City' that we will witness."
[Partial excerpt from the article]


As a part of the project of "Agricultural Revolution 3.0" which started in Tsuruoka city in Yamagata Prefecture, a large conference will be held inviting a bio-startup, researcher, oversea farm manager, architect. This will be a great opportunity to learn the latest knowledge of the "future of agriculture" and regional revitalization realized by it.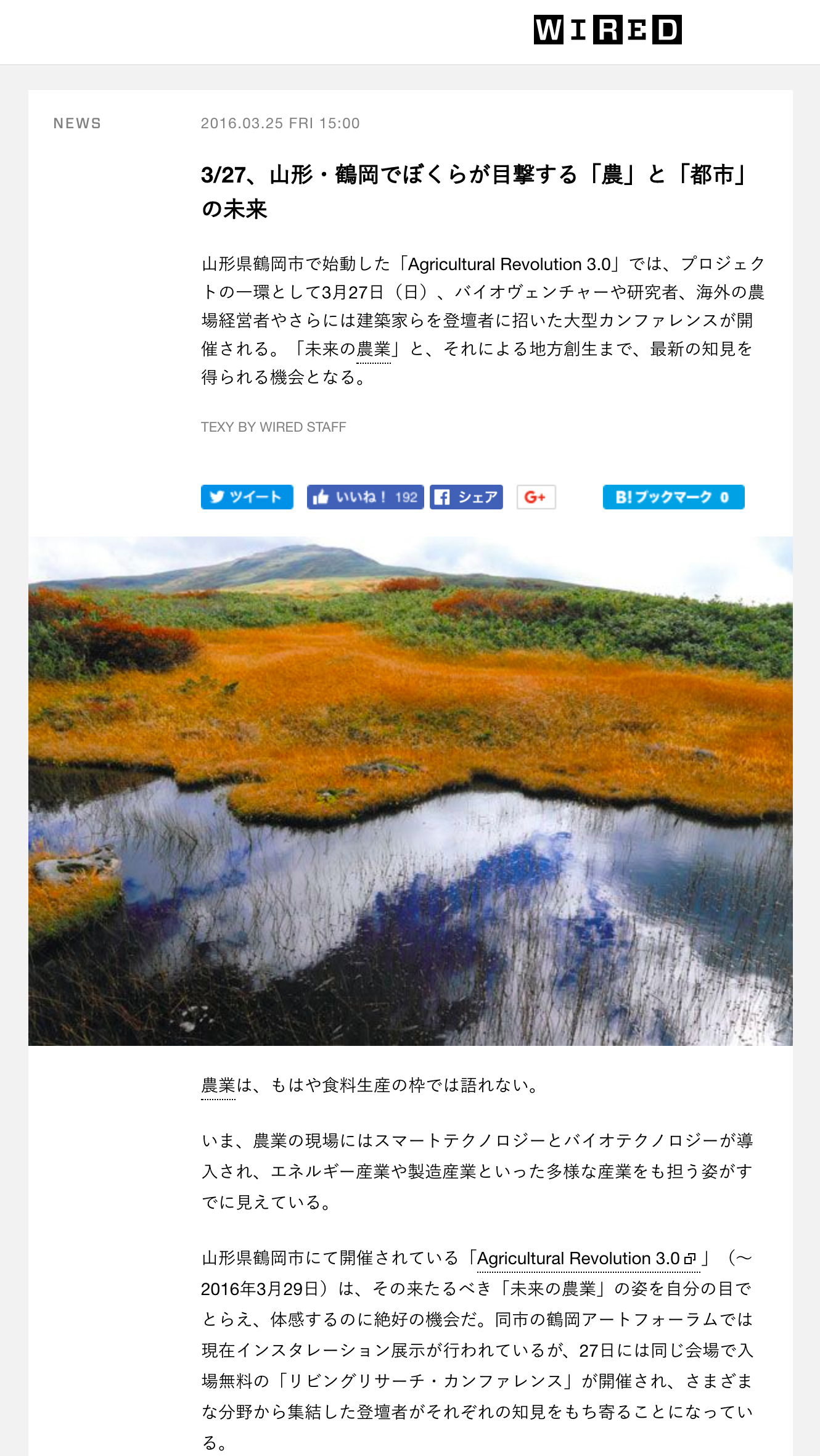 Agriculture is no longer a topic that could be spoken in the frame of food production.
Today, smart technology and biotechnology have been introduced to the agricultural field, and it's already taking on the role of various industries including energy and manufacturing.
"Agricultural Revolution 3.0" ( to Mar 29, 2016 ) held in Tsuruoka, Yamagata pref. is the best opportunity to experience the aspect of "agriculture in the future".
Currently, an installation is presented at the art forum in Tsuruoka and there will also be a "Living Research conference" on the 27th at the same venue, which will welcome various intellectuals from different fields as speakers.
Frank van Kleef, who will be speaking about "The ethic of smart agriculture" is one of the farm managers who led ICT introduction to agriculture in the Netherlands in the late 1980s. Kazuhide Sekiyama, a spider web venture who attracted a huge attention for his new presentation in "MOON PARKA" will be presenting "the world's first clothes made by structural protein."
Furthermore, this conference's another feature is to share architect's point of view as well. Zouhei Shigematsu ( OMA partner ) who was interviewd for his approach toward food issues and the city on WIRED vol.17 will have a panel session about "the future of agricultural city".
Moreover, Masaru Tomita who was an university professor of Sekiyama from Spiber will share his insights about the future development of agriculture and bio-industry in Tsuruoka. This day at Tsuruoka, Yamagata, you will be able to experience the possibility of the future agriculture while seeing the process of town development which tries to implement an innovation in the city to change into a local vitality.