From July 26 (Sat) to August 30 (Sat) 2014, Kangawa's 3 channels video installation "from the future" will be presented at Yuka Tsuruno Gallery.
For more details about the video work, please click here.
For the closing event, please click here.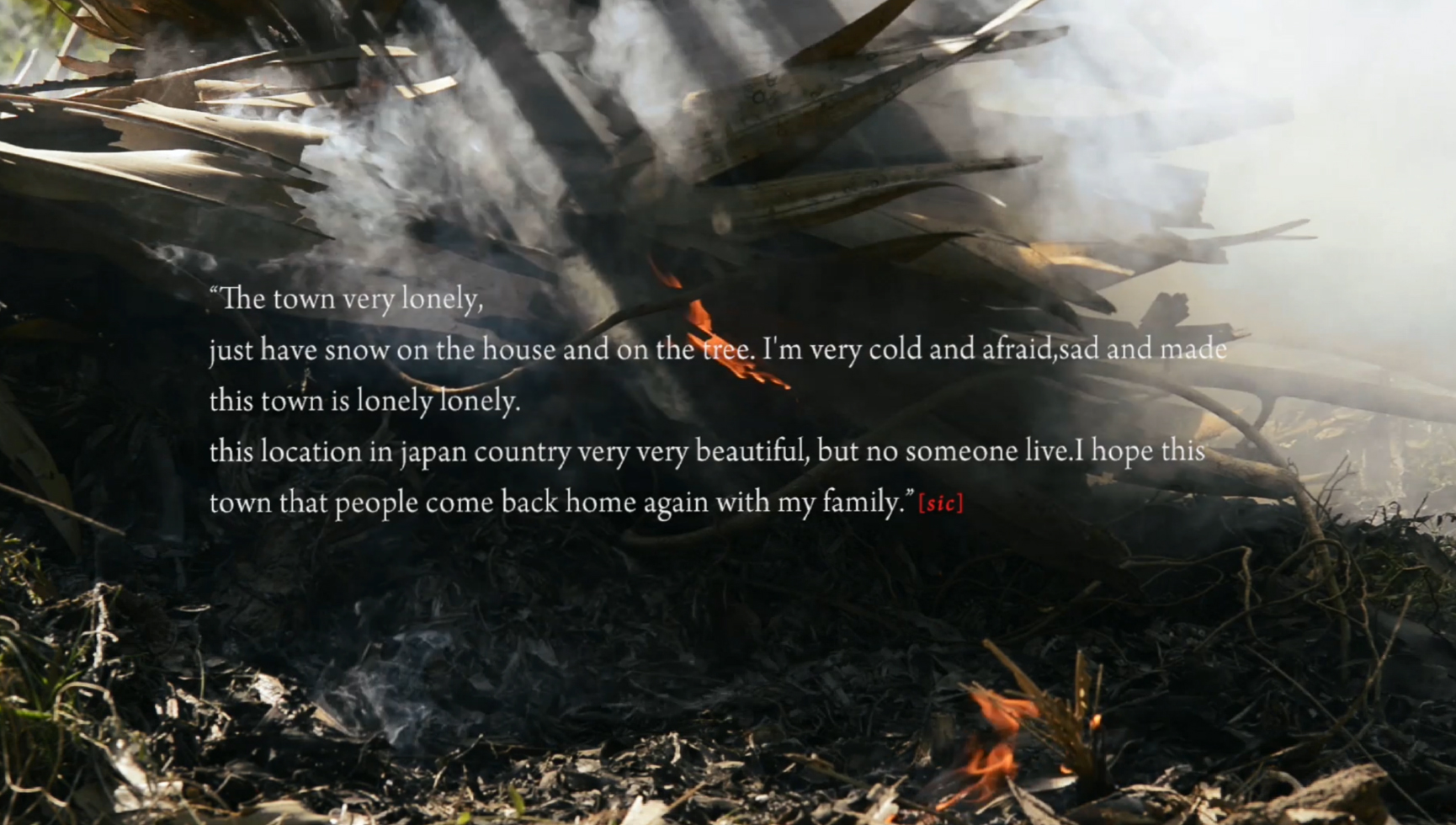 ---
EXHIBITION INFORMATION
( Excerpt from the website )
YUKA TSURUNO GALLERY is pleased to announce from the future, a solo exhibition of artist Eugene Kangawa who uses video as his primary medium. The show will run from July 26 (Saturday) to August 30 (Saturday) 2014.

Eugene Kangawa is an artist who has attracted attention for his beautifully airy video works that emphasize process. from the future is a video/photography work that was produced from 2012 to 2013 as part of the "supervision" series, in which Kangawa employs his unique expressive method to elegantly capture demanding subjects that come to light when two different contexts are traverseved.
In this exhibition, the work will be showcased in the form of a three-channel installation.

The process of creating from the future involved inviting to Fukushima a person living abroad who had no information regarding Fukushima and its surroundings, and asking the person to write an imaginary story about "what happened here and when" as well as to record the scenery around. Composed of such materials that present the viewpoint of someone with no knowledge of the place, from the future attempts to virtually visualize a possible "future" in which the memories of Fukushima as a place have been forgotten.

The artist focused on the sentence "this place resembles Phnom Penh after the Khmer Rouge" found in the imaginary story, and took footage of the remains in Phnom Penh that have become tourist sites, and of the same place in Fukushima that he had visited in the past. The resulting video dismantles the two contexts that have no intrinsic connection between them, but connects them through diverse common traits, evoking questions of artificiality, nature, life and death, and circularity. Portraying issues such as disconnection and connection as well as the fading of memory by employing not a direct approach but rather a firm critical stance, this work will elicit in the viewer the important subject of which memories are wearing thin as time passes.


Artist Profile
Eugene Kangawa was born in the U.S. in 1989 and is currently based in Tokyo. He presents installation works using different media including photography and sculpture, with a particular focus on video. His delicate and airy videos that emphasize process and archive, as exemplified by the group of videos entitled Desport that was produced as a collaborative research on sports with multiple academic communities, have attracted significant attention.
He has participated in exhibitions in and out of Japan since he was a student, and was invited to give a talk at the Ginza Graphic Gallery (ggg) as a leading young designer. He has also established ON, inc. (object of null, inc.) to carry out collaborative research on urban planning and technology, as well as software design. His participation in a project led by the Serpentine Gallery illustrates the public interest in Kangawa as an artist of the next generation.


Exhibition Overview
Eugene Kangawa from the future
Exhibition dates: July 26 (Sat) - August 30 (Sat) 2014
Finissage/Closing party: August 30 (Sat) 18:00-20:00
Opening hours: Tuesday - Saturday 11:00 - 19:00 (Closed on Sundays, Mondays and public holidays)
*Summer holiday: August 12 (Tue) - 16 (Sat)
---
FEATURED BY
from the future" was featured by "OPENERS"
OPENERS, August 7, 2014
・・・・・・・・
from the future" was featured by "OCULA"
OCULA, July 26, 2014