Beyond good and evil, make way toward the wasteland.
Series of White Painting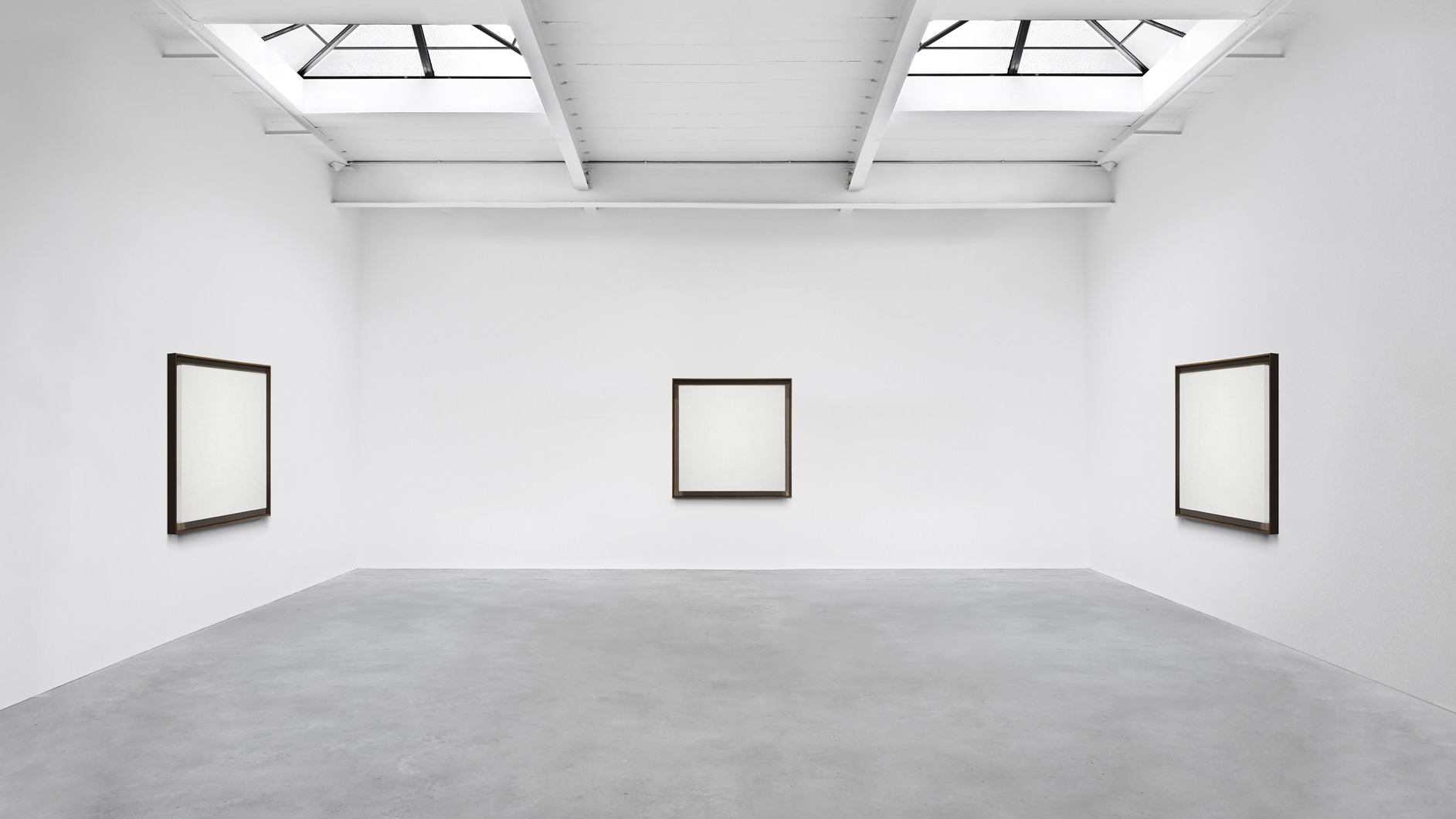 Outline
As a minimal architecture
White Painting series was conducted in various regions/places and sometimes as much as 100 people's kisses were impressed on a canvas.
White Painting is a collective term for the series and originally each work (canvas) has its own names of the participated peopleーsometimes it is the names of 100 people, 20 people, or three or four people in a family.
*appendix
1. Icons in a cycle of society
2. Opticality and technology / Invisible objects themselves

1. Icons in a cycle of society
Icon and paintings were surely in a cycle of lives and society once. The way people come in contact with this format is quite similar to the way they do with an icon. Meanwhile, the difference of this series from the icons is that in a White Painting nothing is depictedーor different images appear in the background when people face to it (and it is not God but other individual people). White Painting is a hardware/platforms without an image.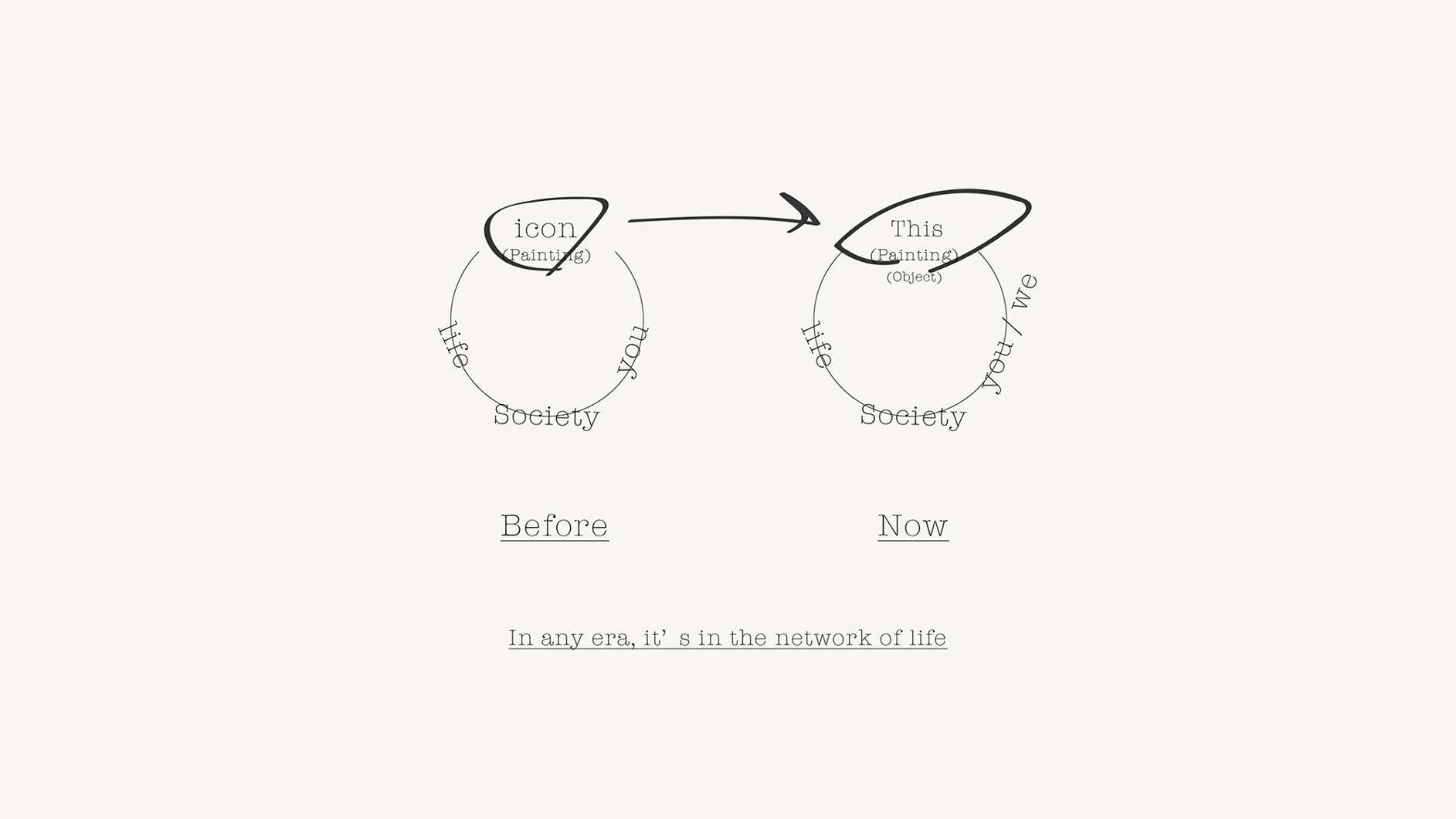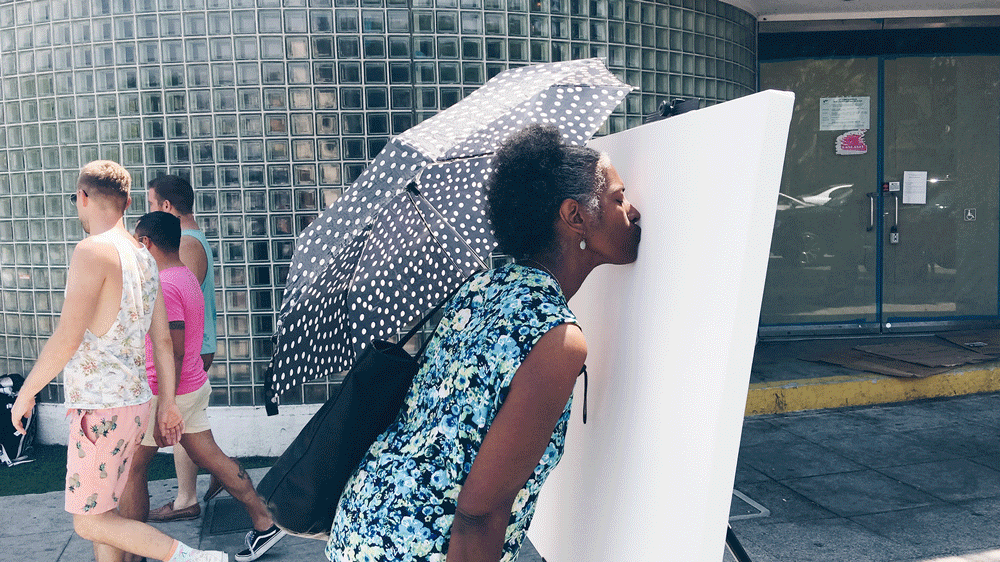 White Painting
This attempt was accepted by many regions and people. (In parallel with the general "reality" of a big unit/scale and division at the global level, there exists actually the fact like this too.)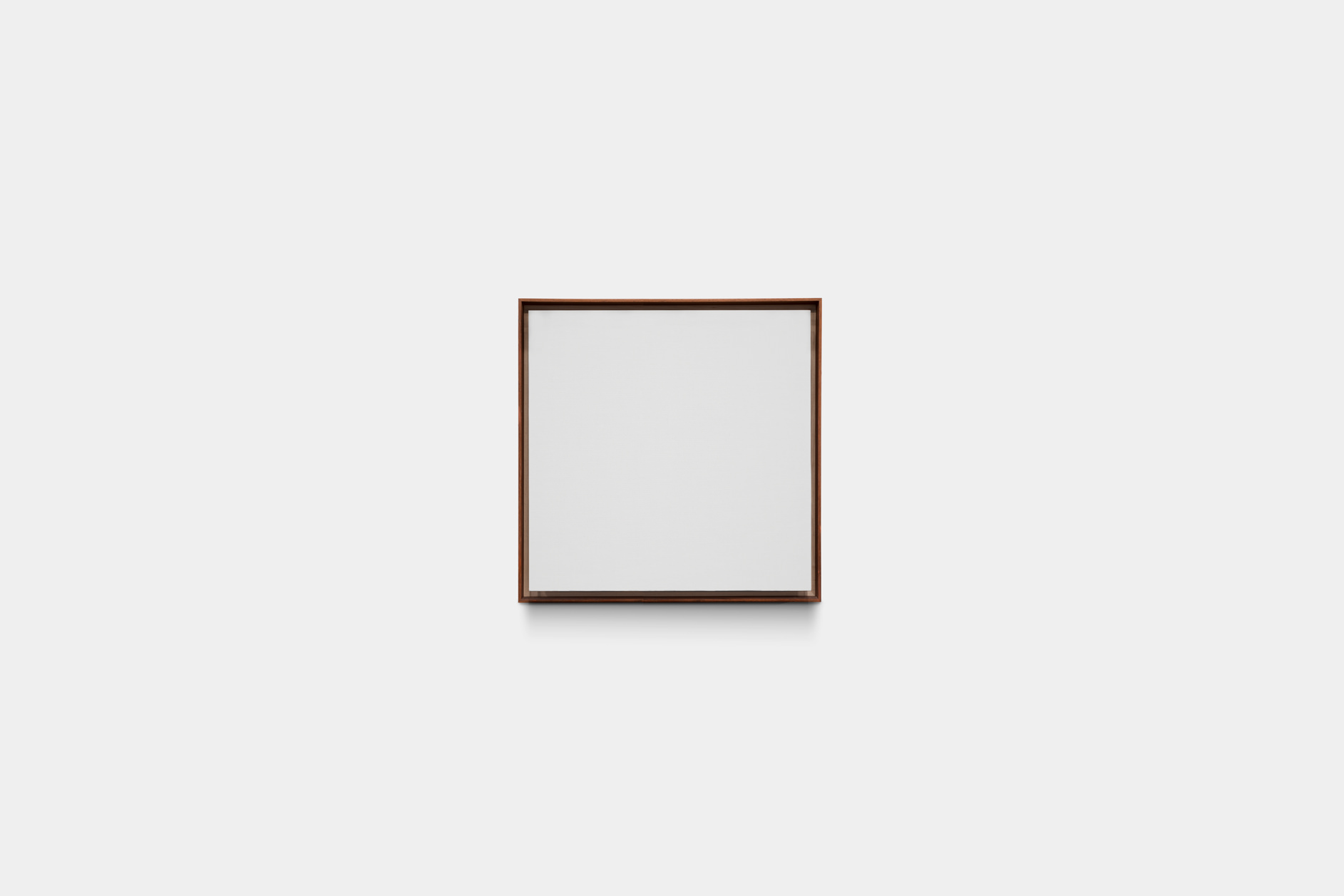 ───"Jabaley, Hrick, Eanfrith, Maaike, Andrew, Abel, Makohejiri, Cody, Miles, Stewvie, Barney, Craig, Meredith, Philip, Sandy, Darryl, Ernest, Hadley, Toby, William, Mick, Nigel, Pat, Desmond, Emmanuel, Giles, Adrain, Alfie, Natasha, Shelly, Beyeler, Mably, Theo, Aleiudo, Faneca, Saalmon, Cadelo, Kacelnik, Biriani, Shapely, Faree, Cawly, Sailer, Dansel, Ghidini, Bhola,Nachtigall, Moby, Claridge, Ullsten, Claris, Sabel, Babbit, Bianki, Talley, Alex, Danieli, Gaylor, Yeack, Johnny, Merry, Urick, Lochoner, Yhency, Hagan, Sablon, Kebin, Michael, Henry, Yura, Faille, Yulsman, Robinson, Eca, William, Blasco, Terry, Penny, Leo, Slevin, Lorry, Seems, Maanen, Reibey, Yuile, Ravi, Belmont, Lally, Rebecca, Sandra, Emily, Angelica, Cristel, James, Kacy, Rachel, Sam, Terry, Helly, Steve"
Size: 915x915mm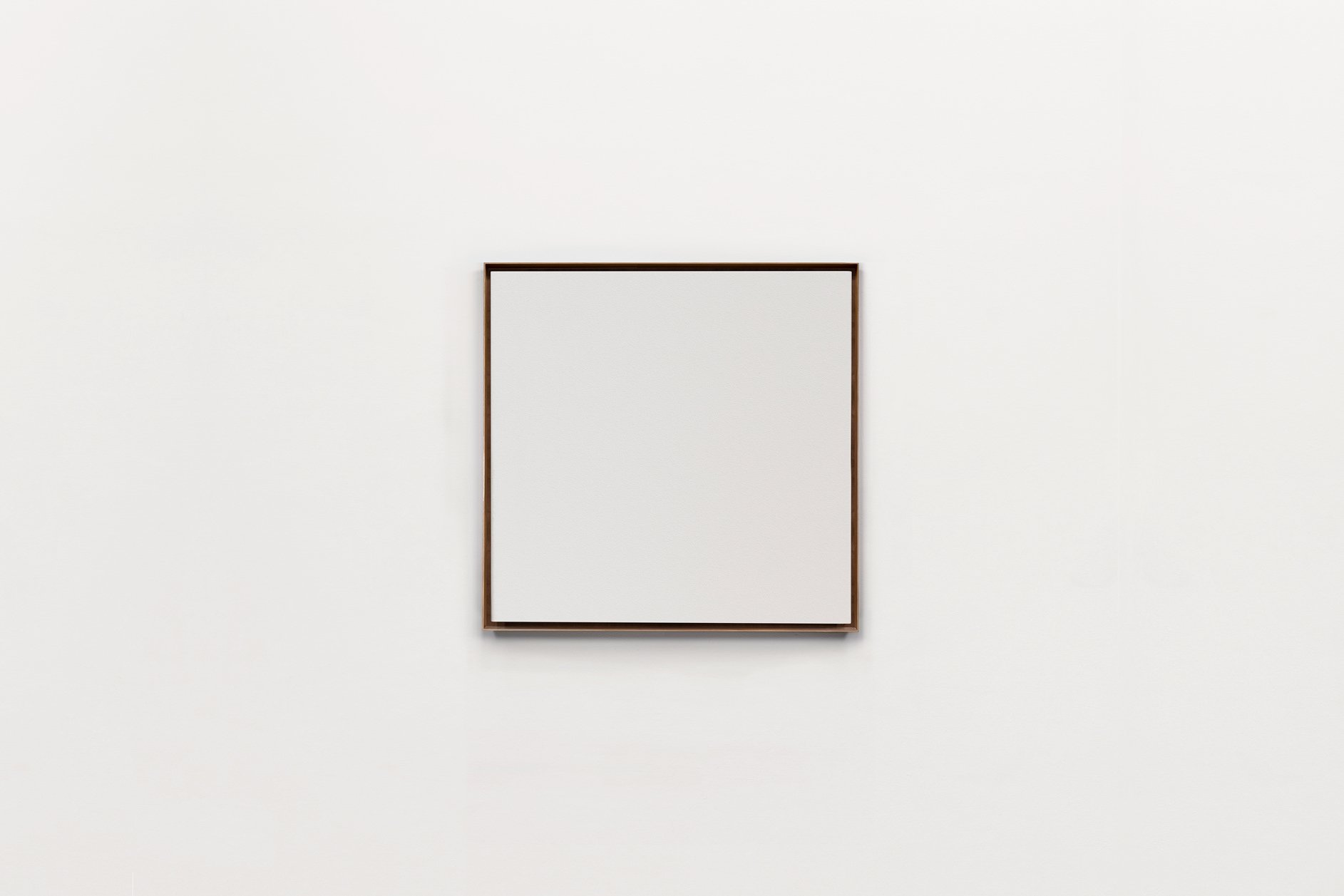 ───"Danniel, Sofi, Alexsandre, Rebecca, Jess, Lundell, Georg, Matte, Hanna, Paul, Yousef, Casaline, Natalia, Henley, Agness, Dasun, Jillian, V.T, Zach, Laurence, Hendry, Ansel, Sammantha, Curbera, Kea, Ronald, Wally, Ashleigh, Albertan, Ken, Merritt, Pascal, Tasha, Launa, V., Anthony, Jenny, Samuel, Loo family,Venn, Heather, Richard, Max, Dinorah, Catherine, Mckaen, Klasen, Lyden, Sammy, Charlotte, Mackey, Loyola, Gaedel, Vicky, Aaron, Kris, Cathy, Monica, Natasha, Jimmel, Melany, Vince, Lee, Jamie, Stephanie, Brianna, Witte, Stacy, Hi, Yuta, Ken, Julia, Germany Vale, Danne, Juelle, Dickson, Odemar, Kley, G., Max, Nancy, Ricard, Horrobin, Rodmy, Kris, Sally, Peter, Julien, Erick, Austin, Kale, Paul, Sharry, Jim, Pascal, Oddsson, Carrie, Meary, Benny"
Size: 1700x1700mm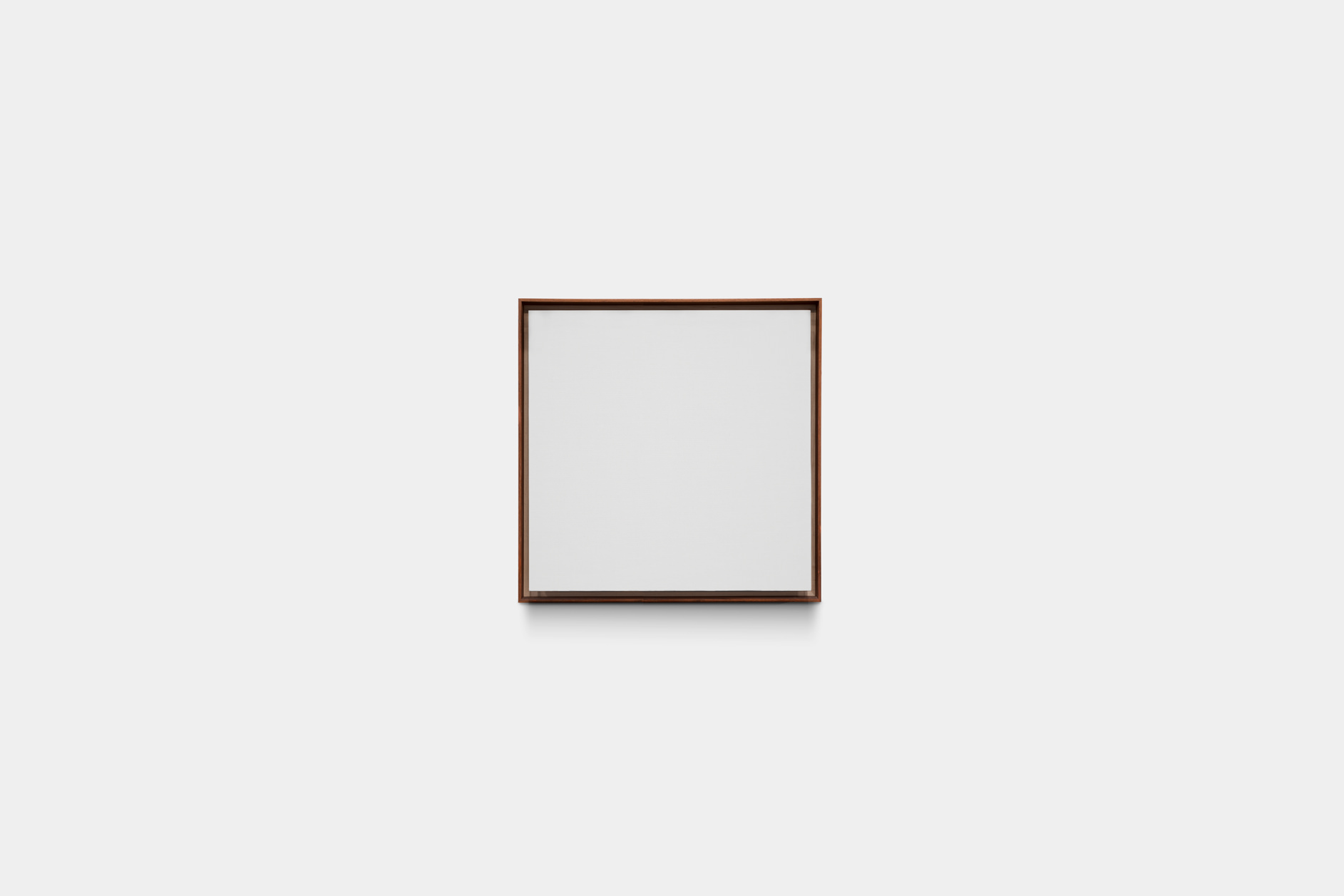 ───"Juliette, Sandra, Mitch, Wills, Gillies, Ergas, Asheron, James, Lilly, Thomas. P, Elias, Sofia, Victoria, Mackay, Jamin, Amelius, Prince, Cathy, Valerie, Keiny, Peter, Dona, Sam, Zaret, Christina, Laurencie, Owel, James, Kairy , Frances, Thom, Sugay, Marien, Kinbary, Kalen, Morry, Callen, Mut, Elen, Bruno, Peter, Daele, Clara, Benjamin, Charlotte, Michael, Ryan, Ina, Diego, Javia, Candelas, Robin, Rucaro, Daniel, Rumi, Benney, Sarah, Emily, Jack, Peter, Kevin, Safiya, Trisha, Eric, Danielle, Paul, Floyd, Alexis, Carlos, Nydia, Samantha, Daniela, Michael, Dom, Matt, Todd, Ava, Cailin, Melissa, Kirby, Alexandra, William, McGuiness, Liliana, Francisco, Daniel, Patricia, Anna, Dalia, Ricardo, Diana, Maribel, Barbara, Gabriela, Cristel, Kenia, Lorenzo, Gladys, Alberto, Carlos"
Size: 450x450mm
Archive
This series was conducted in the US, Mexico, Taiwan, Italy, and Spain and the number of participants was over 600. Even the canvas on which almost 100 people had impressed kisses remained surprisingly white. And in a public space, the canvas interfered with people as a highly mobile, small structure/space.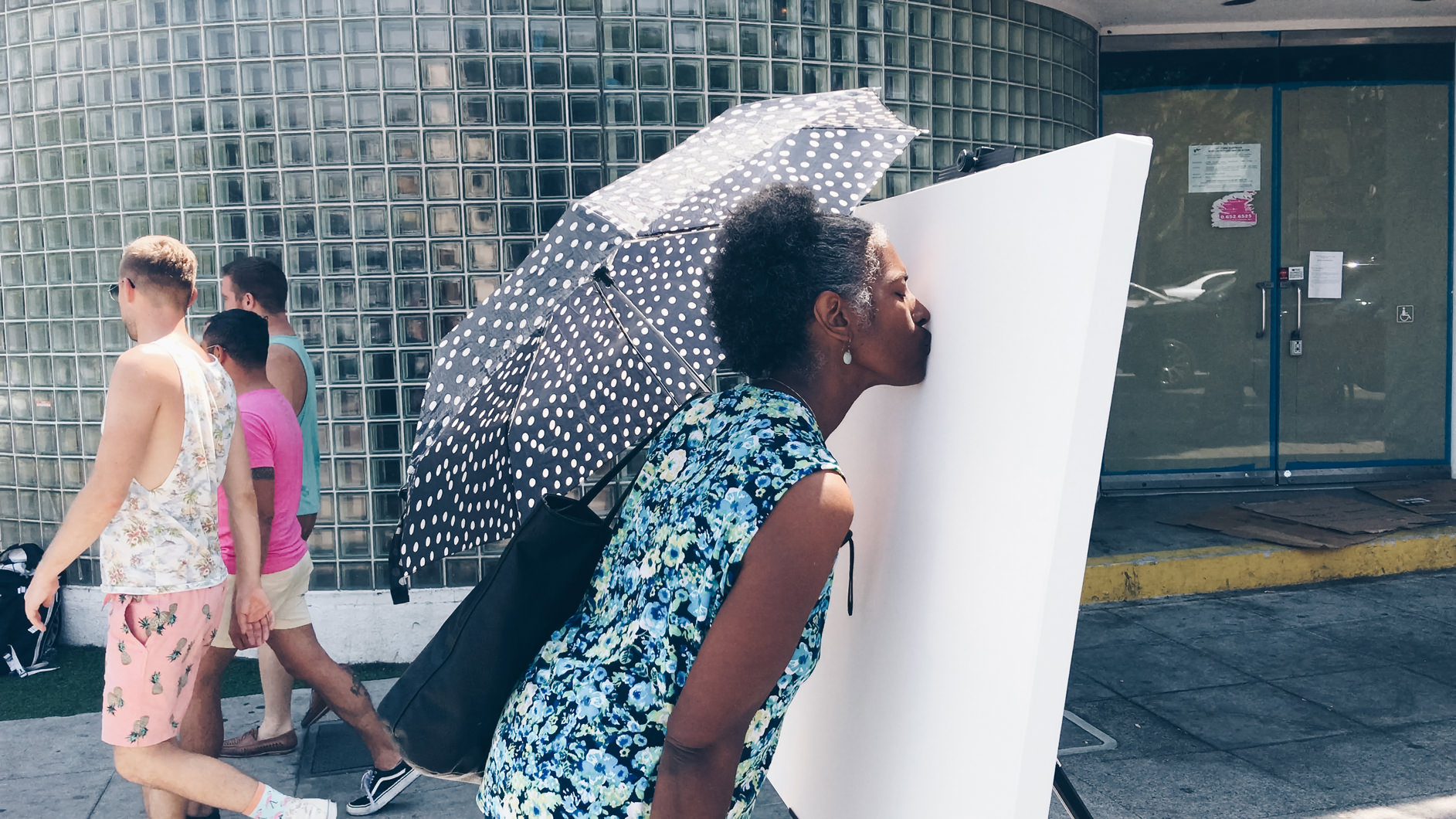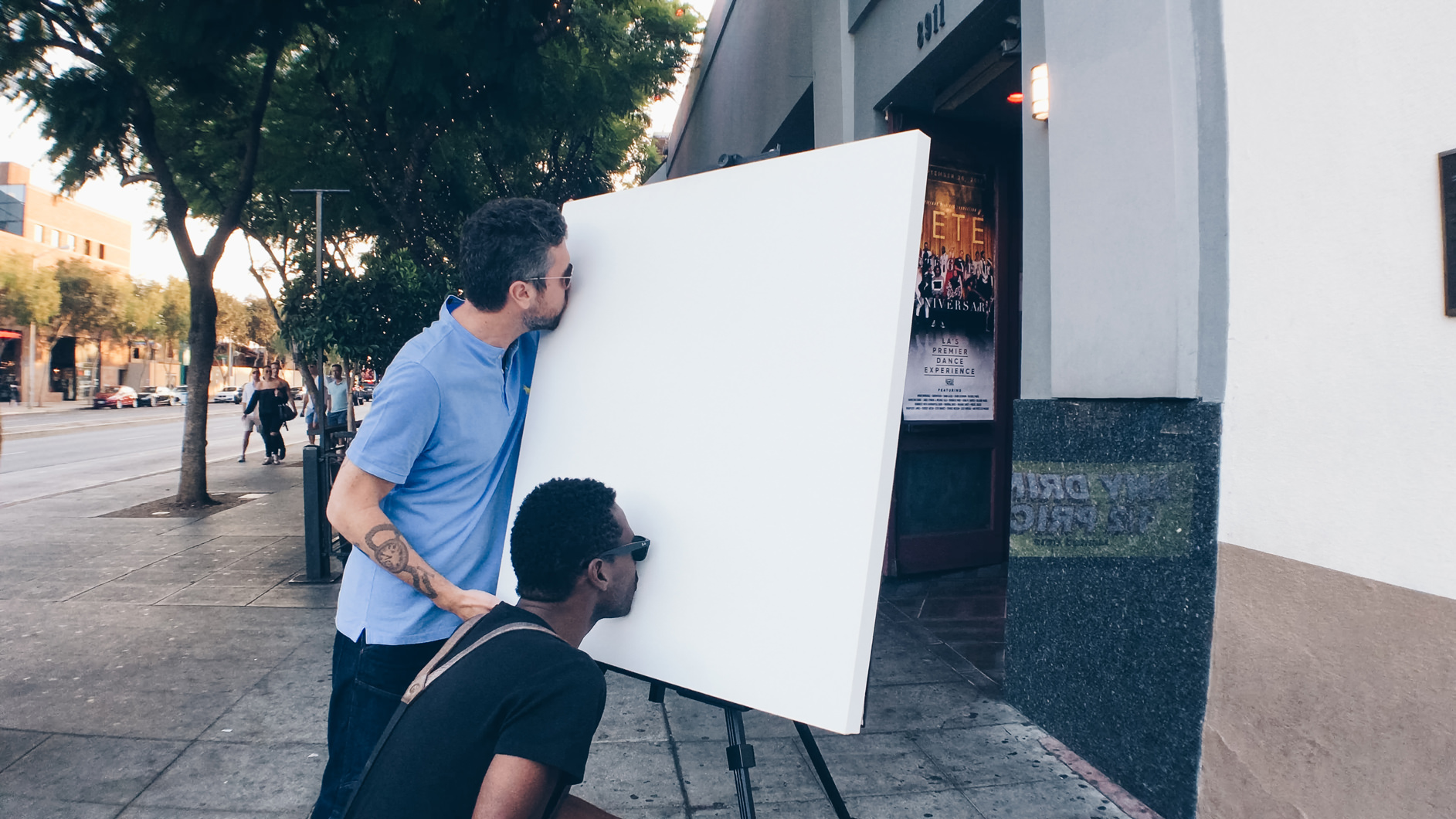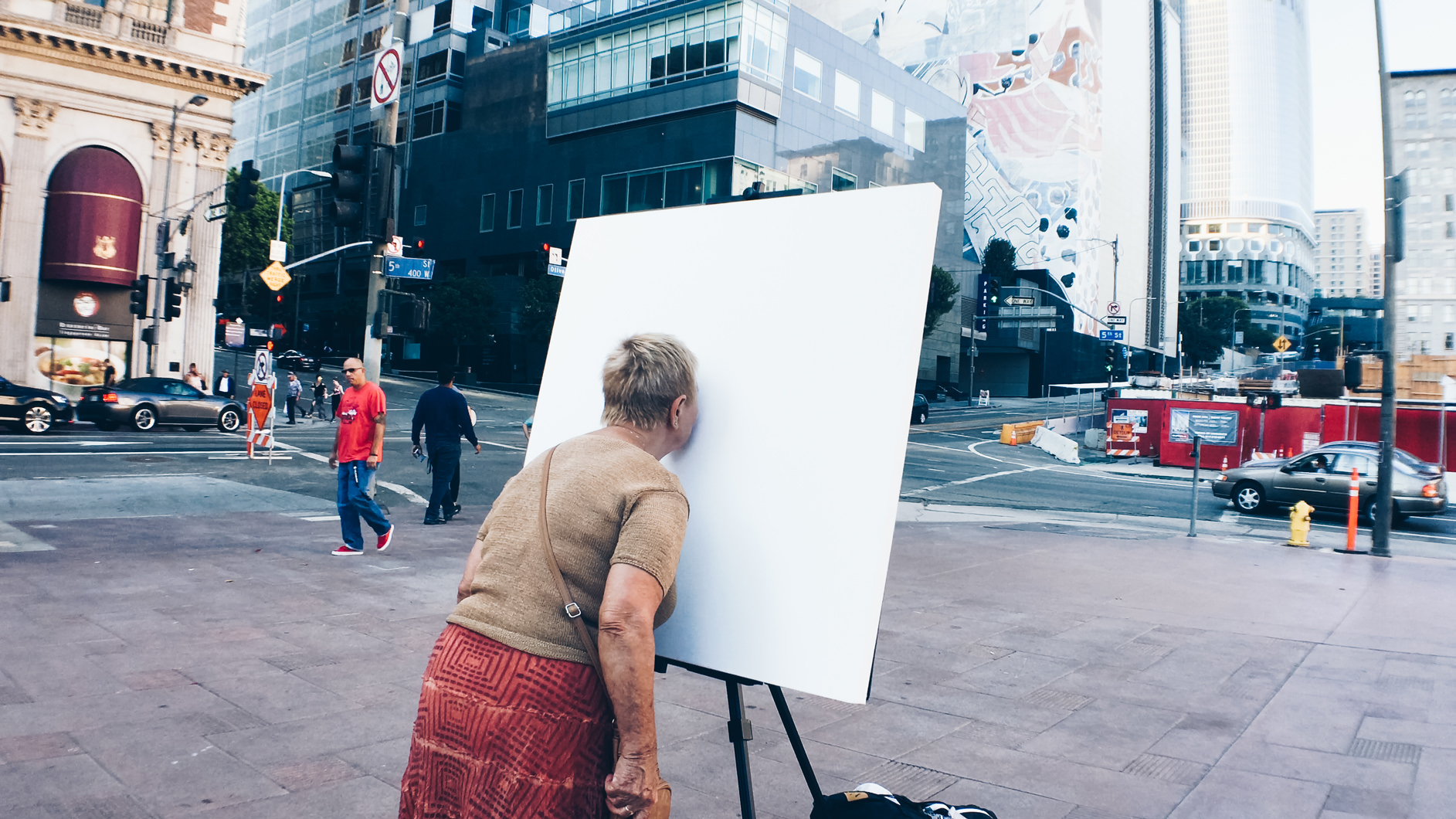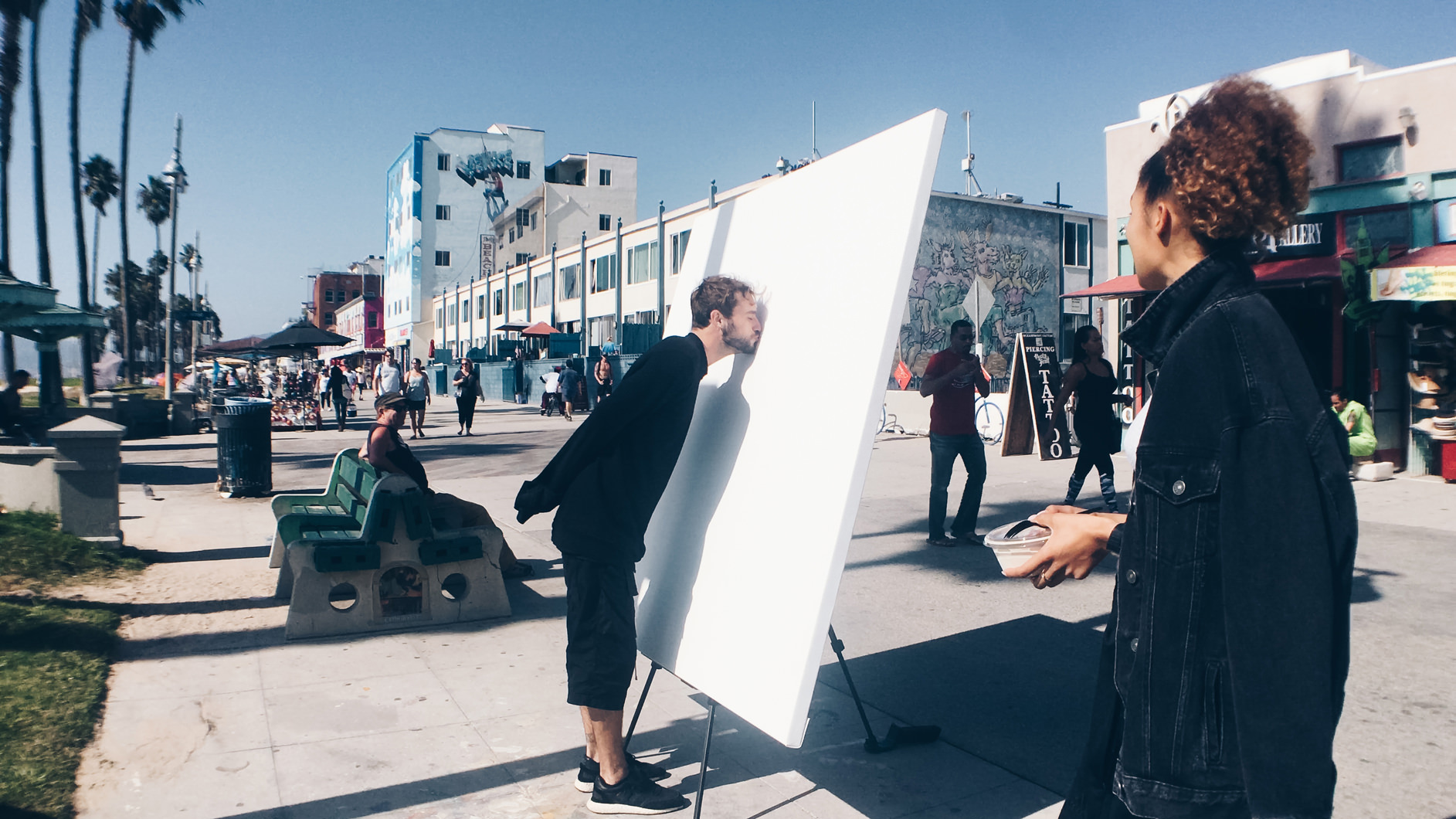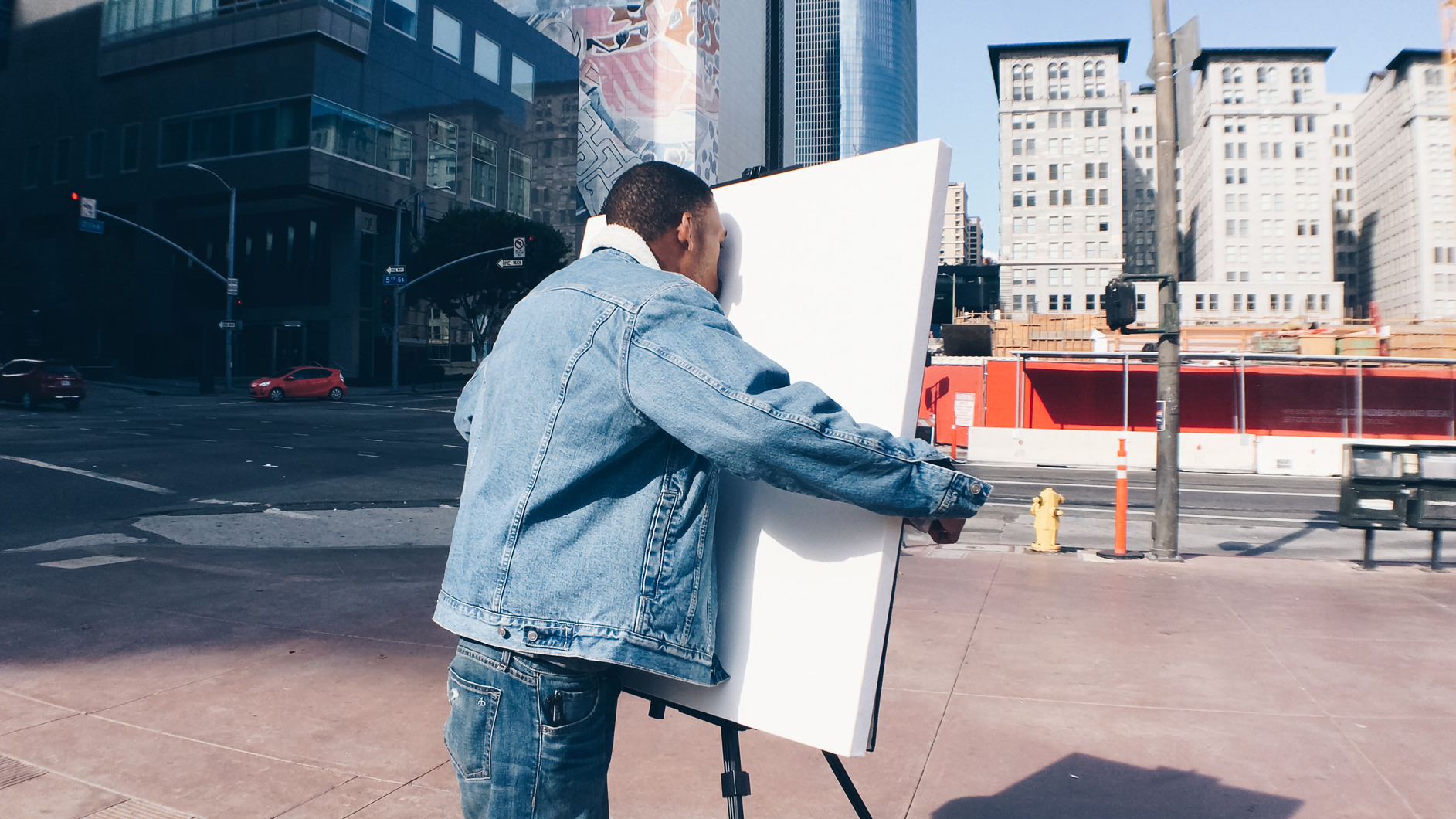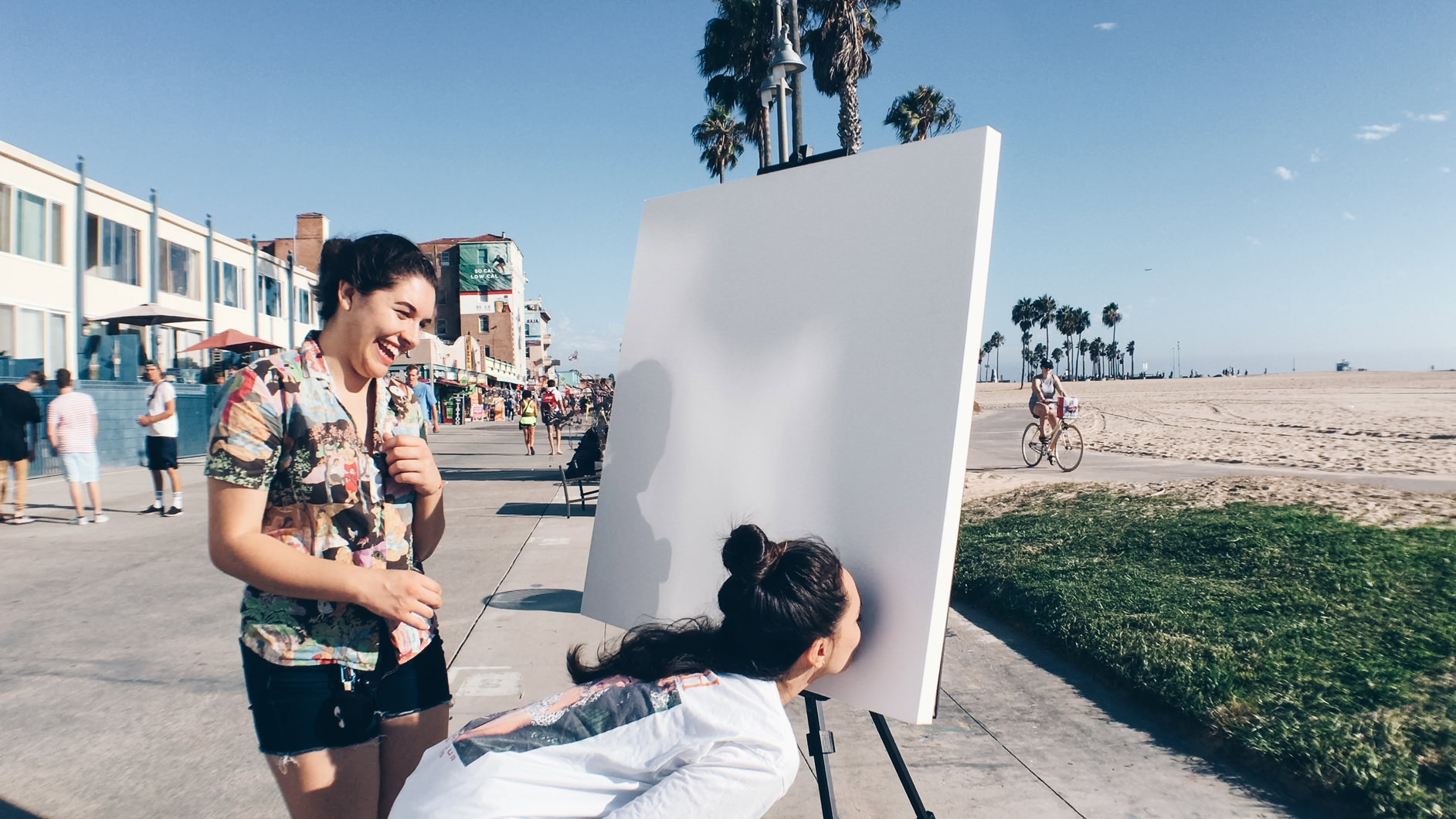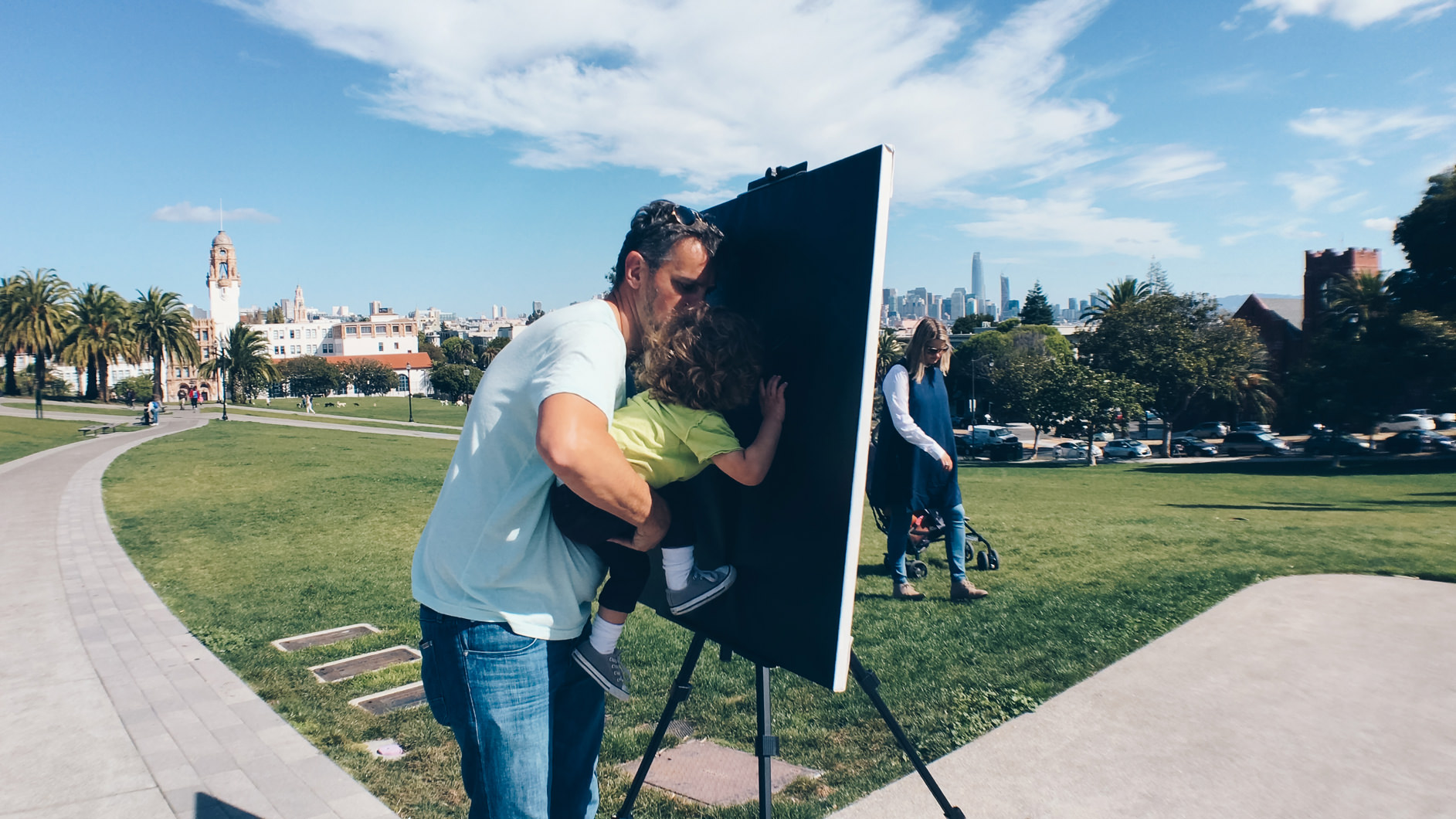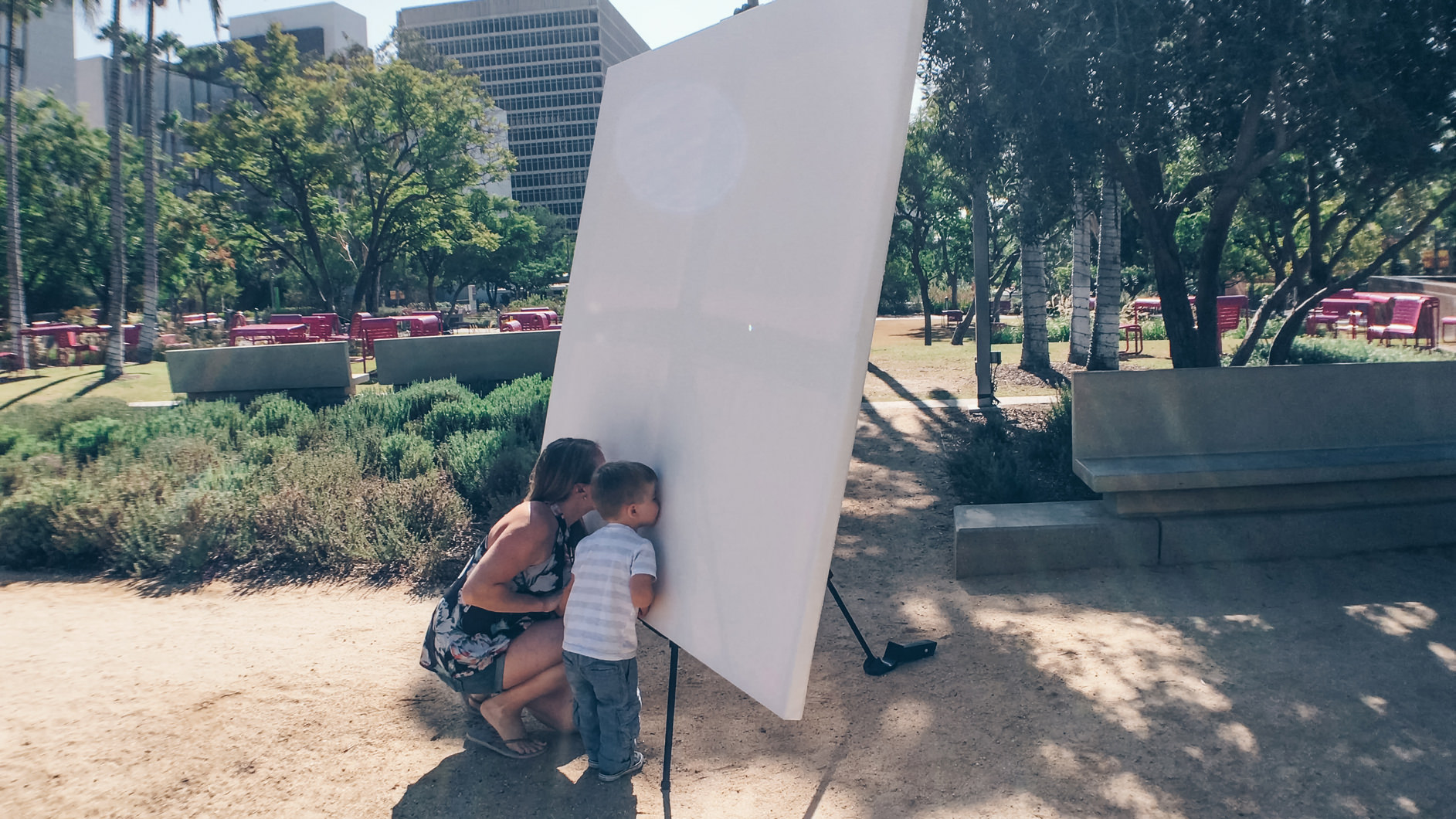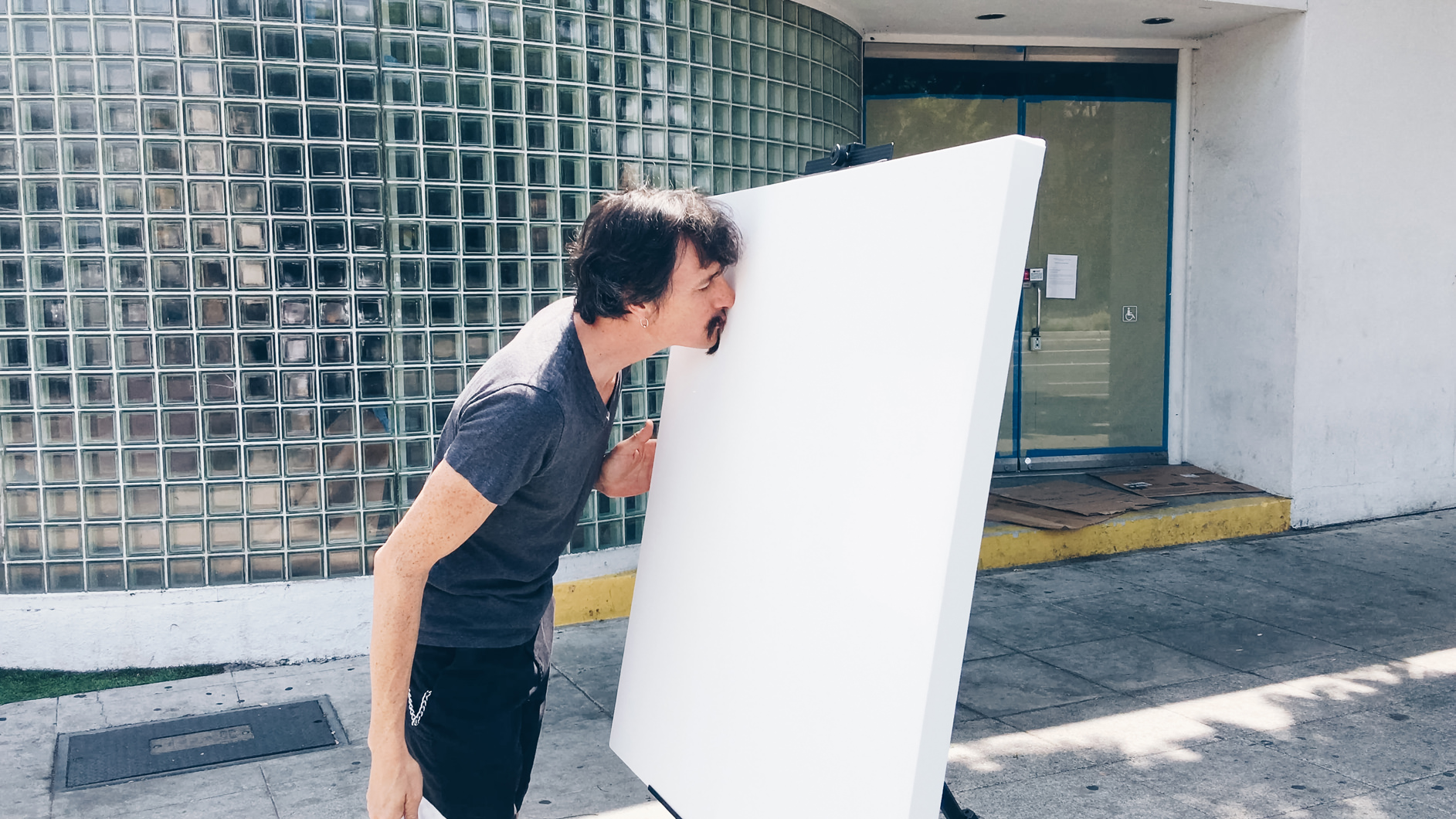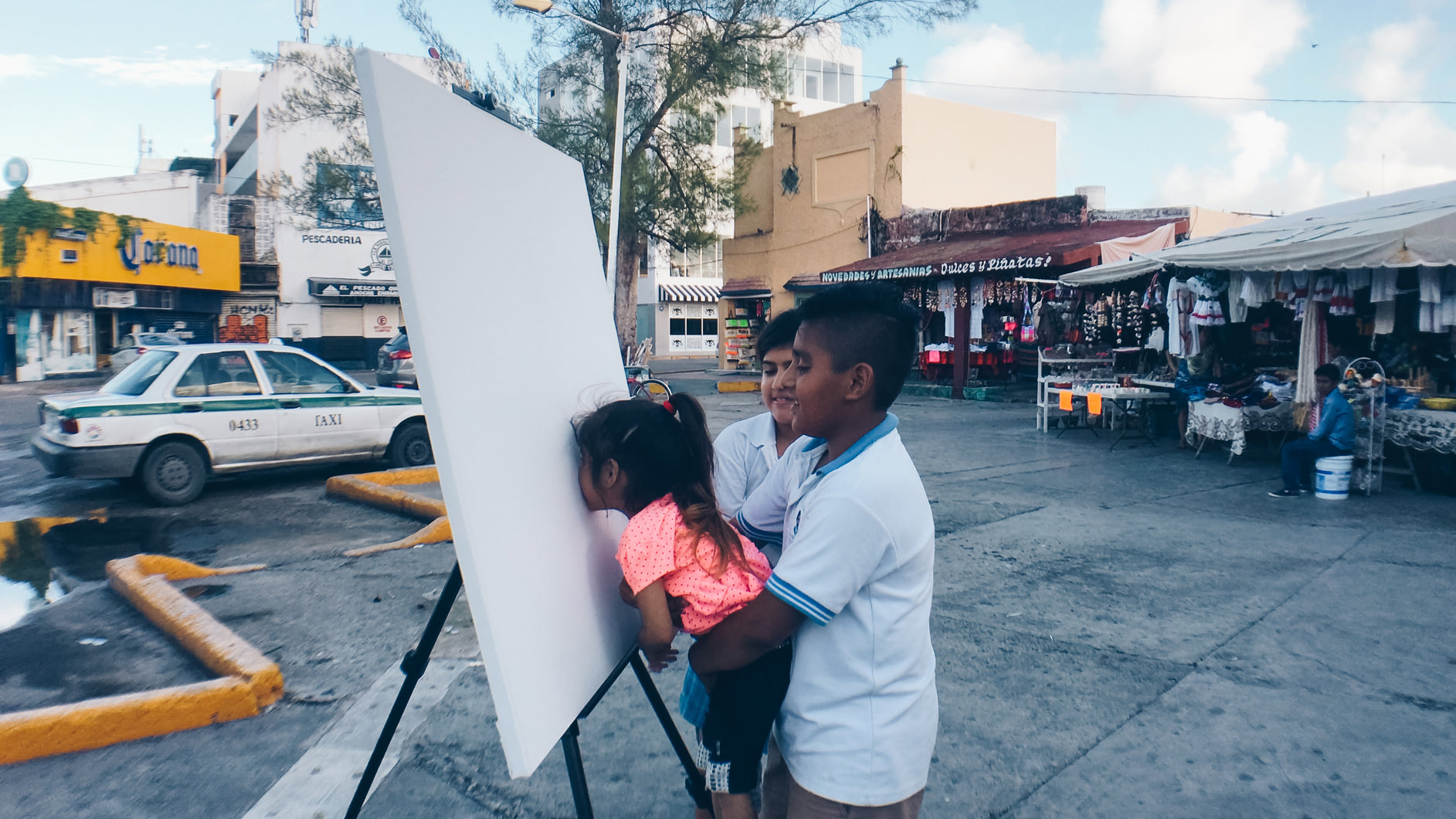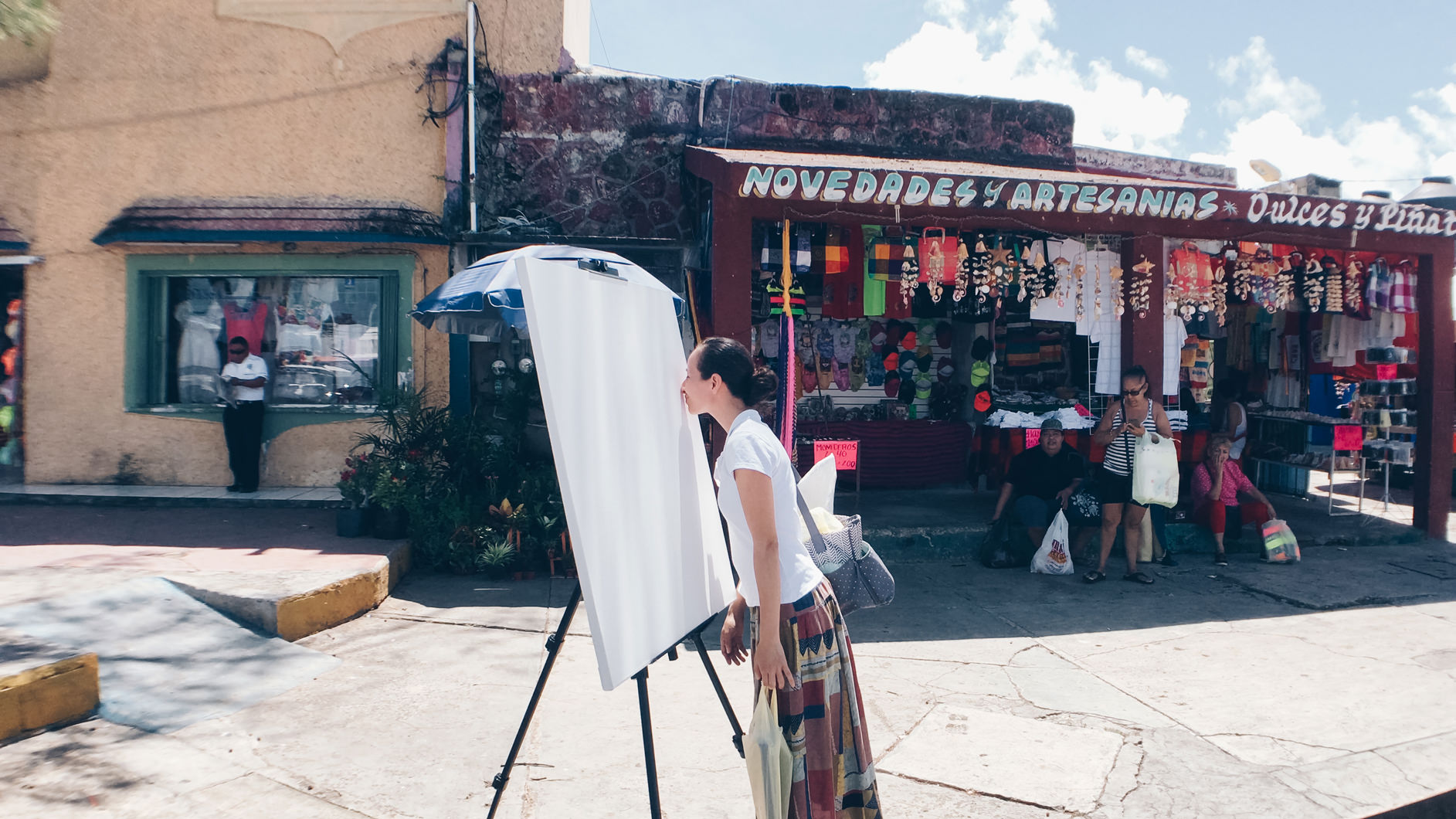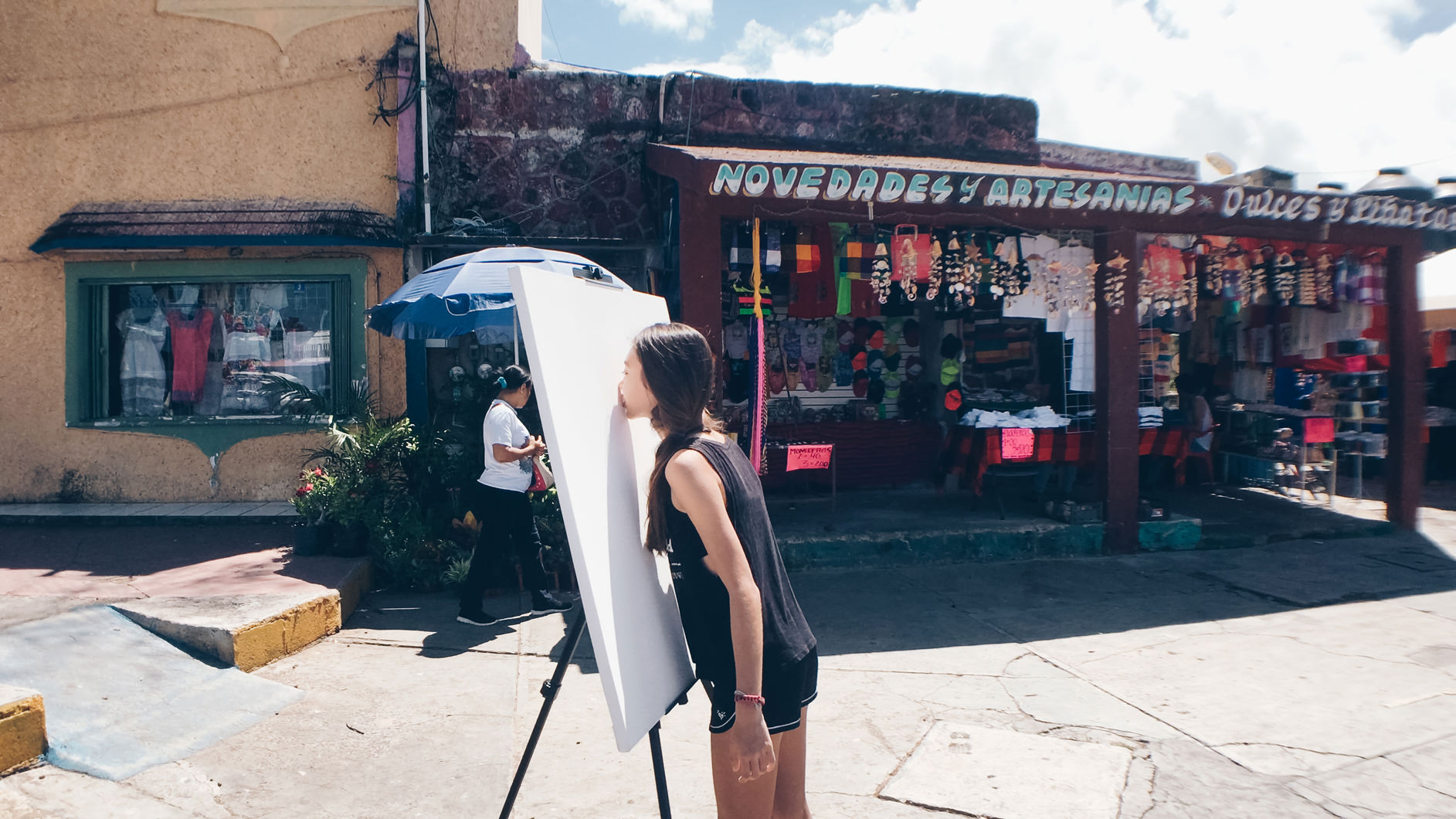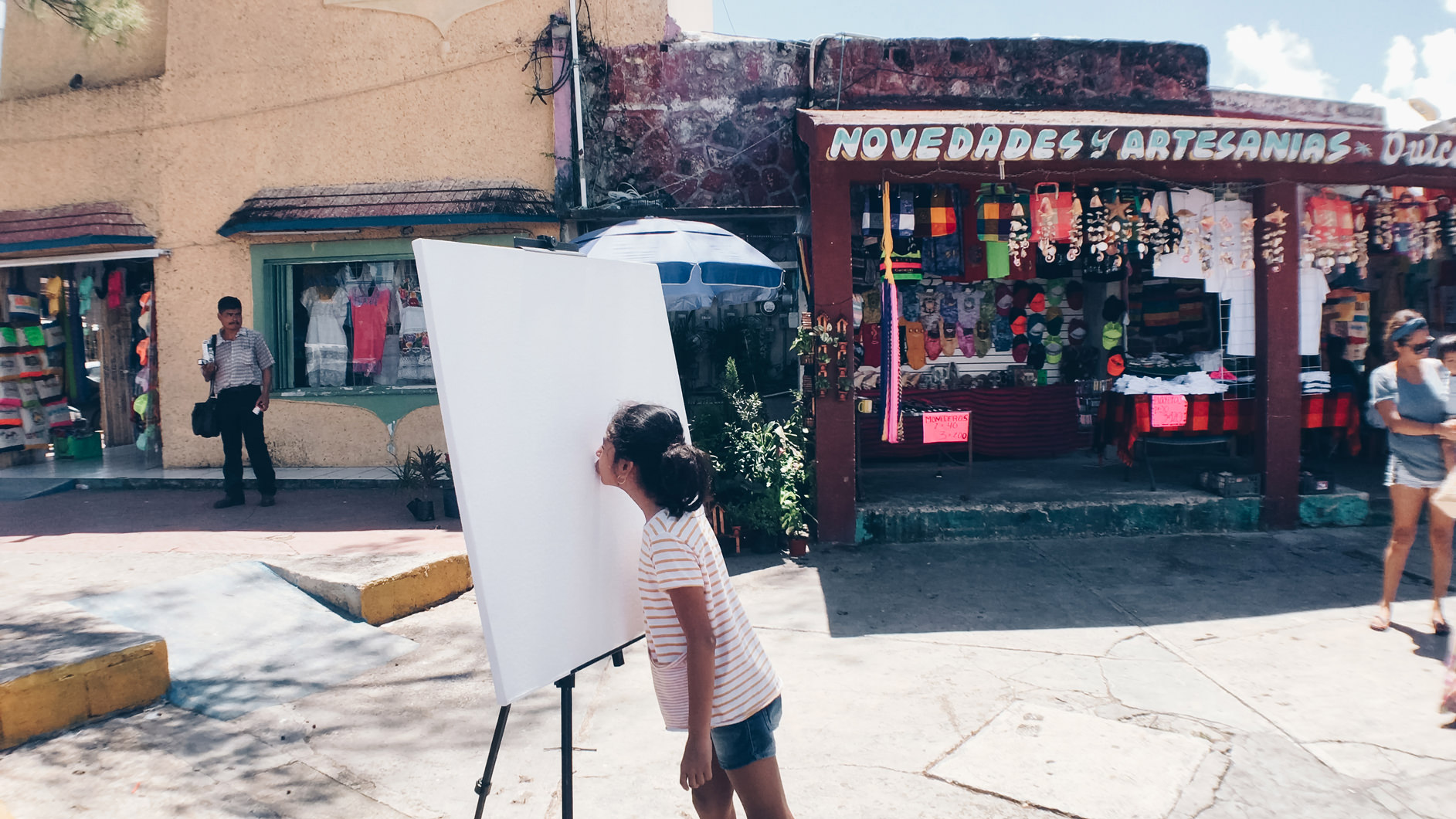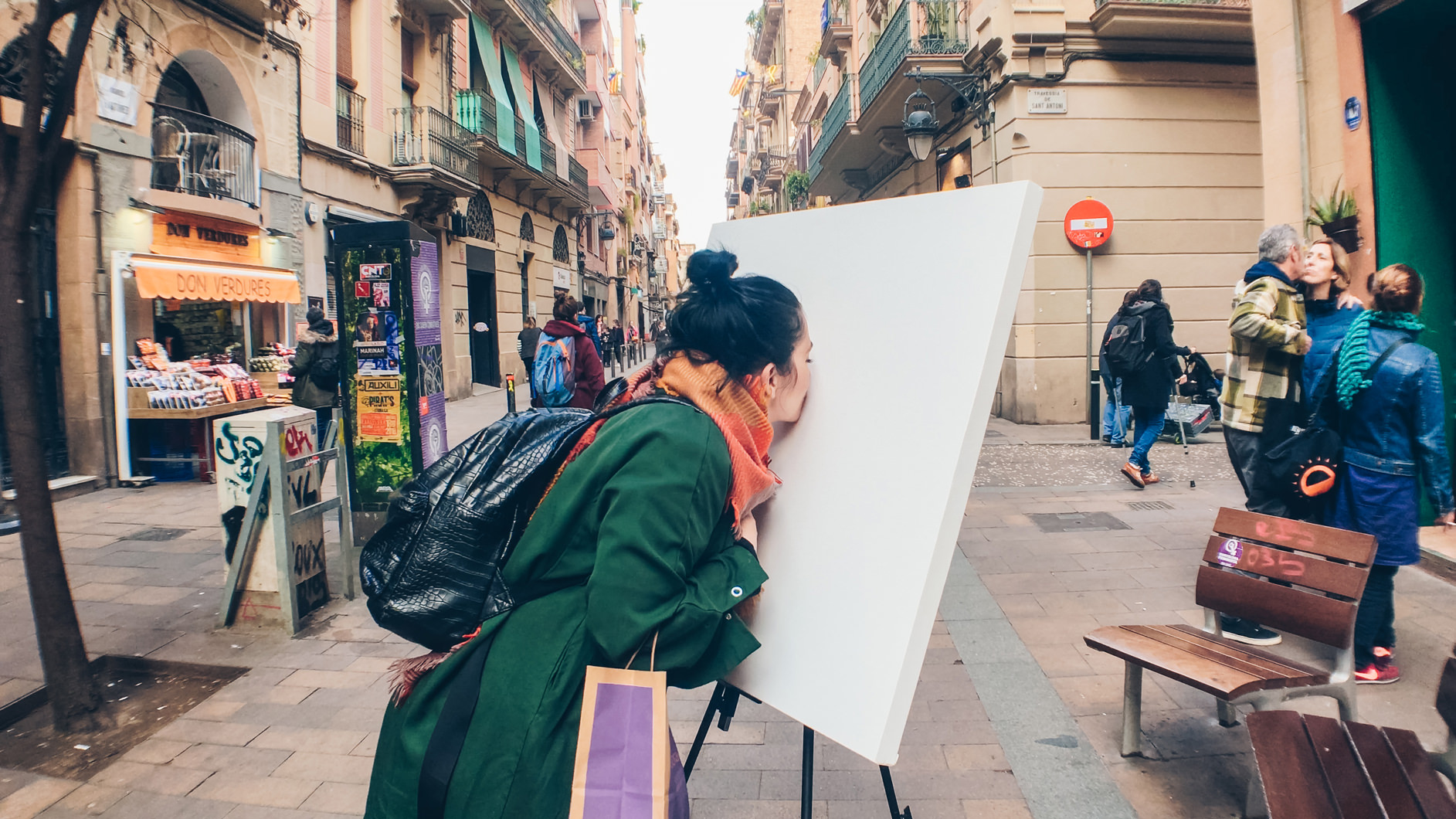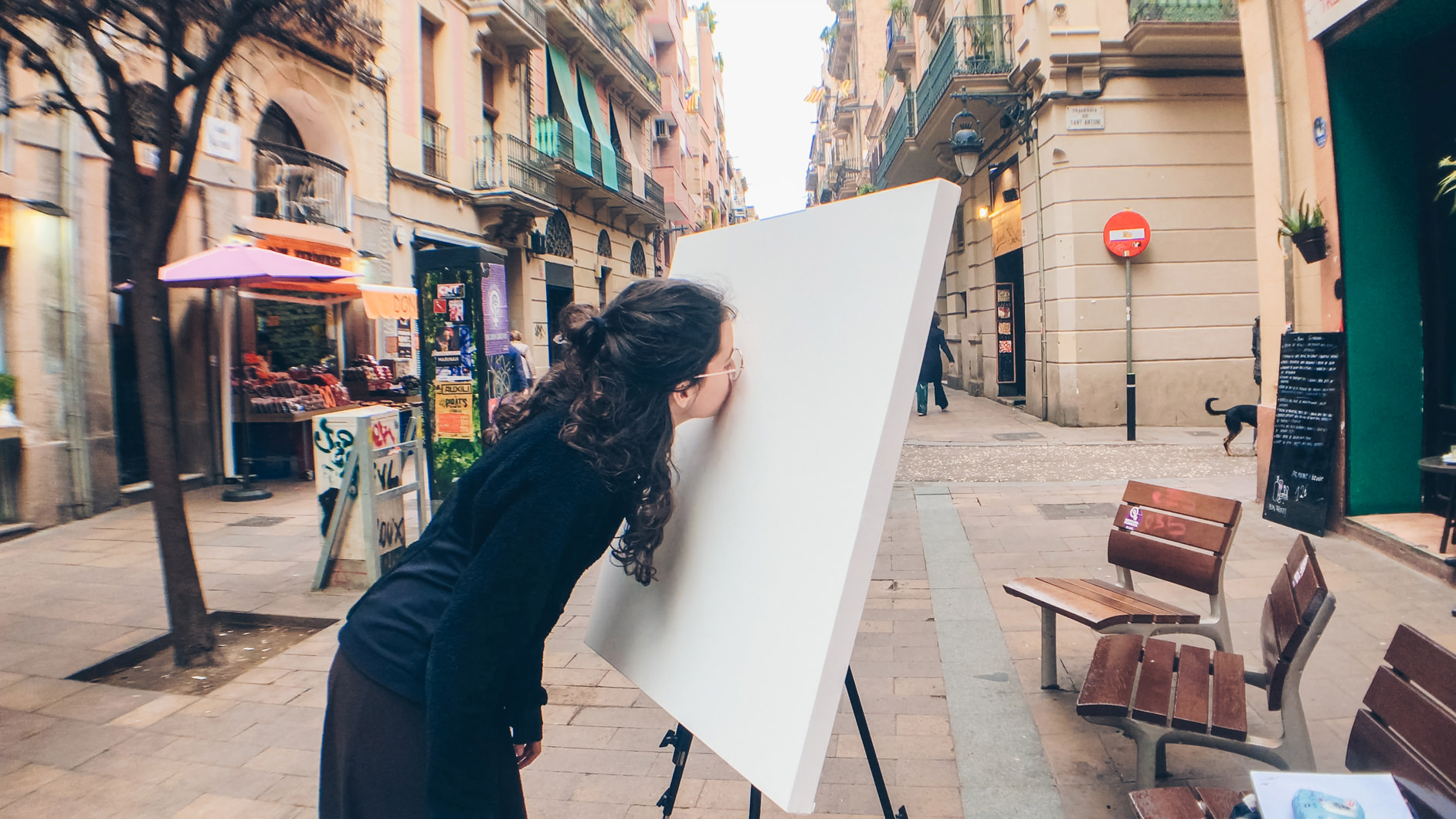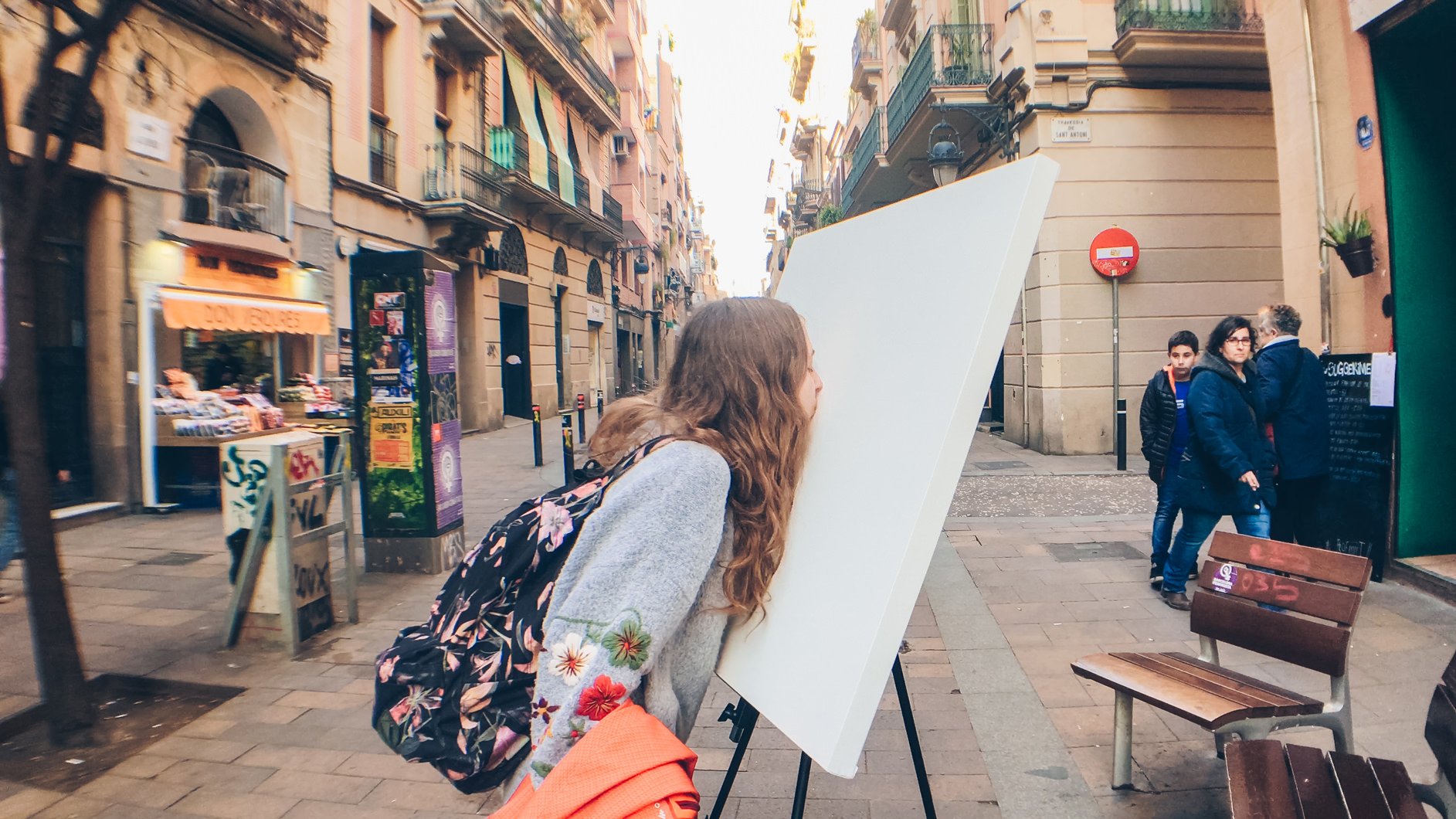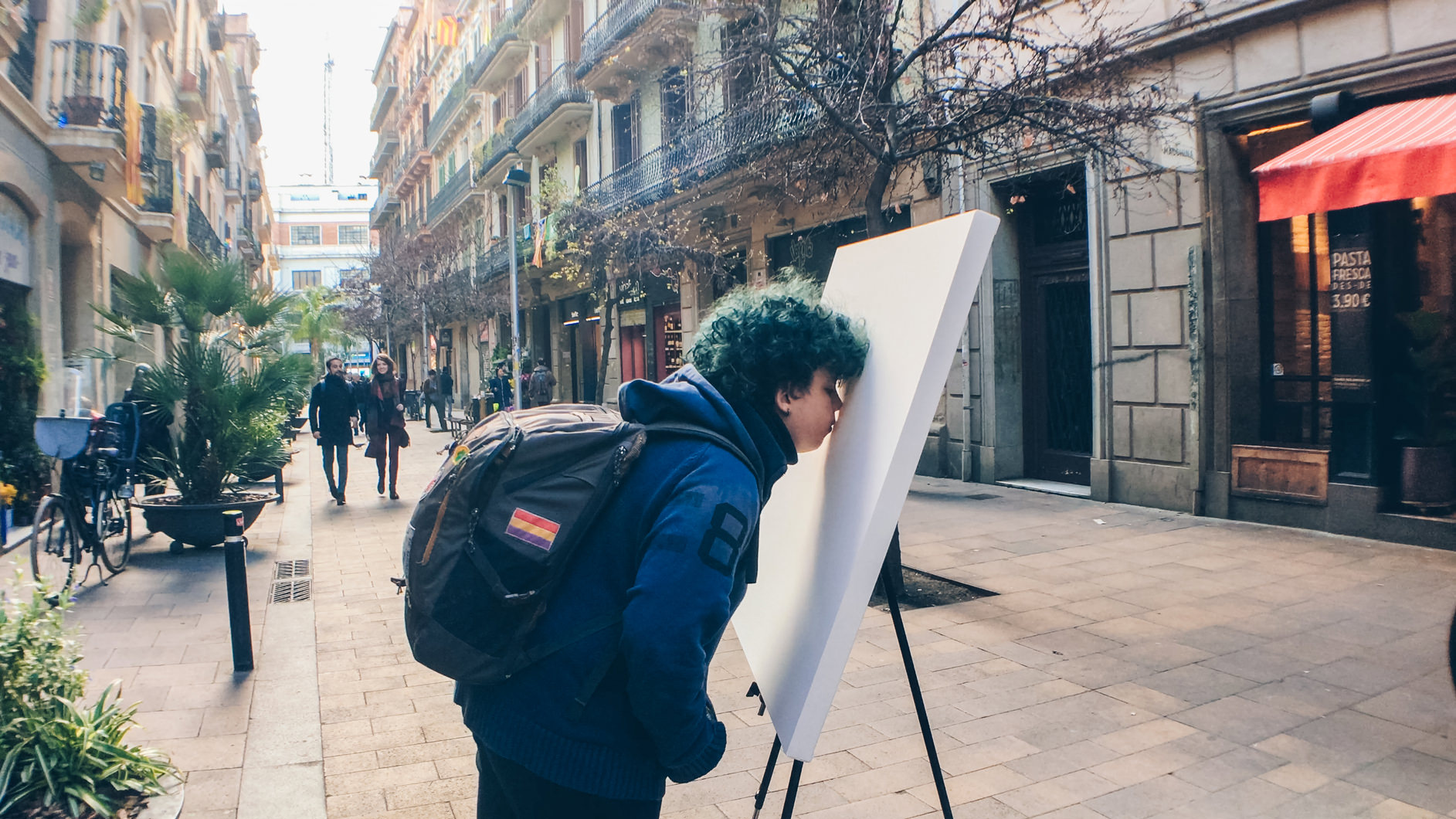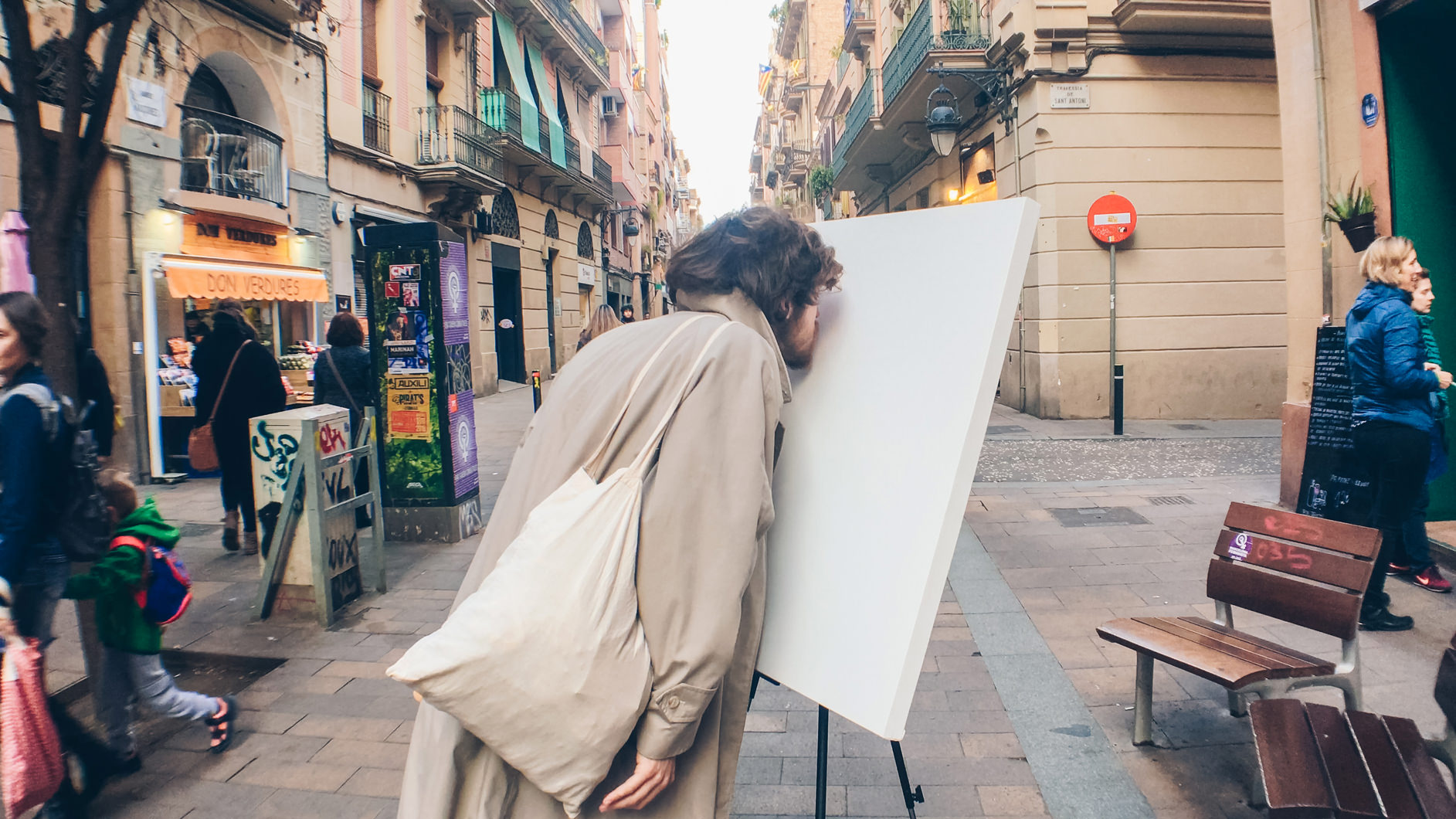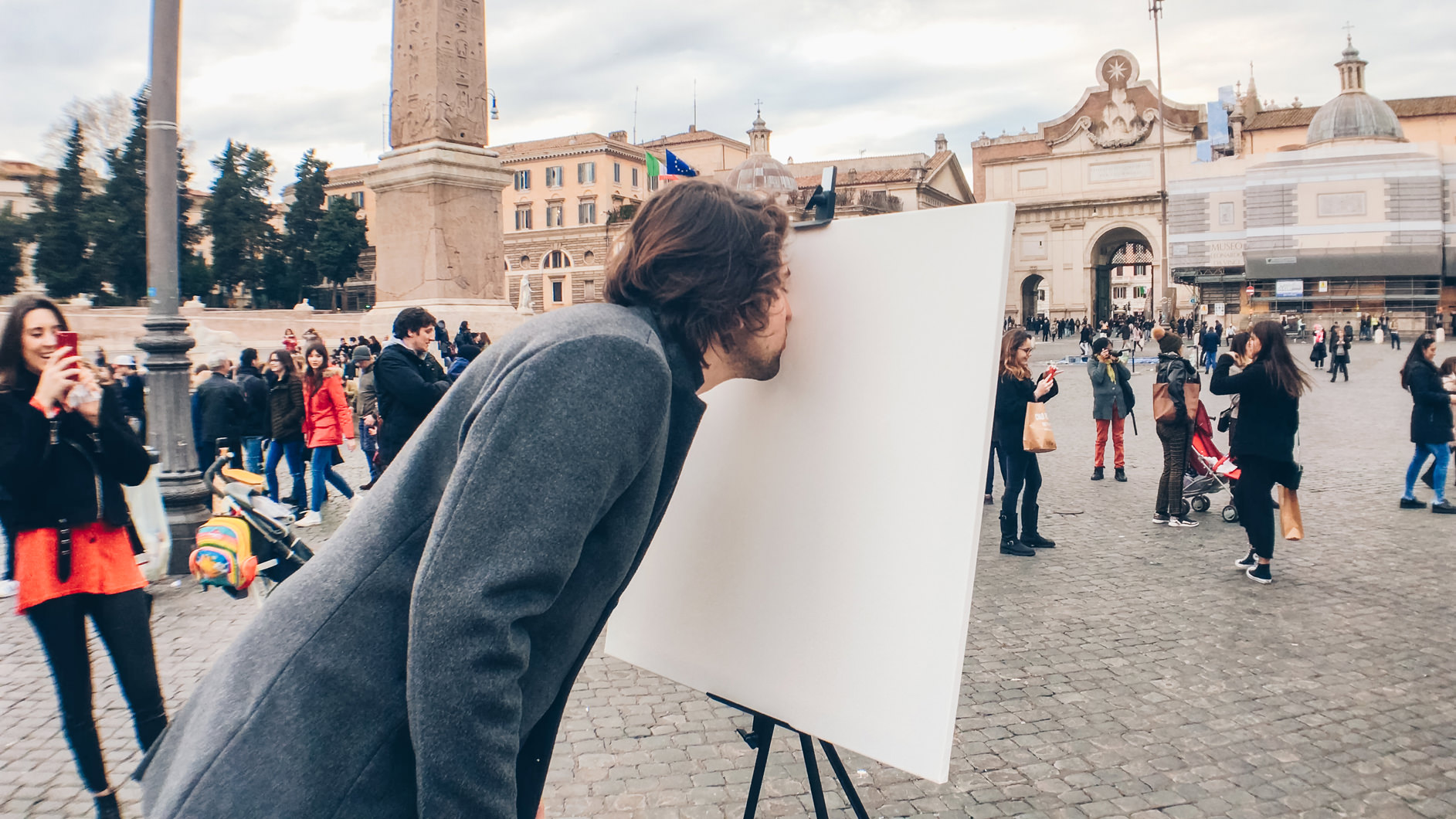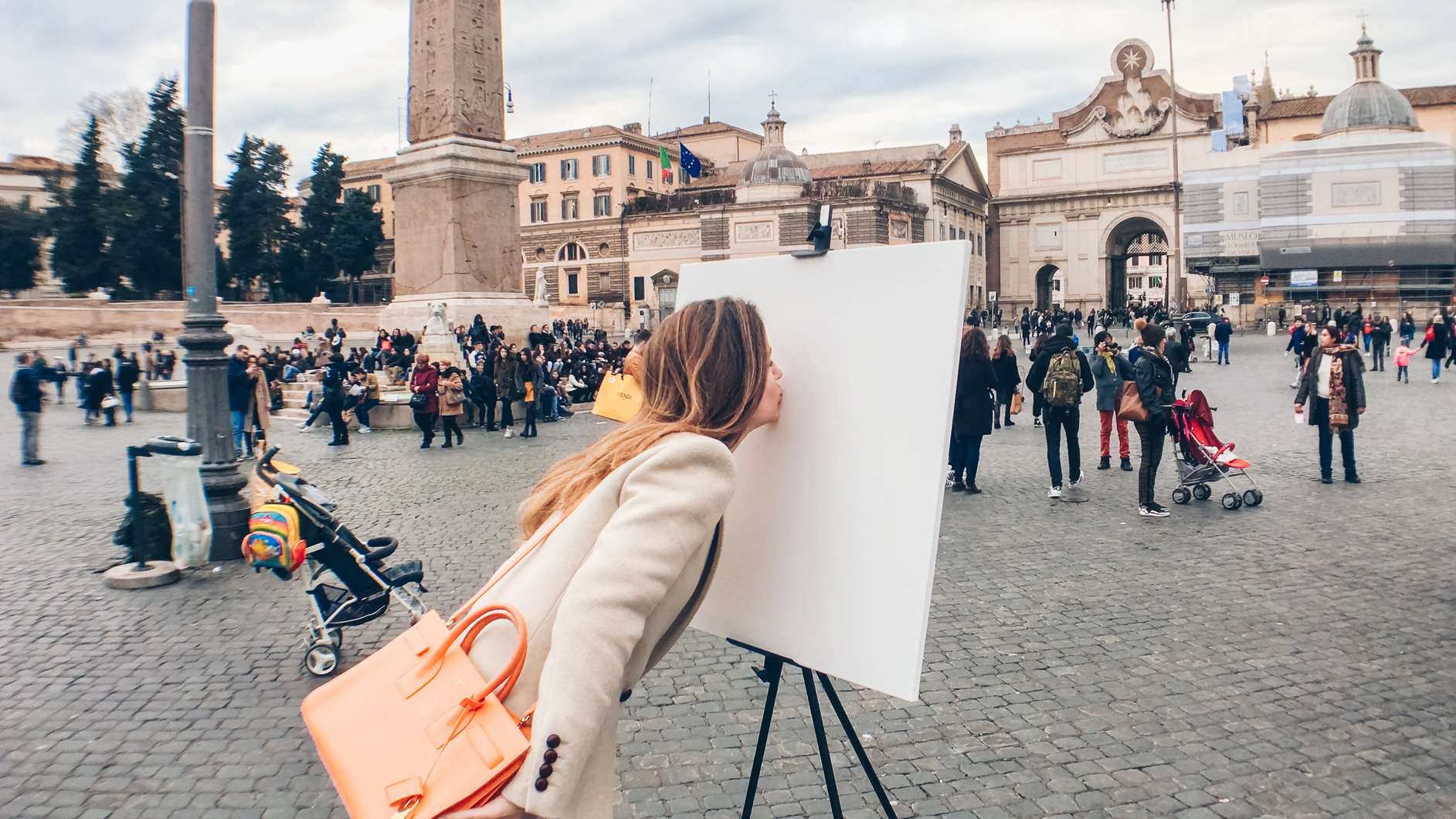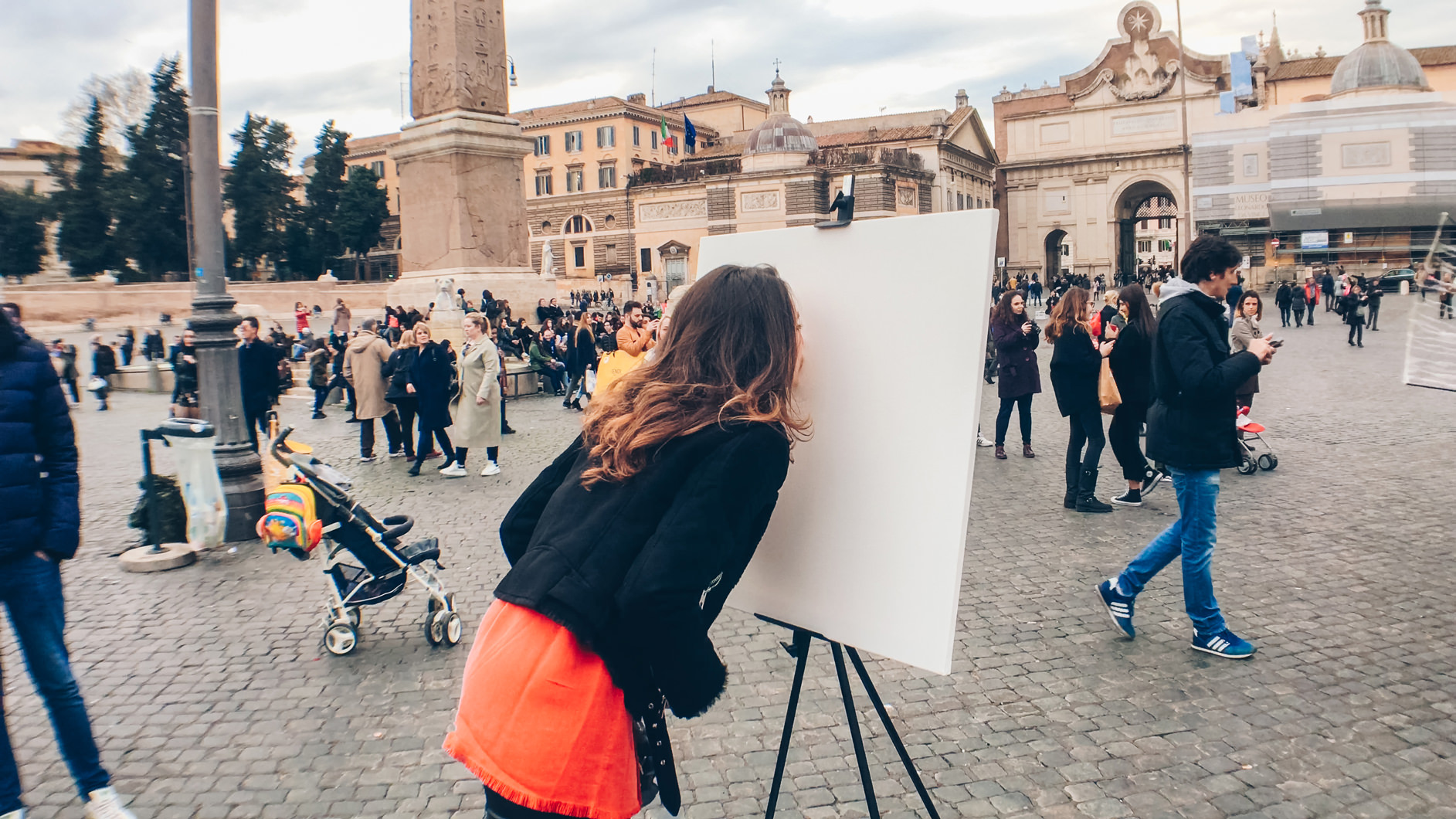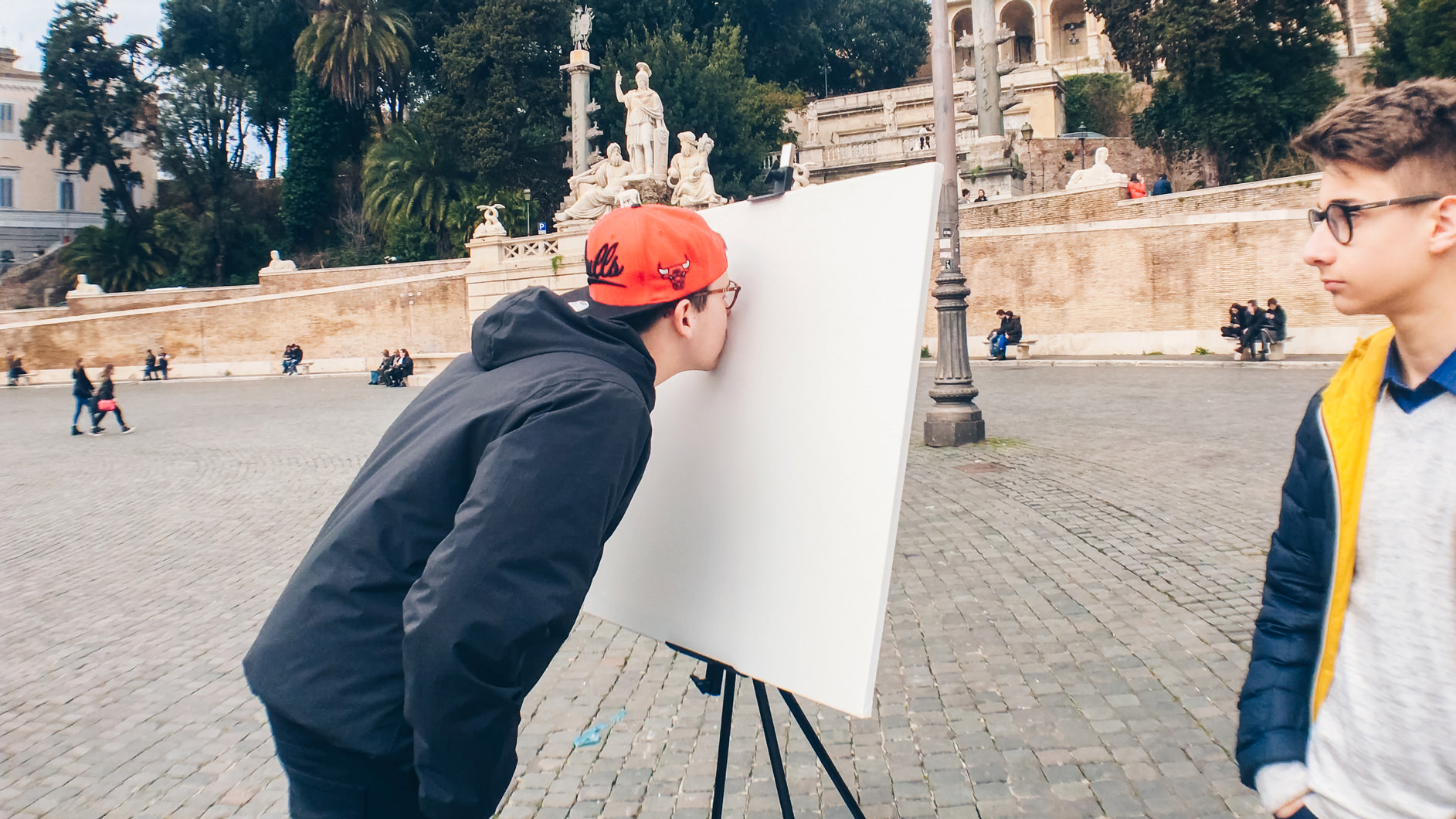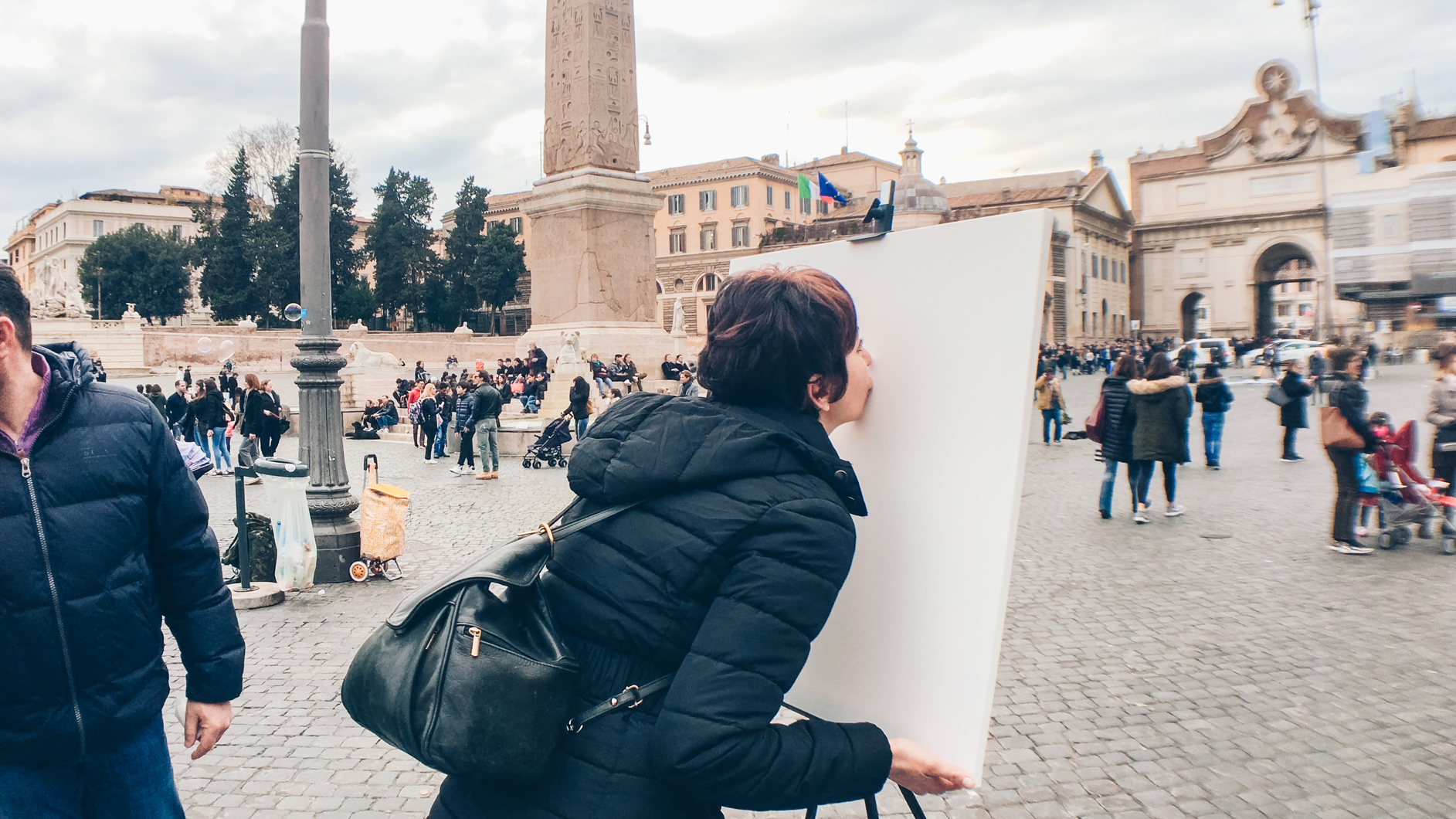 Private room
In a house, a White Painting for a family. (Owned by a collector)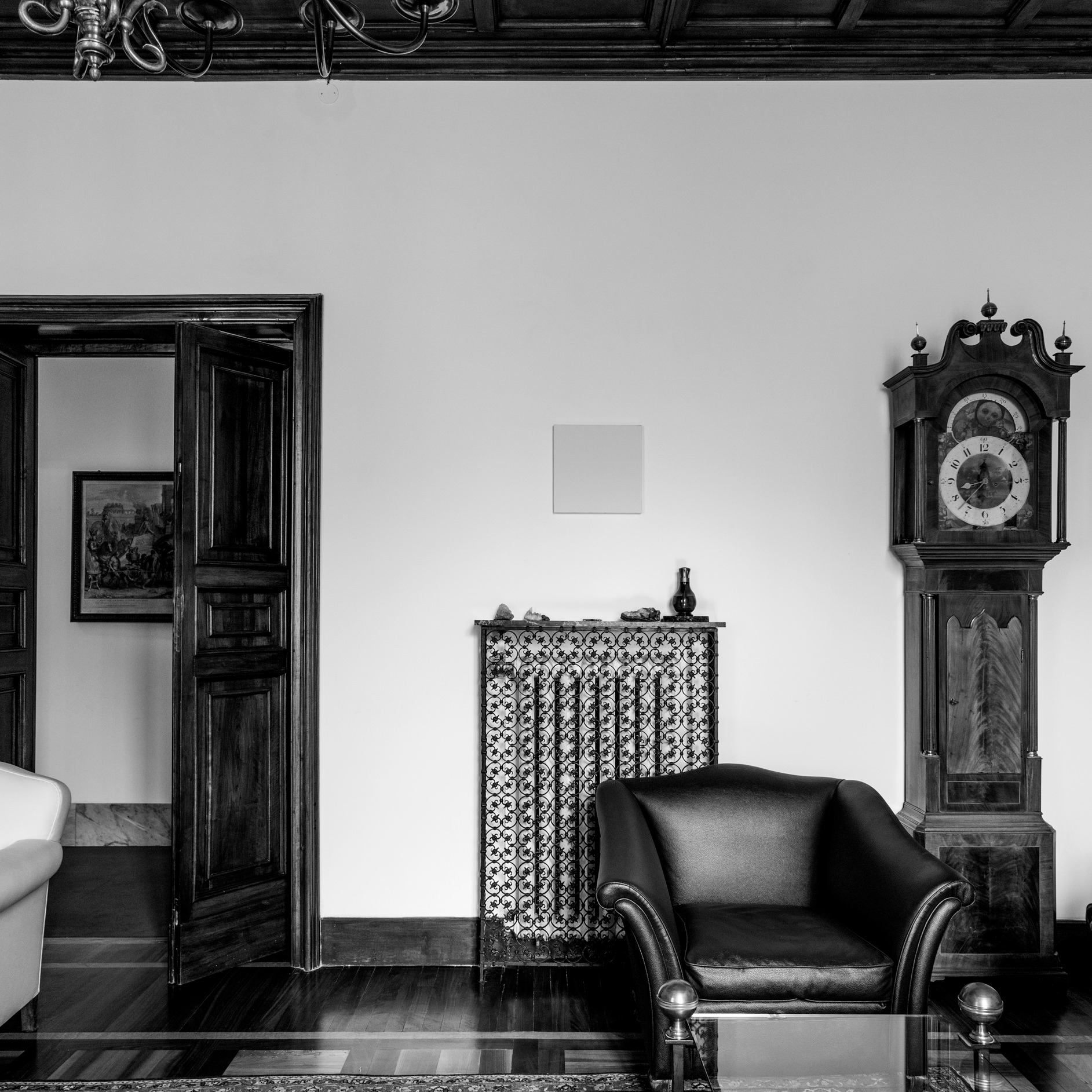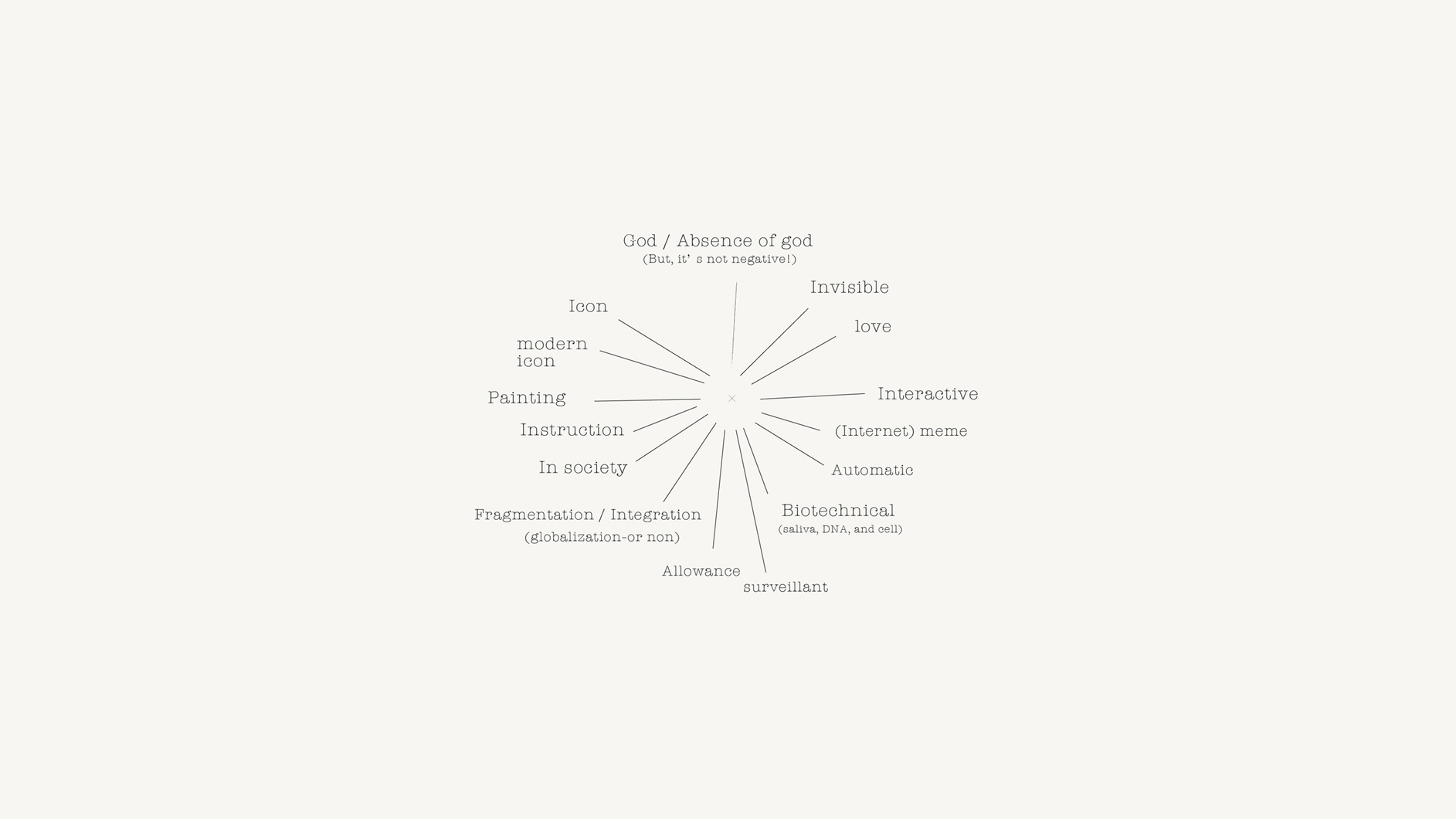 The figure above /
Drawing of structures
2. Opticality and technology / Invisible objects themselves


That "this work is blank" is only the result of visual perception and indeed it is not that there is nothing.
This is not the story of an invisible (written) process but seen from the viewpoints of biotechnology, IHT (In Human-Technology) and nanotechnology this painting is clearly a material object itself.
Excerpted from discussion
Excerpted from the introduction of "Shiseido Gallery 1/2 Century later."
"The canvas in the exhibit has no trace of paint or ink on it; however, it is impressed with the kisses of about 100 people. This work, which consists of asking randomly selected people around town to plant a kiss on the canvas, is being carried out in the USA, Mexico, and Taiwan, and the total kiss count has exceeded 600, with as many as 50 people participating on busy days.(*November 2017)"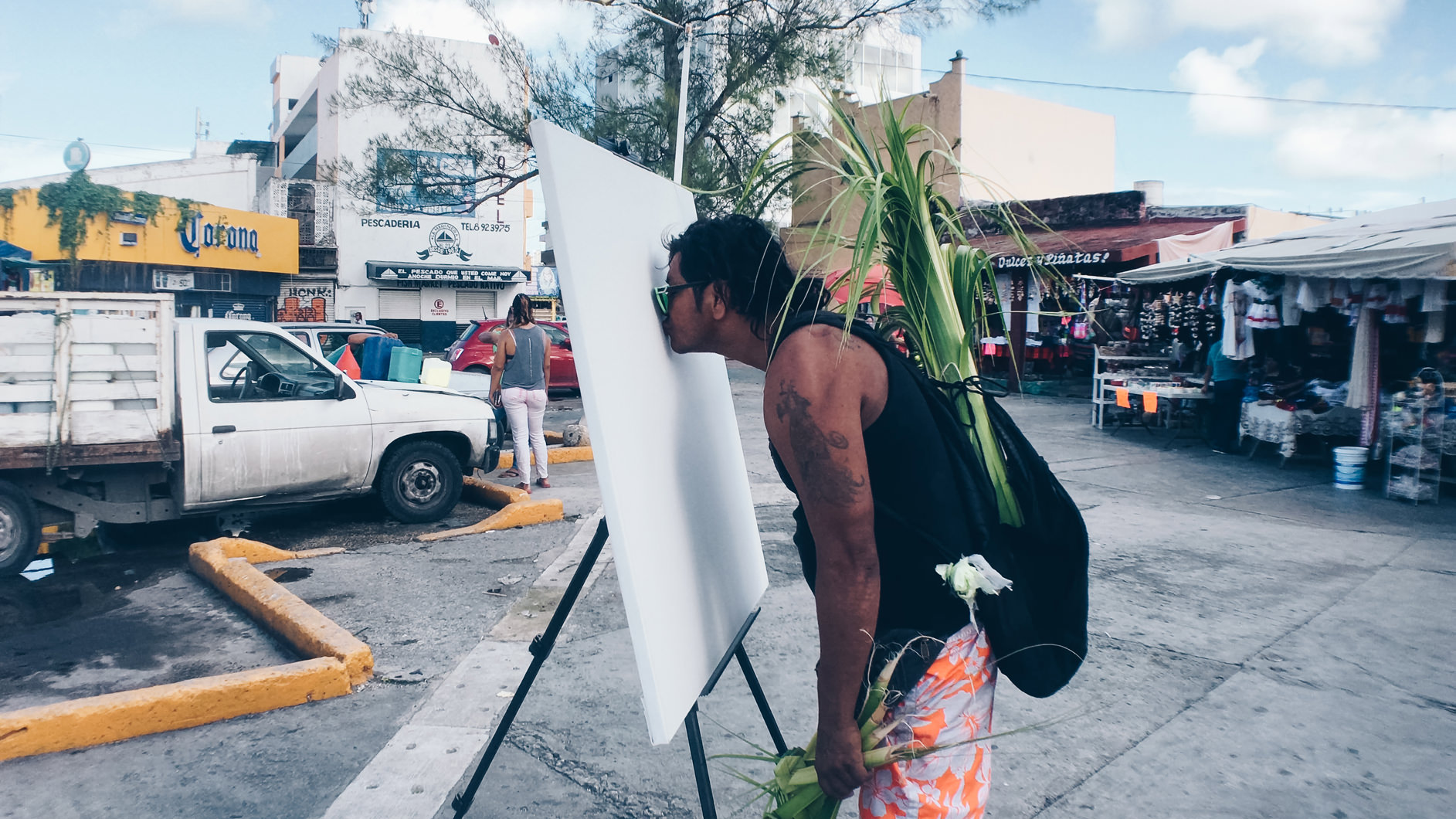 "This attempt looks contrast to big units or a division at a global scale such as nations, religions, races, organizations and so on ― for example, the situations including Brexit, border walls, refugee problems, etc. ― and enables us to feel a great potential of the revival of connection/globalization in a different form which comes into existence only in a small unit. It is also possible to look for the similarities to today's social media such as YouTube and Instagram.

However the biggest feature of this work is that, besides the contemporary aspect like this, it can be interpreted in many ways connecting closely to the history of western art history.
For example, the scenery of this action is very similar to the kissing act to the icons (paintings in which Crist, the Holy Mother and others are depicted) seen in Christianity and Russian Orthodox. However, nothing is painted here and there is no one object to be worshiped."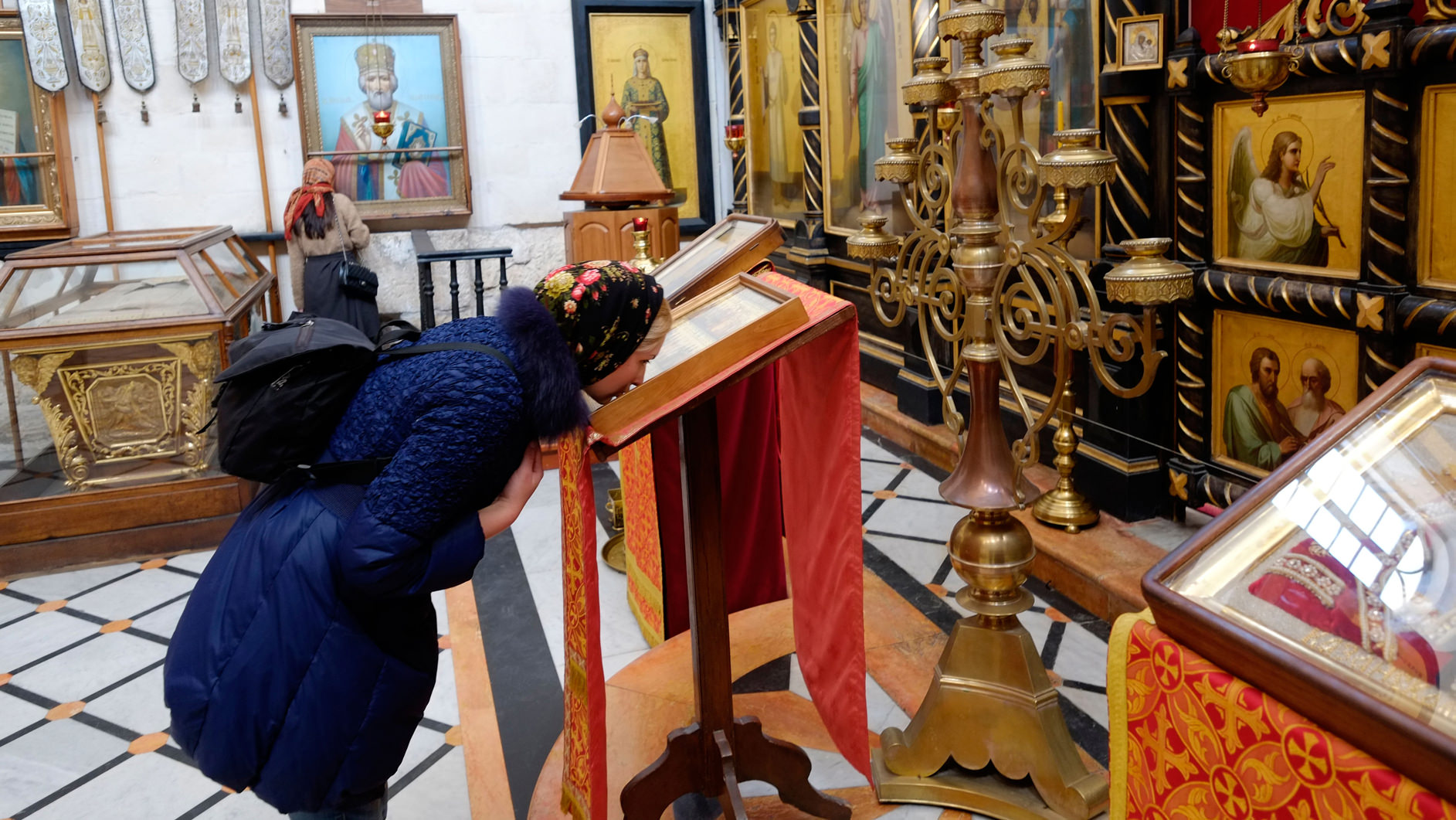 "It also approaches to the relationship between paintings and viewers. What kind of the experience is that to be exposed to paintings? It is also possible to see these kisses as brushstrokes as in action paintings. Or it is an artwork that is not completed only with the canvas as a medium but is in a network.

Changing the point of view, this two-dimensional work is the assembly of DNA, cells etc. Although it cannot be seen clearly now, it can be said that this is also an archive of people. In the exhibition, besides one of the works in this series, the film shot in each place and pictures were exhibited. The film was shown in the iPhone which had been used for the actual shooting.

In the first space, there was the installation destructed and broken apart, and in the space behind on a diagonal line, there was this work. This composition can be said to show a will to overcome the problems in this half a century, regenerate and combine them into one different form."
A documentary film of the series held in Los Angeles, the US.
People were asked what love is after they kissed on the canvas.

Director of photography / Editor
Megan Clark
Sound technician / Designer
Kylie Lacour
Selected Q&A
Q. Why does not it have lipstick marks?
A. We asked people to kiss the canvas after they wiped their lips regardless of gender. A lot of people kissed on the canvas yet it remined white surprisingly.

Q. How did you speak to people?
A. There were considerable theatrical/visual elements in the instructions to people. We believe this also reflects the [technique] of the film.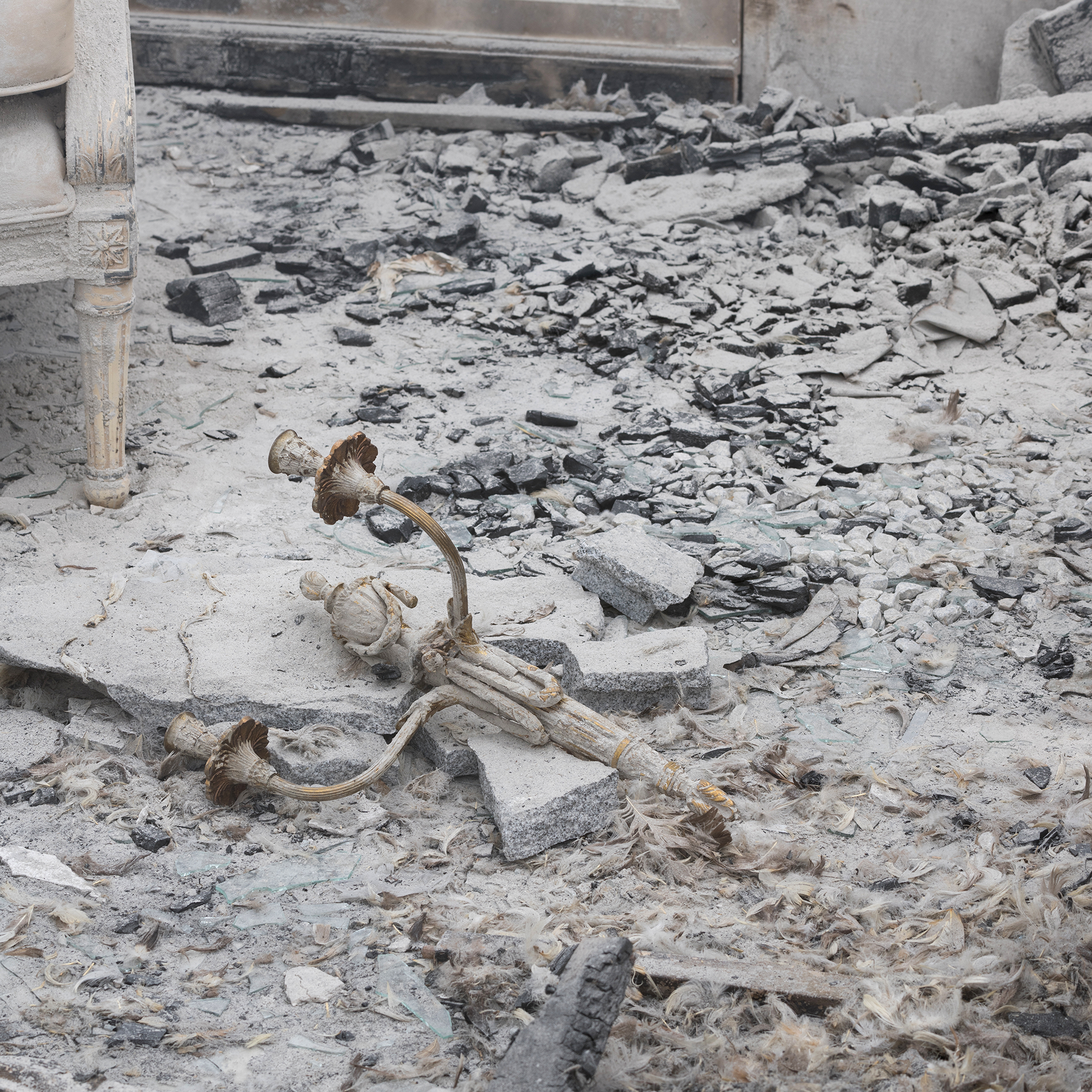 Outline
Materialization of a fiction / To make the image of technology the foreground
ーTo make the image of science and technology the foreground.
"Beyond good and evil, make way toward the wast land." is a sculpture work made for the exhibition "1/2 Century later". The work reproduced a pure white room in the final scenes of Stanley Kubrick's 1968 film 2001: A Space Odyssey and made it go through the process of destruction.
Within a large glass case are dust-covered chairs, a bed, cabinets, chipped marble pillars, oil painting, and other weathered items which appear to be from an old forgotten room.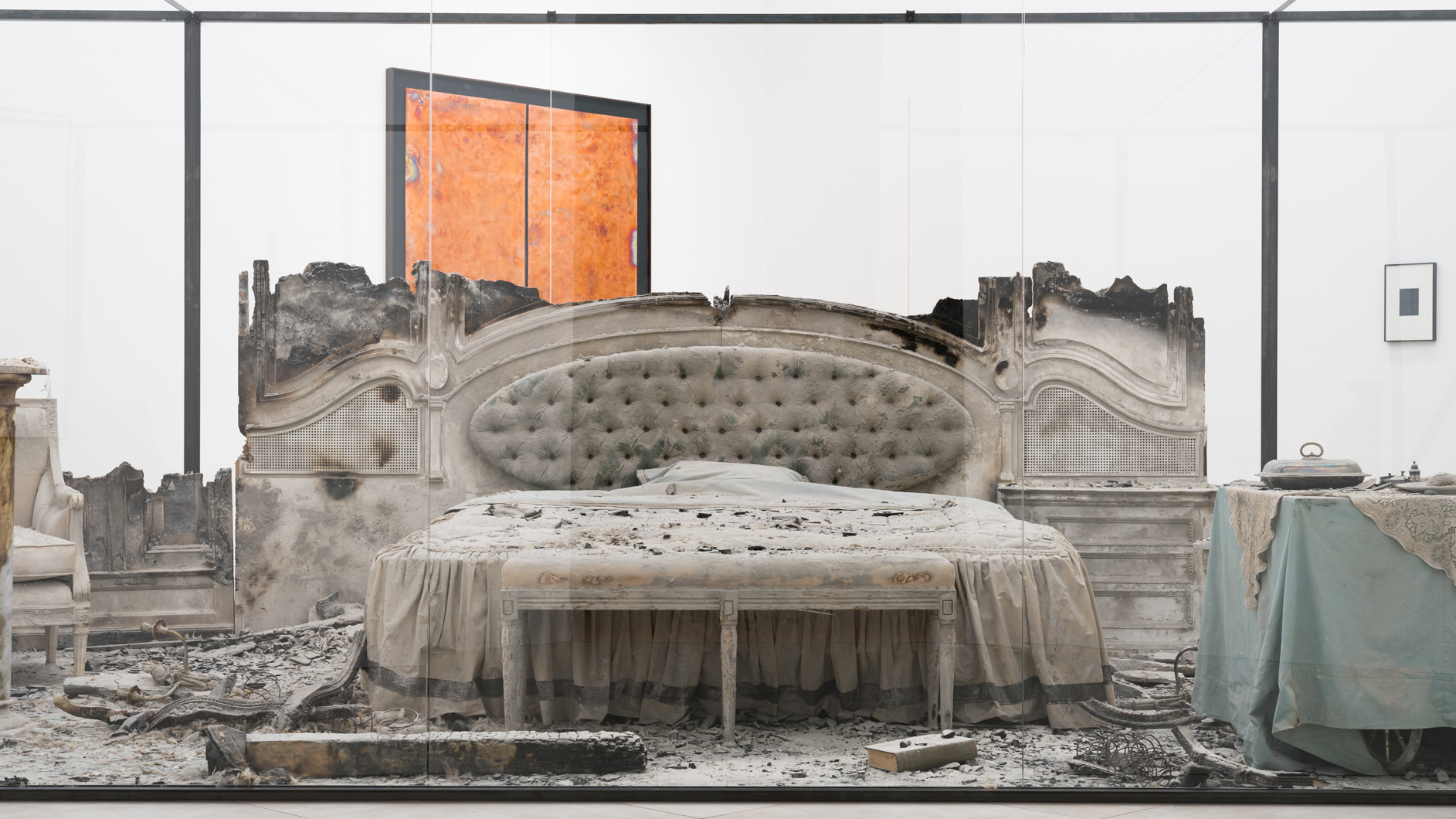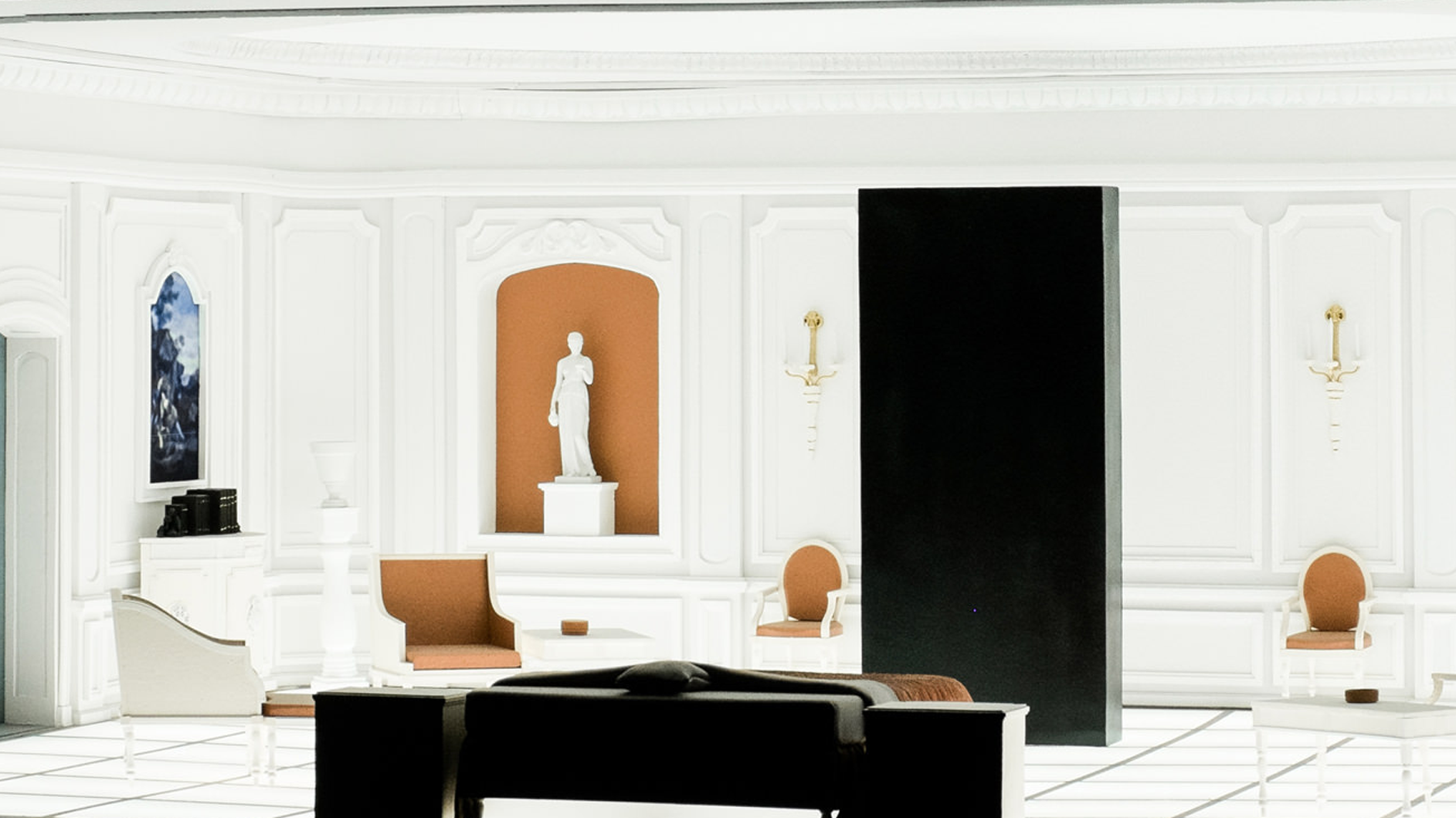 This room appears in the movie as a room "prepared by the monolith (an advanced computer which guides humans) for the next step in human evolution".
What we tried was to converting the image that have symbolized technology since 1970s into the foreground completely.
[ Image ]
Model of the room from the final scene of the film 2001: A Space Odyssey by Stanley Kubrick.
Exhibit at LACMA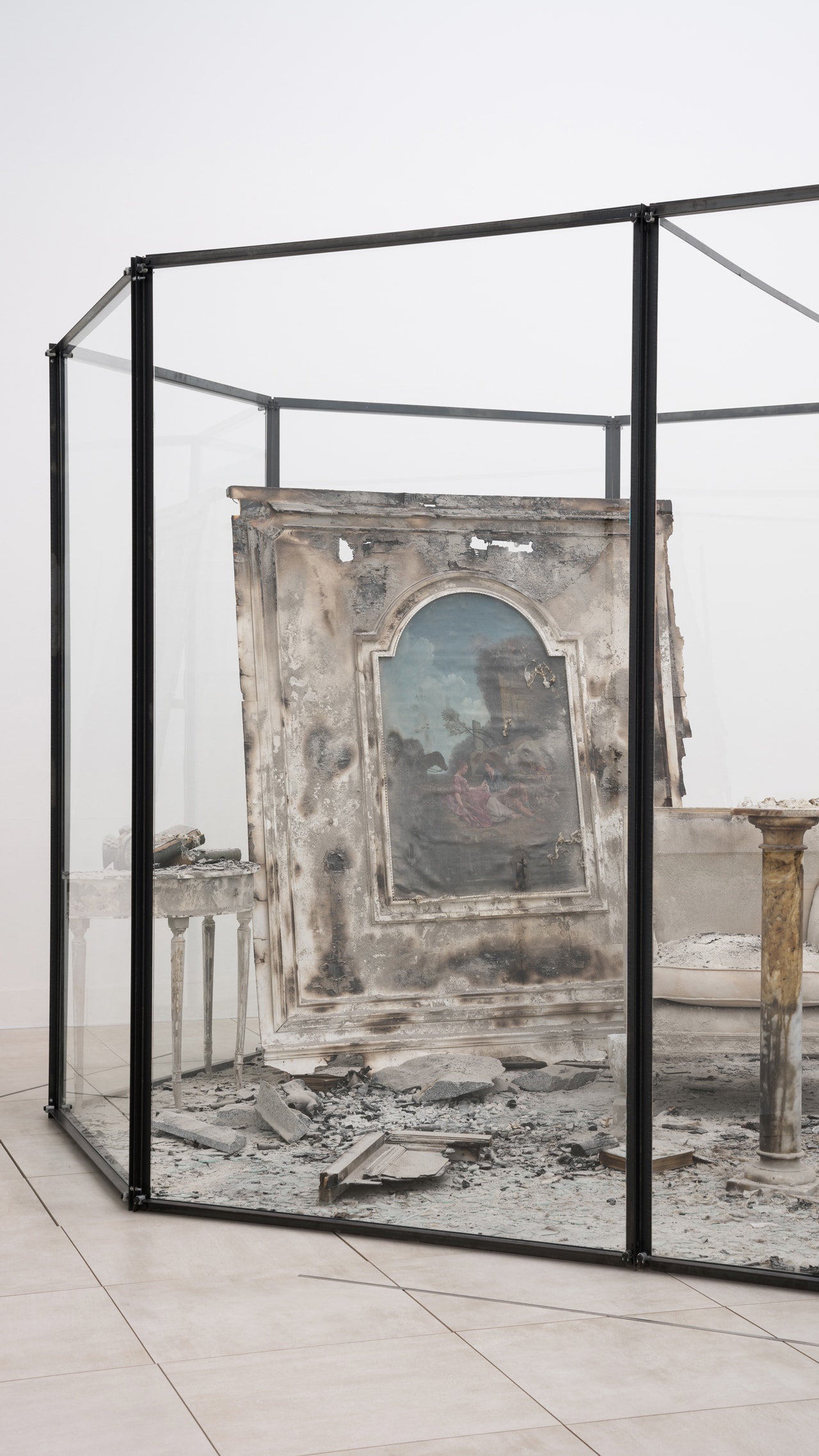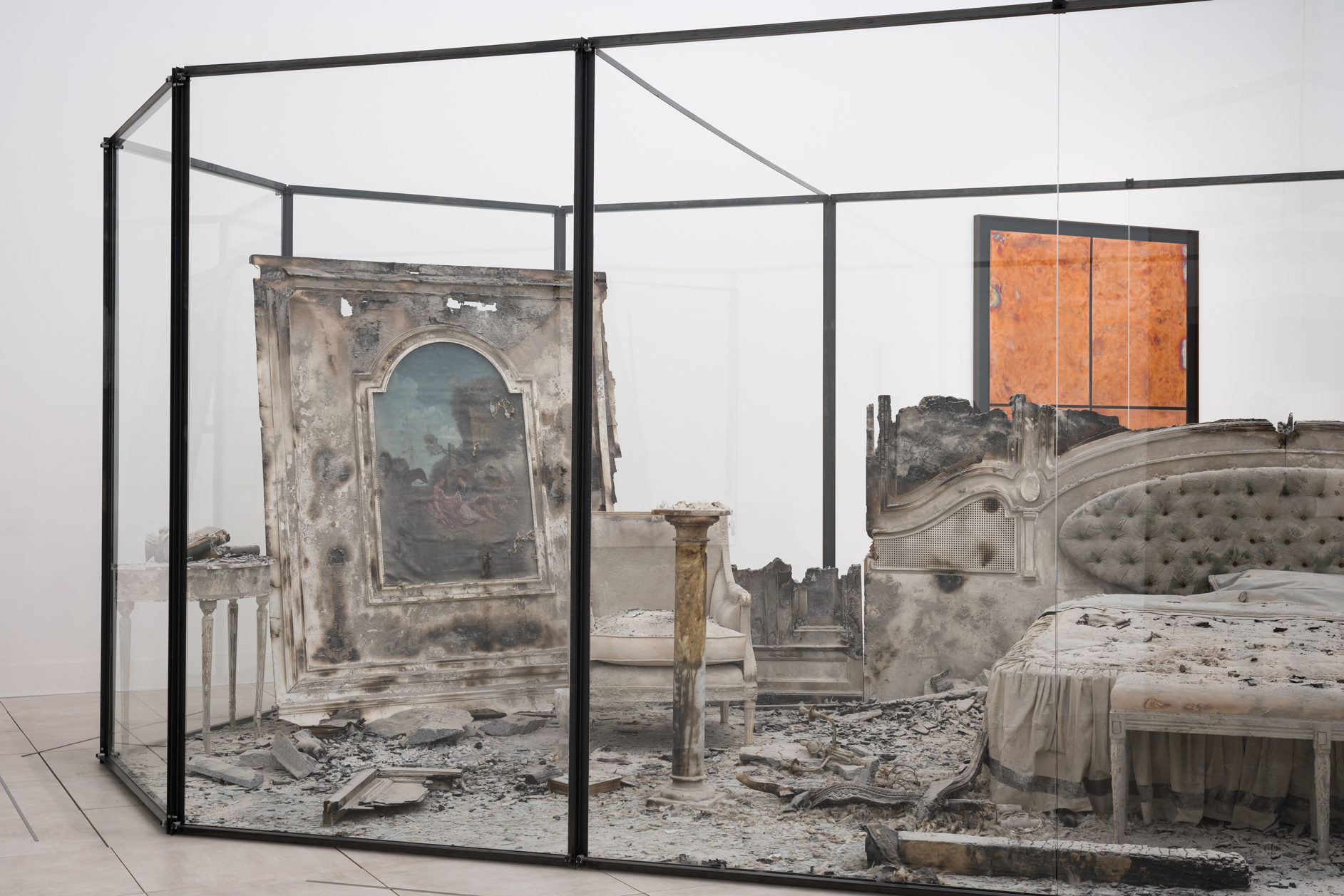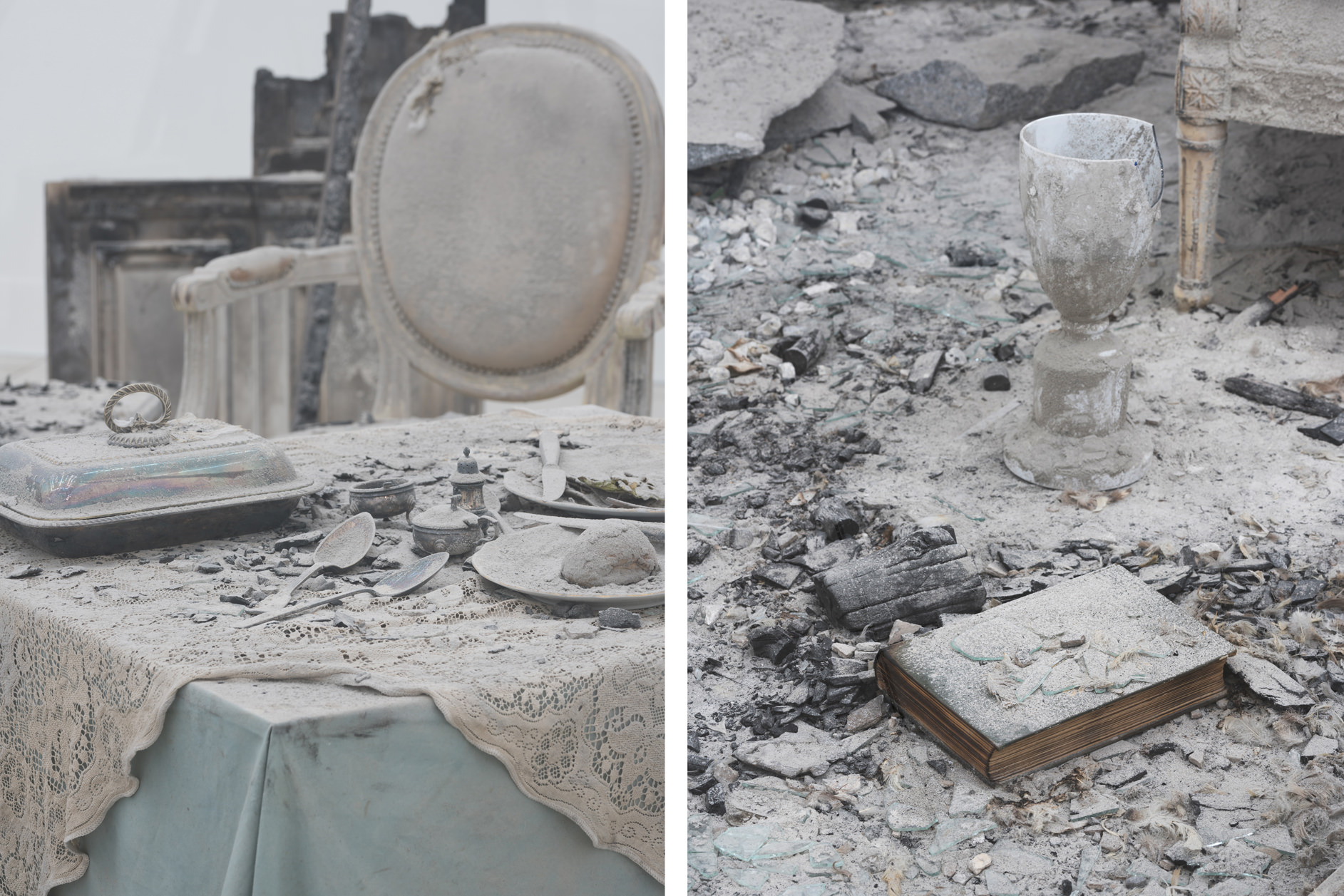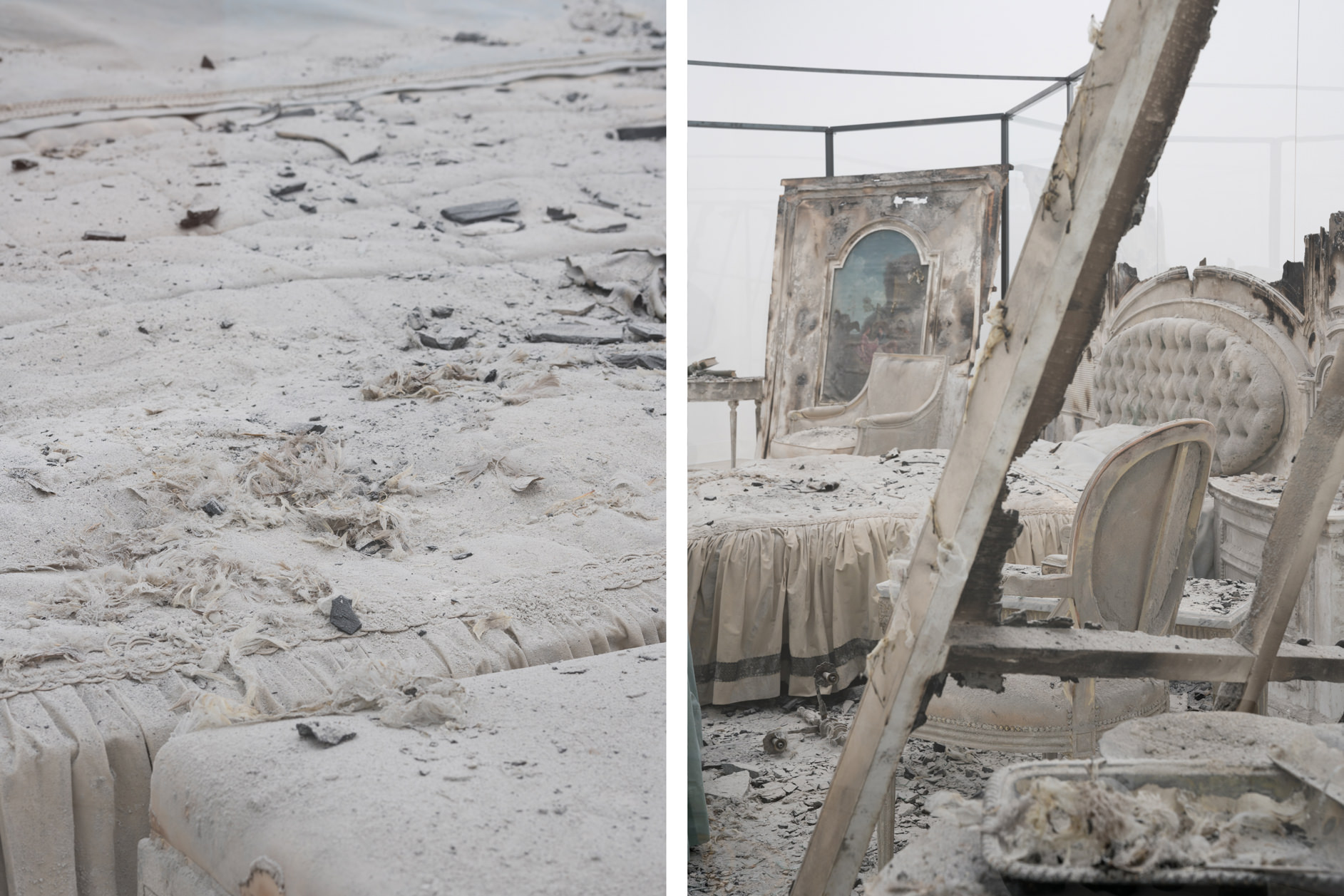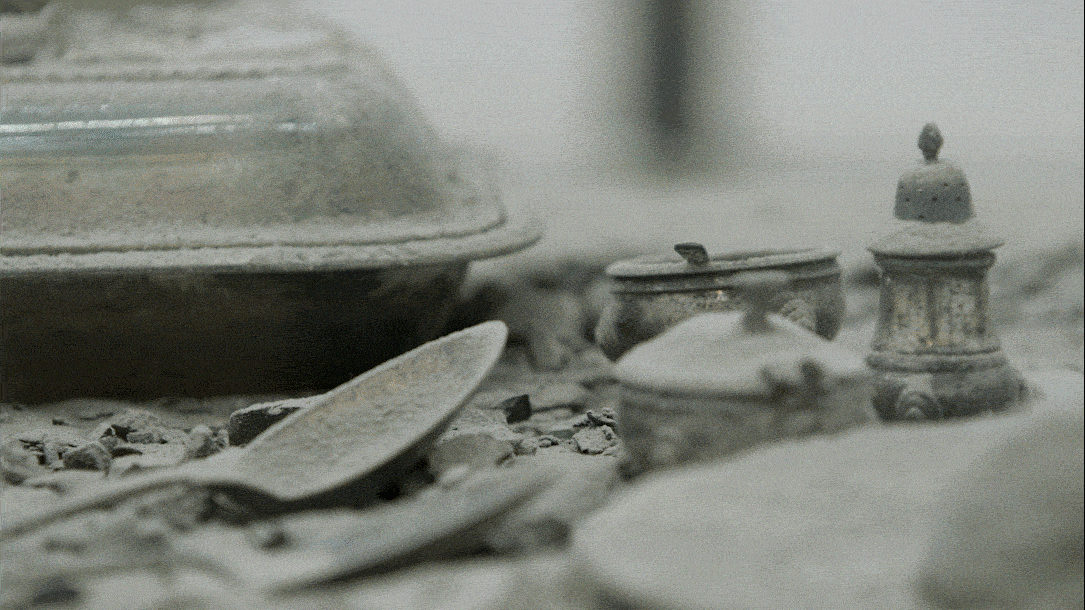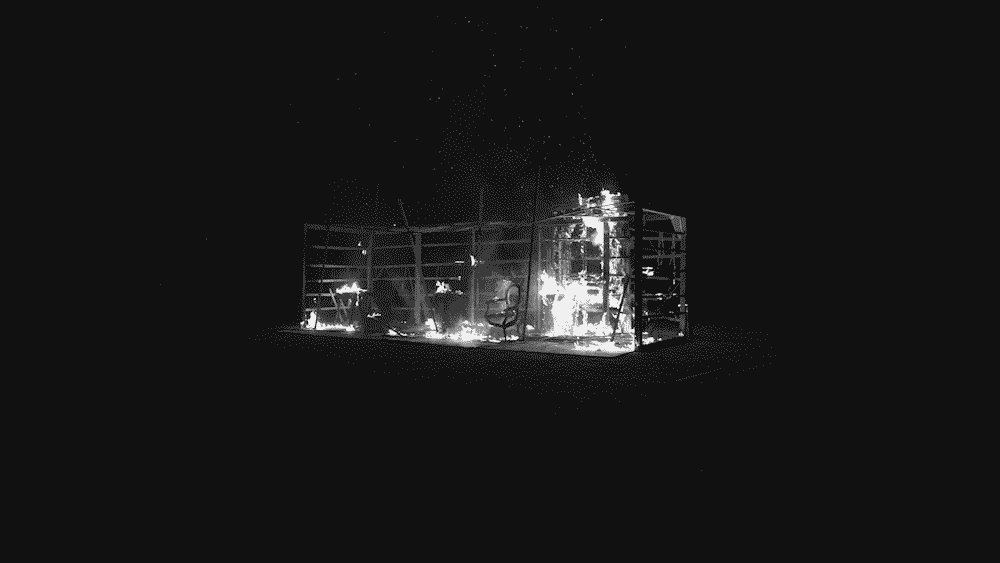 Clothes and the center of the artwork were made originally and for some parts furniture made in the 18th century and real marble stone were used.
The room was set in a studio that shoots special effect films and was burned. Then it was divided to pats, recorded and recomposed.
From rediscovery of history to a constructive place
In the exhibition 1/2 Century later., this work was exhibited in a place opposite to the White Painting where the monolith was originally located.
The detailed information is here.
Selected Q&A
Q. What is the meaning of the title "Beyond good and evil, make way toward the waste land."?
A. We do not have a clear-cut answer, but Friedrich Wilhelm Nietzsche, a philosopher in Germany, wrote "Beyond Good and Evil (the original title: Jenseits von Gut und Böse)" after "us Spoke Zarathustra (the original title: Also sprach Zarathustra)".

Q. How did you make the set?
A. The center of the artwork and clothes were made originally by us. We partly used furniture made in the 18th century. We used real materials for the set, such as real marble stone.

Q. How did you burn it?
A. We set it in a studio that shoots special effect films and burned it. (The black and white picture in a distributed print was taken at that time.) After that, we divided it per unit, brought them back and recomposed them in a show space.

Q. Why is it covered with glass?
A. In the scenes of the white room in "2001: A Space Odyssey", we can see the sequences such as a reflection of a character in a glass of spacesuit and a transition to old man's view after the character sees himself through a glass. Here we can see the "transition from 2D to 3D (≒ transition of dimensions)". It can be said that the glass in our artworks quoted the technique from the film.

Q. Why is some back area superficial?
A. According to "2001: A Space Odyssey" by Sir Arthur Charles Clarke, a white room made by monolith is superficial; the shelves cannot open and the bath does not have water. We can say that our artwork reproduces that situation and also emphasizes the fact that it is a film set.

Q. Is the oil painting the real thing?
A. Yes, it was made for our artwork. We used classical linen cloth rather than chemical fiber.
More Question
Mail