THE EUGENE stuido showcases a new installation at the festival of the top‐notch technology art, Media Ambition Tokyo [MAT] 2016.
In this exhibition, art works by various media artists alike Rhizomatiks, teamLab, WOW will be on the view from February 26(Fri).
---
MEDIA AMBITION TOKYO 2016
(Excerpt from original text.)
2016 will be MEDIA AMBITION TOKYO (MAT)'s 4th year in running. To fans and the curious, the event is a real‐life showcase of top‐ notch technological culture that takes an experimental approach to urban implementation. With its headquarters (MAT Lab) situated in Roppongi, venues further multiplied to Aoyama, Ginza, Iidabashi, Ochanomizu, and Odaiba, at which super‐edgy artwork, video, music, performances, hacks and talk shows will be hosted.
Programs have organically increased, expanded and connected simultaneously with the number of domestic and international participants by way of innovators, organizations and events, allowing MAT to mature as an active body. With 2020 and beyond in mind, and not omitting the largely evolving systematic designs of transportation, communication and information, the event addresses the potential of technology in creating the city's future. MAT aims to substantialize the reformative movement in technology art through experimental validations unbound by genre or category.
—
In this exhibition we showcase an installation inspired from a 1979 American film, "The China Syndrome"(a joke that describes a fictional result of a nuclear meltdown in the United States, in which reactor components melt through their containment structures and into the antipodes, China,).
"Earth Hole" is a video installation in which the screen showing "the scenery from the antipodes" is embedded in the venue where the natural environment is reproduced.
Besides from "The (anywhere) syndrome / Earth Hole", "MOON PARKA", a jacket made from synthetic spider silk materials developed by Spiber Inc. and GOLDWIN, and "SANSUI" a monochrome video work filmed by Kangawa as a philosophy visual of this magnificent project.
We very much look forward to seeing you at the venue.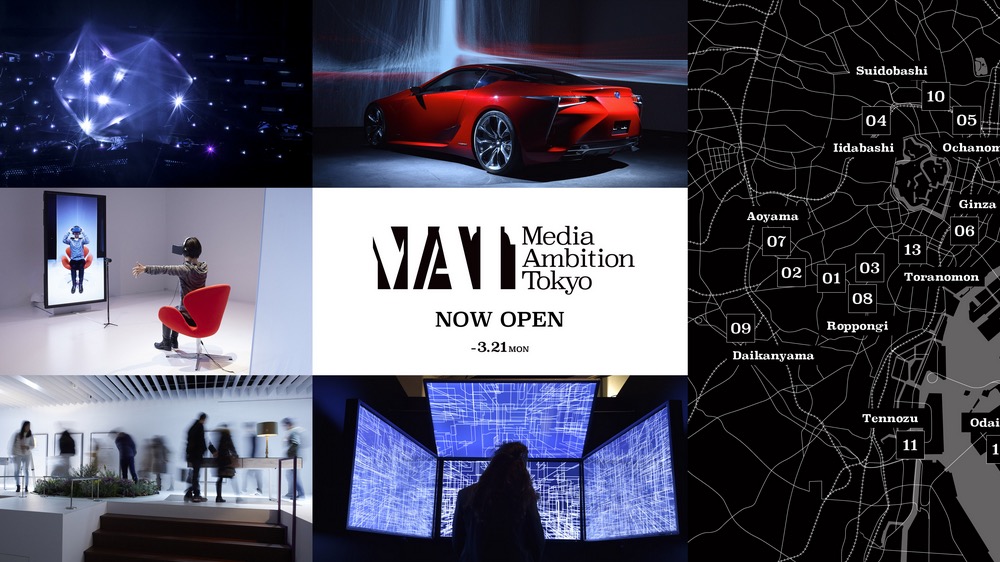 概要
Venue  | Roppongi Hills 'MAT LAB', Mori Tower 52F, TOKYO CITY VIEW.
Dates | February 26(Fri)‐March 21(Mon/Ntl Holiday), 2016
Hours | 10:00―22:00
Artists | teamLab, Rhizomatiks Architecture, Genta Kondo + Hiroshi Yamaura + Tetsuya Konishi, Norimichi Hirakawa X LEXUS, Tetsuya Mizuguchi + Rhizomatiks Architecture + Keio Media Design, Eugene Kangawa, WOW / Nobumichi Asai, etc
Venues
01. Roppongi Hills (Roppongi)
02. INTERSECT BY LEXUS‐TOKYO (Aoyama)
03. IMA CONCEPT STORE (Roppongi)
04. INSTITUT FRANÇAIS TOKYO (Iidabashi)
05. Digital Hollywood University (Ochanomizu)
06. Apple Store, Ginza (Ginza)
07. Apple Store, Omotesando (Omotesando)
08. TSUTAYA ROPPONGI TOKYO (Roppongi)
09. DAIKANYAMA T‐SITE (Daikanyama)
10. teamLab (Suidobashi)
11. Warehouse TERRADA (Tennozu)
12. National Museum of Emerging Science and Innovation (Odaiba)
13. Toranomon Hills (Toranomon)
MAT ( Media Ambition Tokyo 2016 )
---
Text by Y. Nishimoto (THE EUGENE Studio)
February 22, 2016